Jade Lee | FRESH FICTION PUBLISHING!!!! Or maybe not...

April 6, 2015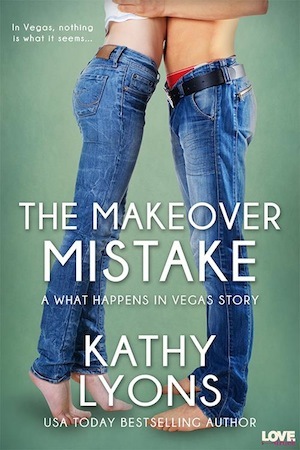 The Makeover Mistake
Kathy Lyons
AVAILABLE
In Vegas, nothing is as it seems...
What Happens in Vegas #2

March 2015
On Sale: March 24, 2015
96 pages
ISBN: 1633752445
EAN: 9781633752443
Kindle: B00TDSL2UC
e-Book
Add to Wish List

Also by Kathy Lyons:
Alpha Betrayed, January 2022
Were-Geeks Save the Middle of Nowhere, October 2021
Were-Geeks Save the Middle of Nowhere, July 2021
Were-Geeks Save Lake Wacka Wacka, October 2020

Has Sara Reyes started a book publishing wing of Fresh Fiction?
A. Absolutely. It's been going on behind the scenes for years.
B. Who told you that? It's supposed to be a secret!
C. Never, ever, ever. Fresh Fiction is a community that loves books but doesn't want to write them. Or publish them. Or fight with amazon.com. ::shudder::
D. Only in fiction does Sara Reyes become the queen of book publishing!
Answer: C. As far as I'm aware, Fresh Fiction has no intention of ever becoming a book publisher. However, when I needed the name of a spunky, up and coming book publisher, I grabbed for their name because I love Fresh Fiction. I didn't go so far as to name the head of my fictional publisher Sara because my character is older, tired, and desperate to retire. Thankfully, Sara is none of those things. She's young and vital and will never ever leave her computer because I've chained her to it!
What the hell am I talking about?
A. A book I wrote as Kathy Lyons.
B. A weird thing I pictured when thinking about writing something sometime about publishing.
C. It's a Kathy Lyons thing. Jade Lee (who is writing this blog) has no freaking idea what is going on and she likes it that way.
D. It's a novella that is part of a continuity.
Answer: D Entangled Publishing is doing a continuity about a publishing conference in Vegas. It's a series of novellas written by different authors all set at an event very much like the Romantic Times Book Review convention. In fact, in Gina Maxwell's series launch book TEMPTING HER BEST FRIEND, she has a character Trent who mirrors the real life Trent who works on the RT convention and gave her permission to use his name.
I wrote book two–THE MAKEOVER MISTAKE–about a hot hero who has to go undercover as a Vegas lounge act except he can't sing or dance or play an instrument. Hilarity ensues as he tries to investigate a crime against our heroine, play a magic piano, and fight his burning attraction to Thea, editor extraordinaire at Fresh Fiction Publishing. (It's not really a magic piano. It's just rigged.)
So now it's your turn. Tell me what wild and wacky things you'd like see Fresh Fiction do in the fictional future. Or just say hi and that you could totally see Sara singing "Born to be Wild" in front of everyone who's anyone in publishing.
And I should be spanked for not casting her as the heroine.
Giveaway
Readers, who in your life would you want to put in a book? Leave a comment below to be entered to win an e-copy of any Kathy Lyons book you want!
About THE MAKEOVER MISTAKE
In Vegas, nothing is what it seems...
After losing a bet, successful publisher Michael Chang is "pretending" to play the piano in a Vegas lounge in order to spy on his less-than-trustworthy employee. His espionage is quickly derailed after meeting Thea Danelle, an editor who's been wronged by Michael's company. She's smart and unpredictable…and clearly hiding a naughty side that tempts Michael to distraction.
Thea has gone from frumpy librarian to the young, wild thing she used to be--all thanks to the promise of sensuous delight in the piano player's eyes. And frankly, after losing yet another author to the competition, Thea is ready to forget her professional problems and explore those sexy promises thoroughly. With Michael, she can finally be herself...until the moment Thea learns who he really is.
Comments
16 comments posted.
Re: Jade Lee | FRESH FICTION PUBLISHING!!!! Or maybe not...

My two grandsons they are both so brave. Both diagnosed at the age of 2 1/2 with type 1 diabetes.
(Janie Prather 3:58pm April 5, 2015)
I am a librarian, so that is probably what I would put into a book.
(Seanna Yeager 9:47am April 6, 2015)
My dog! :)
(Colleen Conklin 12:08pm April 6, 2015)
Ah, geez, thank you for putting the idea of a new program into my head. You never know what we'll come up with next!
(Sara Reyes 2:18pm April 6, 2015)
I would love for Sara to kindly ask the Authors to offer
their books in e-copy or print format. Some people, such as
I, don't own e-readers, don't have extra room on their
computers to download a book, are on dial-up, so it would
take forever to download anyway, and actually prefer holding
the actual book to getting an e-copy. A couple of Authors
already are nice enough to do so. I would have loved to
read this book, but unfortunately I can't.
(Peggy Roberson 11:10am April 7, 2015)
My eldest daughter Erin & her fabulous life as a
librarian... or my 2nd eldest daughter Beth & her crazy
escapades as as modern young woman... or my 3rd daughter
Toria and her shenanigans in college... or my oldest son
Tommy & his Scouting adventures... or my 2nd oldest son
Charlie & his goofy friendships... or my 3rd son Benji &
his dreams for his future... or my 4th son Christopher &
his cooking aspirations... or my youngest Rosie & her
quest for world domination... basically my 8 children!!
(Kelly Braun 2:01am April 8, 2015)
thanks
(Susan Gannon 11:04am April 8, 2015)
my neighbor. she is full of wisdom and has seen it all. lived through the great depression, brother thought lost at pearl harbor, son and daughter-in-law in prison, another daughter-in-law dead, husband die. she should have the rights to the shirt " been there done that".
(Angela Parrish 3:43pm April 8, 2015)
I would like to put myself into a book. I have had a lot of fun
and adventures that I would love to share.
(Denise Austin 4:48pm April 8, 2015)
My Grandma, she has told me so many stories
about the old days. She was born in 1895. Her
school days and growing up. She was raised and
born in Kentucky. Her way of living was very
fascinating to me.
(Sherry Cockerham 6:29pm April 8, 2015)
Sounds like a cool story in a cool setting!
(Richard Burr 7:59pm April 8, 2015)
My dog! Smart and peppy!
(Richard Burr 8:02pm April 8, 2015)
My brothers! When they get together, you never know what is going to happen, or what will come out of their mouths. Your eyes will tear & your sides will hurt. But they are always there when you need them.
(S W 8:14pm April 8, 2015)
My sister, Bev. She is such a strong person who can handle anything but
beneath that exterior is the warmest, compassionate and fair person I
know. Every day with her is an adventure.
(Deborah Poston 1:04am April 9, 2015)
My mom
(Karen Kane 10:46pm April 10, 2015)
Thank you so much for your Fresh Fiction contest for THE MAKEOVER MISTAKE (7361). I really appreciate winning this book and am excited to start reading it.
I would love any of my grandchildren to be in your next book. Felicity is 8, Xavier is 6 and Sarina is almost 4. They are amazing!
(Susan Patterson 12:36pm May 27, 2015)
Registered users may leave comments.
Log in or register now!