Cara C. Putman | Memorial Day

May 23, 2014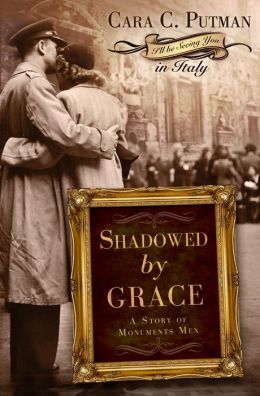 AVAILABLE
A Story of Monuments Men

January 2014
On Sale: January 1, 2014
Featuring: Rachel
352 pages
ISBN: 1433681781
EAN: 9781433681783
Kindle: B00H4EIL88
Paperback / e-Book
Add to Wish List

Also by Cara Putman:
Flight Risk, April 2020
Imperfect Justice, April 2019
Delayed Justice, October 2018
Imperfect Justice, December 2017

On May 30, 1868, a group of Union veterans held the first Decoration Day (now called Memorial Day). They picked that day because they believed that flowers would be in bloom around the country.
The purpose of Decoration Day? To honor and remember the men who fought and died on both sides of the Civil War.
This weekend Memorial Day services will be held around the country. Many communities will host events and parades. All in an effort to honor the many men and women who have lived and served throughout the wars this country has experienced. While many graves will be decorated, it is also a time to remember.
Remember those who served in the trenches of World War I. Remember the boys who stormed the Omaha beaches and Guadalcanal during World War II. Remember the men and women who died in the jungles of Vietnam or the land of Korea. Remember those who still serve and give their all around the world.
This act of remembering and memorializing is why I write books set during World War II. I want to capture through the power of novels the many roles men and women occupied during that all encompassing war. Whether they were Monuments Men striving to save Western Civilization or Marines charging up rocky islands in the Pacific, each solider had a story. While I can't tell them all, I can capture and retell a few.
Maybe you walked through a Wal-Mart or Target this week and noticed aisles filled with grave flowers and another aisle with a Monuments Men display. Both are wonderful ways to honor those who served. Learn their stories. Remember their sacrifices. Pass their bravery and commitment on to those around you.
And in the remembering may we always honor them.
Find out more about Cara C. Putman on Facebook, Twitter, Pinterest , and Goodreads. Read the first chapter of SHADOWED BY GRACE here.
Comments
17 comments posted.
Re: Cara C. Putman | Memorial Day

That is a great thing to do and I do give thanks to each one I
see when I am out and I help as much as I can. Thank you for
the hope of keeping that Memorializing alive.
(Tina Ullrich 12:28pm May 23, 2014)
Thank you so much for your words. I am a volunteer with the Honor Flight program and the USO. It is wonderful to be able to serve those that have served this country.
(Lisa Hutson 1:44am May 23, 2014)
I am greatful to all of the veterans. Really like your book cover.
(Sue Brandes 7:48am May 23, 2014)
I just wanted to Thank You for keeping History alive by
writing the books that you do. I'm also grateful that you
came here today, of all days, to remind us about your books.
I know that you've been here before, but I forgot to write
your name down, so that I could put your books on my TBR
list. I'm very interested in reading your stories, due to
their content. My Father just passed away on April 26th.
Although he never spoke about what he did in WWII, his
bravery did earn him a Silver Star, and I just know bits and
pieces about what happened from his Army buddies. I also
know that General Patton spoke to them at one point, which I
find very exciting. Thank you again for coming here today,
and I will be sure to pick up your books and read them!!
(Peggy Roberson 9:14am May 23, 2014)
You are so right, we need to always remember to honor them.
(Melanie Backus 9:19am May 23, 2014)
A most wonderful post. Thanks for your inspiring words and
great books.
(Sharon Berger 10:25am May 23, 2014)
A great post for this upcoming weekend. Thanks for reminding
us what this weekend is about. It's beautiful that your heart
is in memorializing those who have served.
(Tina Forkner 10:57am May 23, 2014)
This is a great weekend to remember those who have fought for our country. Thanks for the history of the day.
(Pam Howell 11:33am May 23, 2014)
As the proud daughter of a Purple Heart veteran of the WWII
Army Air Corps, with generations of family that served, back
to the Revolutionary War, I thank you for your books!
(Mary McCoy 6:21pm May 23, 2014)
Thank you for a wonderful post. Let's hope more people stop to
take time to remember the meaning of the holiday!
(Glenda Martillotti 11:53pm May 23, 2014)
Thanks for the giveaway! This book sounds awesome :D
(Stefani Tabakovska 10:43am May 24, 2014)
What a wonderful post! Many of the men in our family served and yes, they all deserve our appreciation and respect for their sacrifices so that we may live in freedom!
(Ann Martinisi 12:10pm May 24, 2014)
Thanks for the history lesson. Tomorrow I plan on going to Port Hudson National Cemetery to lay flowers on my brother's grave. So many young men have fought for our country and we need to honor them.
(Anna Speed 1:52pm May 24, 2014)
Such a moving post. I remember seeing the Purple Heart at my
great-aunt's home. At the time, I was too young to really
understand but I do remember her saying she would rather have
him than the medal and that has stayed with me.
(Leona Olson 8:11pm May 24, 2014)
Peggy, thank you for your kind words! I hope you enjoy the book when you have
a chance to read it. Lisa, I hope to get involved in Honor Flight in our community.
Such a neat program! I hope everyone has a wonderful weekend!
(Cara Putman 10:46pm May 24, 2014)
And Leona, I'm touched by your story. Your great-aunt is a special woman.
(Cara Putman 10:47pm May 24, 2014)
I have wanted this book since I read the first review. It sounds wonderful.
(Melanie Backus 9:05am May 27, 2014)
Registered users may leave comments.
Log in or register now!