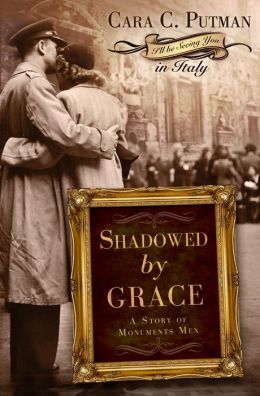 Purchase
A Story of Monuments Men
B&H Books
January 2014
On Sale: January 1, 2014
Featuring: Rachel
352 pages
ISBN: 1433681781
EAN: 9781433681783
Kindle: B00H4EIL88
Paperback / e-Book
Add to Wish List

Historical | Inspirational Historical
Shadowed by Grace is a dramatic story inspired by the Monuments Men of World War II by acclaimed author Cara C. Putman.
Desperate to save her dying mother, Rachel accepts her newspaper's assignment to travel to Italy to capture images dangerously close to the front lines of WWII. Her real motive – to find the father she never knew -- an artist she hopes can offer the comfort and support both she and her mother need to survive.
It's an unlikely situation for love and faith to flourish, but soon Rachel not only finds herself, but also her long-lost earthly father, and ultimately, the man her Heavenly father created to cherish and provide for her.
Comments
111 comments posted.
Your book sounds very interesting. I would love to read it!
(Kathy Morrison 12:45pm January 10, 2014)
I love learning more about this time period, such an amazing generation of people!
(Diane Pollock 1:03am January 10, 2014)
I would love to read this book. This is the kind of thing I enjoy the most.
(Joy Yerkie 8:08am January 10, 2014)
Yes, I remember the aluminum scrap drives and also meeting trains at White Plains RR Station and selling war bonds in my Girl Scout uniform. Proud of every minute and we won the wars too. Those were the GOOD OLE DAYS.
Book sounds like you did some excellent research.
(Patricia (Pat) Pascale 8:47am January 10, 2014)
What a wonderful-sounding book. I would love to win. But even if I'm not a lucky winner, you can bet I'll be getting it to read. I am totally intrigued. Thank you for the chance to win.
(Nancy Reynolds 9:18am January 10, 2014)
Sounds a lot like life when we have to make hard choices.
(Theresa Norris 9:24am January 10, 2014)
Sounds like something my wife would love to read!
(Richard Proctor 9:42am January 10, 2014)
I remember listening in when my father and his friends
compared their WWII stories. So many men served, that it was
a cohesive experience for that generation, and despite
hardship and danger, it built loyalty and a sense of unity.
In contrast, I never heard a word from my grandparent's
generation about WWI--it had involved a smaller percentage
of American men, and their experiences were apparently so
horrible that few would ever discuss them.
(Janet Martin 9:47am January 10, 2014)
As soon as you said Italy, I was hooked! Can't wait to read
this book!
(Maria Proctor 9:55am January 10, 2014)
Sounds like a compelling story. I'm looking forward to reading it.
(Rita Wray 9:58am January 10, 2014)
First, let me take my hat off to you, as a matter of speech!! I don't know how you can get involved in all of these wonderful things with your life, considering the fact that you're raising 4 children!! As for your book, I'm thrilled that you're keeping History alive!! My Father served in WWII, and although he's spoken little about what he did there, I DO know that he earned a Silver Star for his bravery, along with other medals. I also know that he almost got killed by the Germans overseas, while he was in a trailer, with another soldier, sending coded messages to the troops. General Patton was his Commander. Anyway, I absolutely fell in love with the cover of your book, and know that I am truly going to love the book itself!! I read anything having to do with WWII, partially because of my Dads' involvement with the war, and partially due to the fact that I'm a result of the war effort, so to speak. I've always had a fascination with the atrocities that occured, and feel that more books should be kept out there so that the younger generation should be kept informed about what happened not that long ago. Thank you again for keeping the truth out there!!
(Peggy Roberson 10:05am January 10, 2014)
I would love to read (better yet win) this book. As soon as you said Italy, I was hooked.
(Lori Yost 10:56am January 10, 2014)
Your wonderful and captivating post caught my interest for
the topic which is of great interest to me and your novel
that is memorable and unforgettable for the importance and
profound subject. Wishing you the best of happiness, success
and enjoyment. World War 11 books, and novels are for me
reading with meaning, depth and lives long in my heart and
soul.
(Sharon Berger 11:03am January 10, 2014)
My grandfather was one of those veterans who did what was needed. He is one of the world's greatest men. I loved your post.
(Michelle Willms 11:26am January 10, 2014)
I am also a world war II history buff and love to read anything pertaining to it. Thank you for writing this book.
(Denise Austin 12:42pm January 10, 2014)
Thank you for a wonderful post. My father, his brothers, and my mother's brothers all served in WWII. The modern US needs more heroes just like them.
(G S Moch 12:54pm January 10, 2014)
My father was in World War II and flew 26 missions embedded in the belly of a fighter plane as a bombardier. He suffered terribly from PTSD before it was ever recognized as something to be dealt with. I believe he never recovered and 'mourned' himself into an early grave. I wish he could have gotten the help he needed. He was a true American hero in every sense of the word but he never felt that way at all. Thank you for honoring my dad and others like him with your kind words and your book. I would love to read it.
(Lynn Estep 1:41pm January 10, 2014)
I am all in on this one!
(Melanie Backus 2:16pm January 10, 2014)
Would love to read about a time when my own dad served our country. We couldn't get many details from him (as nobody talked about it), although a few years before his death in 1990, he finally admitted to being more worried about gonorrhea than dying from "the enemy".
(Elaine Seymour 2:43pm January 10, 2014)
I truly do enjoy historical novels. This one sounds very close to home. Thank you for offering this contest.
(Vennie Martinisi 2:48pm January 10, 2014)
sounds like a wonderful tale. my dad was in italy in ww2
(Debbi Shaw 4:25pm January 10, 2014)
Your new book sounds intriguing. I am looking forward to reading it.

amykincade@yahoo.com
(Amy Kincade 5:01pm January 10, 2014)
I would love to read your new book.
(Wilani Wahl 5:03pm January 10, 2014)
Just reading your blog, I was left with a sinking feeling, just knowing the price that was paid for the freedom we enjoy today. A big Thank You to all veterans.
(Sheila True 8:28pm January 10, 2014)
Your book sounds great, We must keep those stories alive, fiction can get into the heart and soul of those men and women. Would love to win your giveaway. hint..hint..
(Barbara Studer 8:40pm January 10, 2014)
Your blog is a great testament to how much has changed in the
world over the past 70 or so years. I love how you did your
research for the book.
(Glenda Martillotti 10:24pm January 10, 2014)
My parents grew up during this era but they were living in China at the time. That is probably why the World War II era just fascinates me.
(Kai Wong 1:01am January 11, 2014)
My Father served during WWII. He never talked about it much.
(Mary Preston 3:12am January 11, 2014)
The story of the war in Italy is not so well-known today,
and yet it was a matter of Italians caught in the middle of
opposing countries, locked in a fatal position with lack of
clothing and food. Soldiers of the Allied Forces who tried
to reach them found themselves struggling to survive in the
Long March. I know, two of my Dad's cousins were on that
march. I am so glad you researched this part of WWII and how
these brave individuals withstood the pull from three
countries in opposite directions...Spain, Greece and Russia,
amazes me. As I said, it is not a well-known campaign or
perhaps I should say it has not been glamorized in
succeeding years. I remember everyone rolling bandages at
home, knitting socks, vests, etc. (I think that's when I
learned to knit) and I still have a couple of the knitting
books with the patterns that were approved. They belonged to
Mom and Grandma. I was 5 when Dad came home. We are in
Canada. The story deserves to be told. Thank you for doing
just that.
(Betty Gelean 3:41am January 11, 2014)
I would love to win this. I would review it and share it with someone else. I love what I read.
(Jane Squires 2:19pm January 11, 2014)
I would love to read your book and learn more about WWII. My father also served in WWII. Those were very harsh conditions for the men and they had little to eat. I'm sure the younger generations have no idea, other than what's in school history books as to what those times were like, as well as what events transpired. We can all learn from authors who do their research and write more about it for future generations. It's always interesting to hear it straight from the men that served, but there aren't many of them around still living. My father passed away in 1997, and I didn't read the book written which was a diary kept daily by a fellow crewman on his ship until 2012. I found many things in it which I wished I could sit down with my father and discuss with him. He read the book many years before his death and had told me he had always wanted to write a similar book himself. There were many parts in this book that left me feeling very sad and tearful for what hardships they endured for our country.
(Linda Luinstra 4:43pm January 11, 2014)
Having gone to Rome, Italy on my honeymoon, I'm dearly in love with that country and all of it's history. Of course, hubby and I are really into WWII and all the history behind it, so this book plays into two of my passions. I'd love to read it.
(Donna Holmberg 4:44pm January 11, 2014)
Hi Cara!
I love your post and it brought back memories of my father telling me stories back in the 1960's about how many in our family were part of the Allied Forces in the time just before my birth. I didn't realize at the time it wasn't just something that meant something to me of the bravery of those strong men and the families they left behind but would also mean so much to me in the late 1960's and early in the 1970's when my husband was in the Navy during Vietnam.

My first thought is "never forget" and hopefully your story will remind people today of not just what went on before us but what all those who are in the military are doing today for us to defend not just our country but of those people in places all over the world who are facing the horrors of war on a daily basis.
(Jeanne Miro 5:09pm January 12, 2014)
My parents met in the Navy in WWII so I am always studying that period. I can't wait to see the new Monuments Men movie. Your book sounds like one I have to read. My late husband as a child had a neighbor who was Italian - he did secret missions for the Allies in Italy in the war but never would talk about them. This Generation saved our world - would we do as much? I like to think we would.
(Suzanne Walker 3:01pm January 13, 2014)
A good friend of mine who lives in another state is my reading friend. We talk about books through email.
sounds like a great book. Love the cover too.
(Sue Brandes 8:08am March 14, 2014)
I love to crawl into bed with a book in hand late at night. It just feels
wonderful!
My daughter and I share a passion for books so when we start talking
books, oh what fun we have!
(Melanie Backus 9:25am March 14, 2014)
I loved every word of your blog today - "reading is like breathing to me" too!!! And my TBR pile grows ever-higher and faster than my "been read" pile. But I am addicted to reading. It's my life's blood. I have to admit I've never read any of your books - but now that I've met a "kindred spirit" thru your blog today, you know I'll have to rectify that immediately. Thanks for this chance to win. Best of luck with this book and ALL you do.
(Nancy Reynolds 9:50am March 14, 2014)
I like reading a good book in my bed where it's comfortable and nice and quiet. My oldest daughter enjoys reading books the same way so I guess she's a little bit like me.
(Kathy Morrison 11:10am March 14, 2014)
I can totally relate to your posting today!! I have a few books that I need to get to, and have slowly been reading them, but my obligations take up a lot of time. My Husband and I are caretakers where we live, so we're on call 24/7. I also volunteer for a knitting class one day a week. My Dad is ill, and in a nursing home, 3 hours away. We just had another major scare with him last week!! About the only time that I'm able to read anymore is when I get online, which is on dial-up, so when my pages load, I have my books next to me, and read a few pages at a time. It's amazing how many books I've been able to read. Other times, I read during dinner. If any of my books are really good, I'm good friends with the librarians where I live, and I take my books down there, or tell them about it, so they can get it in, or I pass it on to them. I also have a good Girlfriend out of state, who I've mentioned books to in the past, but she's so busy with her life, that she doesn't get much of a chance to read. I just finished a book about Catherine the Great, and will be getting into an Autobiography now. My tastes have been all over the map lately, and I've been enjoying many genres. I would love to read your book, since I've been trying to get my hands on anything to do with the Monument Men. The cover is is wonderfully done!!
(Peggy Roberson 11:25am March 14, 2014)
I have a friend I've known since high school. We like a lot of the same books so we recommend books to each other.
(Sandy Giden 12:31pm March 14, 2014)
My sister and I always shared books and it was great! I really miss that. This book sounds great. I love historic fiction and I think the cover of this is really quite nice!
(Vennie Martinisi 12:55pm March 14, 2014)
I am surrounded by books which give me joy, pleasure and
transport me to another time, realm, and place. Loved your
post and your enjoyment of tea which resonates with me.
(Sharon Berger 2:43pm March 14, 2014)
Another book breather!! And here I thought I was weird because I carry at least one book in my purse at all times!

Most recently, I've met some of Nora Roberts' dancers ("Reflections" and "Dreams" double book) - just finished it yesterday evening.

I never know who I'm going to meet next when I grab something off of my TBR pile, but it's almost always a good read!

Later,

Lynn
(Lynn Rettig 3:07pm March 14, 2014)
After everyone is asleep I crawl into bed and read for at least a couple of hours every night. I love my special time!
(Denise Austin 3:35pm March 14, 2014)
Eve Dallas is one of my favorite 'friends' She wasn't a very easy person to get close to... but well worth the effort.

My favorite place to meet her is in the little 'nest' in the corner of my couch, where I have everything I need handy. A great cup of coffee, some yummy chocolate pecan cookies, and I always make sure I have a box of tissues on hand just in case...

I love slipping into the future (her time) for our little chats where she tells me all about her latest case.
(Sonja Warmath 3:50pm March 14, 2014)
I think everybody has a favorite spot to read and mine is in
bed, unwinding from the day. I like a book that has a draw
that keeps pulling me in to turn the pages fast to find out
what's really going on. I also like listening to the chats
on www.booktrib.com and they have good contests where I win
one just about every week.
(Alyson Widen 4:35pm March 14, 2014)
I have a passion for reading, as well. I guess if we didn't, we wouldn't be on your blog! I guess I collect them, too, as I have several shelves of TBR's. I like to read at night, before sleeping, so my dreams will be full. Also read in the car (When not driving!), and at the doctor, dentist, etc. Love it!
(Kathleen Gardiner 5:18pm March 14, 2014)
I like to read early in the morning when my mind is still uncluttered from the oncoming day. Don't really have any reading friends, but I have a lot of friends that read.
(Richard Burr 8:26pm March 14, 2014)
I post my reviews on sparkpeople.com which is a site that has
lots of groups, some book readers.
Began and read Gifted Hands by Dr. Ben Carson today. His Faith
is very important to him.
(Leona Olson 9:26pm March 14, 2014)
Hiding in bed with a good book
(Patricia Wagner 10:41pm March 14, 2014)
All I need for perfect reading time is uninterrupted time
and one of my tech devices (paperwhite, phone, tablet,
computer, etc) or a real book of course. If I don't have
much time, it is all still good, since I usually have
something with a kindle app with me.

Reading friends? A couple of the ladies I work with, a few I
used to work with, and quite a few online friends all have
good recommendations and make for great book conversations.
:-)
(Glenda Martillotti 11:29pm March 14, 2014)
My reading friends are online. We talk about the books we read and even mention which is worth reading.
(Kai Wong 1:43am March 15, 2014)
My reading friends are my family, I come from a family of
readers.
(Theresa Norris 8:02am March 15, 2014)
I find that I can escape with any book I read. Love talking
books with friends & family.
(Mary Preston 8:26am March 15, 2014)
My one requirement in a purse is that it can fit a book! I constantly read wherever I am. I always have. I love the escape.
(Pam Howell 10:18am March 15, 2014)
I have no "perfect" setting for reading because for me the
book is the thing and I can lose myself anywhere; nor is the
format essential because I can become equally absorbed
whether I'm reading on a digital device or a pile of paper.
Like many others, my reading pals are mostly online,
although there are a few folks in my life with whom I can
indulge in face to face discussions
(Janet Martin 11:34am March 15, 2014)
curled up on the couch with a candle burning.....hours just slide by.
(Barbara Studer 12:01pm March 15, 2014)
My sister-in-law is my reading buddy.
(Kelly Powell 7:15pm March 15, 2014)
i read at night usually i like to read alone so i can enjoy
the book i love it seems like the time gos by fast when i am
reading though and my husband tells me its getting late lol
(Denise Smith 12:13pm March 16, 2014)
I have long determined that my pile has become a mountain. So many good books and not enough time. My reading buddies are online.
(Debra Guyette 8:36am March 16, 2014)
I live in a Victorian House and my reading spot is on my lovely chaise lounge, that has seen better days. I share some of my plots of my favorite books with my husband but often send the books I love best to my Diva friend in CA, as she is a full time hospital worker..then we discuss the reading via e-mail. Keep writing!
(Patricia (Pat) Pascale 10:45am March 16, 2014)
I love to curl up at night with a good book. I get to go different place in my mind. Thanks for a chance to win.
(Linda Hall 11:56am March 16, 2014)
I have a couple of reading buddies and we exchange really good books.
(Joy Isley 1:34pm March 16, 2014)
I LOVE TO READ EVERY DAY! My favorite spot is curled up on my comfortable couch. Even if I have something I want to watch on TV, I get plenty of reading time in, since there are so many commercials that last forever. I find myself staying up very late when I'm into a really good book. I love many genres and your book sounds great and grabs me just by the great-looking cover! I always share any good book I've read with my friends when I run into them.
(Linda Luinstra 4:07pm March 16, 2014)
Sounds like a great book. I am a loner by nature. So read by myself and don't share with anyone. That's why I love these forums.
(Denise Austin 5:32pm March 16, 2014)
I share books with my online friends and they share them with me. We have come to know each others favorite type and when we come across it we forward the info.
(Cindy Olp 10:54pm March 16, 2014)
My niece Katherine and my best friend Mary, and her daughter Jazmine. We love to share books.
(Cynthia St. Germain 11:54pm March 16, 2014)
In my cozy pjs on my bed bundled up with my door closed my glass of wine
my kids in bed, my 3 year old sleep and my feet up.
(Niki Edwards 2:19am March 17, 2014)
i used to have a friend with whom i shared comments of books
we read at home but now that i live far away from her i am my
reading buddy
(Sarah Hansrote 10:50pm March 31, 2014)
That is a great thing to do and I do give thanks to each one I
see when I am out and I help as much as I can. Thank you for
the hope of keeping that Memorializing alive.
(Tina Ullrich 12:28pm May 23, 2014)
Thank you so much for your words. I am a volunteer with the Honor Flight program and the USO. It is wonderful to be able to serve those that have served this country.
(Lisa Hutson 1:44am May 23, 2014)
I am greatful to all of the veterans. Really like your book cover.
(Sue Brandes 7:48am May 23, 2014)
I just wanted to Thank You for keeping History alive by
writing the books that you do. I'm also grateful that you
came here today, of all days, to remind us about your books.
I know that you've been here before, but I forgot to write
your name down, so that I could put your books on my TBR
list. I'm very interested in reading your stories, due to
their content. My Father just passed away on April 26th.
Although he never spoke about what he did in WWII, his
bravery did earn him a Silver Star, and I just know bits and
pieces about what happened from his Army buddies. I also
know that General Patton spoke to them at one point, which I
find very exciting. Thank you again for coming here today,
and I will be sure to pick up your books and read them!!
(Peggy Roberson 9:14am May 23, 2014)
You are so right, we need to always remember to honor them.
(Melanie Backus 9:19am May 23, 2014)
A most wonderful post. Thanks for your inspiring words and
great books.
(Sharon Berger 10:25am May 23, 2014)
A great post for this upcoming weekend. Thanks for reminding
us what this weekend is about. It's beautiful that your heart
is in memorializing those who have served.
(Tina Forkner 10:57am May 23, 2014)
This is a great weekend to remember those who have fought for our country. Thanks for the history of the day.
(Pam Howell 11:33am May 23, 2014)
As the proud daughter of a Purple Heart veteran of the WWII
Army Air Corps, with generations of family that served, back
to the Revolutionary War, I thank you for your books!
(Mary McCoy 6:21pm May 23, 2014)
Thank you for a wonderful post. Let's hope more people stop to
take time to remember the meaning of the holiday!
(Glenda Martillotti 11:53pm May 23, 2014)
Thanks for the giveaway! This book sounds awesome :D
(Stefani Tabakovska 10:43am May 24, 2014)
What a wonderful post! Many of the men in our family served and yes, they all deserve our appreciation and respect for their sacrifices so that we may live in freedom!
(Ann Martinisi 12:10pm May 24, 2014)
Thanks for the history lesson. Tomorrow I plan on going to Port Hudson National Cemetery to lay flowers on my brother's grave. So many young men have fought for our country and we need to honor them.
(Anna Speed 1:52pm May 24, 2014)
Such a moving post. I remember seeing the Purple Heart at my
great-aunt's home. At the time, I was too young to really
understand but I do remember her saying she would rather have
him than the medal and that has stayed with me.
(Leona Olson 8:11pm May 24, 2014)
Peggy, thank you for your kind words! I hope you enjoy the book when you have
a chance to read it. Lisa, I hope to get involved in Honor Flight in our community.
Such a neat program! I hope everyone has a wonderful weekend!
(Cara Putman 10:46pm May 24, 2014)
And Leona, I'm touched by your story. Your great-aunt is a special woman.
(Cara Putman 10:47pm May 24, 2014)
I have wanted this book since I read the first review. It sounds wonderful.
(Melanie Backus 9:05am May 27, 2014)
Watching little kids playing & learning new things gives me hope.
(Kristine Murphy 9:25am May 22, 2015)
Being around young people - babies to teenagers.
(Deb Philippon 9:58am May 22, 2015)
My wonderful grandchildren give me hope, love and inspiration.
(Sharon Berger 11:50am May 22, 2015)
What gives me hope is that there are people such as you that
write wonderful books that keep History alive. In schools
today, these facts are not being taught, and this way, the
younger generations can read books such as yours, and learn
the truth about what our Ancestors went through to make this
great Country truly free, and give them the freedoms they
have today. I have hope that this great Country will soon
turn around for the better, and our Country will be strong
and respected once again. I have hope about so many things,
but I know that after reading your book, you will keep the
hopes I have in my heart glow even stronger!! Thank you
again for writing Historical fiction books. Since my late
Father served in WWII, this book will have a deeper meaning
for me!! Congratulations on your book!! The cover is
outstanding!!
(Peggy Roberson 1:37pm May 22, 2015)
I enjoyed this wonderful post! God and His Word
give me hope. "I know who holds tomorrow
And I know who holds my hand." Thank you so
much for the chance to win a signed copy of
Shadowed by Grace!
(Britney Adams 12:52pm May 23, 2015)
This looks like a very interesting story
(Barbara Semeraro 8:02am May 23, 2015)
My faith in God brings me hope. When things may seen
hopeless with no answer or no end in sight I know there is a
rock and an anchor I can cling to. A lighthouse who's Light
shines brightly. During my cancer journey I always liked
seeing babies and the cute little ones and toddlers.They are
just so life affirming and full of so much joy!
(Maryann Skaritka 4:00pm May 23, 2015)
Hope can be found in the simple things.A baby's precious smile.A beautiful butterfly.A puppies kiss.Your spouse reaching for your hand while walking.A lovely flower.Rainbows.
(Jackie Preas 7:01am May 24, 2015)
What gives me hope is seeing good deeds people do for each other
(Jean Benedict 2:14pm May 24, 2015)
Babies and toddlers, their joy in life and innocence
(Lesley Walsh 4:10am May 25, 2015)
Just about everything can give you hope . We need to stop and think about the wonderful things that surrounds us . If we don't have our hopes are dreams ,then we have nothing .
(Joan Thrasher 11:04am May 25, 2015)
It's difficult for me to say exactly what gives me hope. Something unexpected happens and suddenly there is great hope for the future. Just being around my grandchildren gives me a wonderful outlook on life.
(Anna Speed 12:32pm May 25, 2015)
My grandmother would have been 116 today that gives me hope
because she was a hero to me and I live through her everyday!
(Denise Austin 3:38pm May 25, 2015)
If I really think about it hard, and I did, there are so
many things that gives me hope but I think the top 2 are
1. Jesus Christ and 2. My mother.

Talking to my mother every day gives me hope to go on
everyday. Just to hear her voice calms me down when I am
upset or angry. Living so far away from her is so hard
and having skype, seeing her when on the computer makes
me that happiest when I am the sadest.
(Renae Kelly 5:27pm May 25, 2015)
Paper... ALWAYS Paper!!! Thank you for the chance :)
(Kelly Braun 2:09am March 11, 2016)
I don't have an e-reader , I prefer books and I cherish all my books . I treat them with tender love and care .I tell my grandchildren to always use a bookmark and never turn the corner of a page down . I love love love my books .
(Joan Thrasher 11:20am March 11, 2016)
I only read paper and will always since I am old school and
love the feel of the book and holding a real book in my hands
which contributes to the enjoyment. Books are what I treasure
since they are meaningful and important.
(Sharon Berger 11:28am March 11, 2016)
I'm holding hands with you. Paper is my preference,e only if
that's the only way I can get it & then, it won't be read
until I travel.I have even ordered POD, when available.
(Kathleen Bylsma 3:37pm March 11, 2016)
I do so like paper but ebooks are the way of the future.
(Debra Guyette 8:10am March 12, 2016)
Call me old fashioned, but I prefer paper books. I have both a Kindle and a Nook, but ultimately there is nothing like a paper book.
(Mary Smith 2:06pm March 12, 2016)
I see both sides of the issue.

On the one side, I love paper books. I currently do not have
a dedicated e-reader, but I do have a Kindle app for my
computer, so I can read e-books. Having said that, I don't
take my computer out of my home, so having paper books is
helpful when I travel.

On the flipside: e-books. They don't get dirty, they don't
get torn, they don't take up the physical space paper books
do.

My verdict: A tie. Both have their high and low points.
(Edward Washington 4:02pm March 12, 2016)
I am old fashioned and love paper books the best. There is
just something about holding them in your hands, turning
the pages and I admit I sometimes peek ahead many chapters.
(Maryann Skaritka 4:46pm March 12, 2016)
I prefer paper. I love a book that I can hold in my hand.
(Tanja Dancy 10:45am March 14, 2016)
Both have a place in my life. I prefer to read most books with my e-reader, but there are some extra specials ones I want as a paper copy. These are the ones I read more than one time and enjoy them just as much as if it was the first time.
(Anna Speed 1:21pm March 15, 2016)
I recently got a new Kindle, but I prefer paper books. I am
having a hard time keeping up with new technology and my
Kindle isn't used very often.
(Carrie Edmunds 2:28pm March 15, 2016)
Registered users may leave comments.
Log in or register now!