Anna Sugden | Meeting Mr. Devil

October 25, 2013
Reading books, watching programmes and going to games is a great way to learn about players. You can also get a wealth of information listening to the commentators — especially when they're as good as the Devils' duo - Mike 'Doc' Emrick and Glenn 'Chico' Resch - and hockey expert Stan 'The Maven' Fischler.
But, there's nothing like talking to the real thing.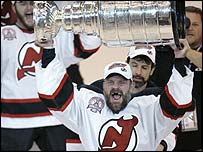 And you don't get any more real than Mr Devil himself, Ken 'Dano' Daneyko.
That's why it was an enormous thrill for me, when Devils' owner Jeff Vanderbeek arranged for me to meet with Dano.
Ken Daneyko was a gritty, physical defenseman, an almost impenetrable wall in front of the Devils' goal. One of only a handful of Devils to be on all three Stanley Cup-winning teams, Ken won the Bill Masterson Trophy in 2000 for perseverance. No greater tribute could have been paid to Ken, than having his number 3 raised to the rafters. Only the second player in Devils' history to receive that honour.
I met Ken at his gym in Hoboken — Sky Club. There he answered all my questions honestly, openly and with great humour. Whether it was about his pre-game routine, the way he explained his aggressive behaviour on the ice to his children, or how he felt when he stepped on the ice, Ken helped me to understand better what it was to be an NHL player; to live, breathe and bleed for hockey.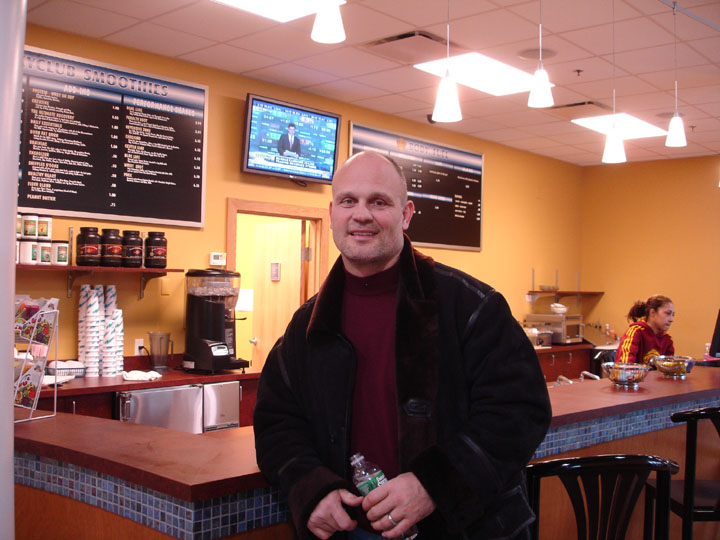 As anyone who's seen him on the television will tell you — he has a wealth of hockey stories to tell. After all, Ken began to play hockey at a time when goalies puffed on cigarettes between periods. And beer, not Gatorade, was the replenishment drink of choice. It's these colourful tales that give a writer invaluable information. They help add depth to characters; sparking ideas for how to bring players to life on the page. They also add those elements of realism that a sports fan will notice and enjoy.
My favourite story was about his teeth - or lack of :). For those who remember, fondly or otherwise, the Devils third Stanley Cup triumph in 2003, one of the most heart-warming images was of Ken — minus his front teeth - skating around with the ultimate hockey trophy raised above his head. Imagine how much fun it was to learn that his kids were so disappointed when, on retiring, he got his teeth fixed. Parties wouldn't be fun anymore without Dad impressing their friends with his gap-toothed grin.
Despite his punishing hits on the ice and his lively, unfettered behaviour off the ice, Ken is a charming, humble man, who is grateful for the opportunity he had to play the game he loved and get paid for it. That he was able to play it at the highest level, and win it's greatest prize three times, is beyond compare. And the measure of the man is in how much he tries to give back — to the Devils' organisation, the community and to hockey.
I'm really grateful for the time he spent with me. A PERFECT DISTRACTION is a better book thanks to Ken's help and information.
Comments
9 comments posted.
Re: Anna Sugden | Meeting Mr. Devil

Welcome everyone! So, who would you like to meet and what
would you ask them if you did?
(Anna Sugden 5:42am October 25, 2013)
Hi Anna!! You were very fortunate to meet a Hockey player who is a real Prince in every sense of the word. I met a Hockey player one time who played for the St. Louis Blues, who knew he was good, and expected people to "lick his shoes!!" The way he strutted around made me ill, and that was the last time I was interested in meeting a Hockey player!! If I were to meet anyone, I'd have to go back in time, because there isn't anyone nowadays that leaps out at me as any type of role model or person of interest in my book. That person would have to be Helen Keller, because she's been my role model since I read her autobiography as a little girl. I suppose I'd ask her if she felt that she left anything unfinished in her life, and what she would accomplish if given the chance to live in this era. She was such a strong-willed woman, even with her handicaps, and little did I know that when I reached my 20's, I would get ill to the point that I had limitations as well. I always remembered Ms. Keller and what she did with her life, and that gave me the strength to continue when others would have given up. Being a Hockey fan as well, I'm looking forward to reading your book. I won't divulge my home team, but do remember Ken playing, and I'm sure I'll see a lot of him in the book. This is the perfect season for your book to come out. What great reading for the Fall!!
(Peggy Roberson 12:43pm October 25, 2013)
Hi Peggy! Thanks so much for stopping by and commenting. I
have to say that most of the players I met while researching
my books were humble and charming - even some who had tough
reputations on the ice.

I think it would be amazing to meet Helen Keller. Her story
is incredible - I remember being moved by it, as a child.
I'm so glad she inspired you and gave you the strength to
continue, so we can enjoy your company today!

Aren't you a Red Wings fan? ;) I think it would be
fascinating to meet Nik Lidstrom - everyone always talks
about how wonderful he is off the ice, as well as being
unbelievably talented on it.

I hope you enjoy A Perfect Distraction. Have a wonderful
day!
(Anna Sugden 1:04pm October 25, 2013)
Shirley Lalonde

October 25, 2013
(Shirley Lalonde 9:33pm October 25, 2013)
Since I don't follow sports, I don't have a clue who I'd like to meet, but I'd love to win your book.
(Carol Woodruff 11:20am October 26, 2013)
Hi Carol! Thanks for stopping by! How about any famous people,
not just sports people? Is there anyone you'd like to meet?
(Anna Sugden 4:00pm October 26, 2013)
I would love to meet Hugh Jackman. He's so talented and I love how sweet
he seems when he speaks about his wife and children. I'm not sure what I
would ask him though, because I would probably be too tongue-tied to
speak! Thanks for the chance to win!!!
(Linda Brennan 12:59pm October 27, 2013)
Hi Linda - thanks for stopping by! I'd love to meet him too -
we once missed him by seconds when we were in New York. He'd
been signing autographs outside the theatre he was performing
in and went inside just as we walked past - so I did get to
see his rear view ;)
(Anna Sugden 6:16am October 27, 2013)
You had me at hockey. My sons both played when young and it
was always a thrill to root for them and the goals and hat-
tricks. It's a sport where you have to be in great shape
and have "legs" and be sneaky and quick turns on a dime. I
want to read a Perfect Distraction this winter - a perfect
cold weather book.
(Alyson Widen 8:00pm October 31, 2013)
Registered users may leave comments.
Log in or register now!