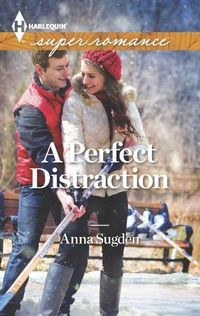 Purchase
Harlequin Superromance
September 2013
On Sale: September 1, 2013
300 pages
ISBN: 0373718748
EAN: 9780373718740
Kindle: B00BZPLIUK
Mass Market Paperback / e-Book
Add to Wish List

Romance Contemporary | Romance Series
A face–off—head vs. heart

For Jake Badoletti, this year is all about his career. He has a rare second chance to make the most of being a pro hockey player, so no parties, no scandals. Too bad he's met a woman who could sideline those plans. Maggie Goodman is not his usual type—right down to being a single mom. Still, the sizzling connection with this gorgeous brunette can't be ignored.

With a little juggling and a lot of focus, Jake manages to have the game and Maggie. Then his performance on the ice suffers and a scandal erupts. Now he can't afford the distraction of Maggie...even if she is perfect for him.
Comments
113 comments posted.
I do love hockey... and Scott Stevens is a great guy! :)
(May Pau 2:43pm September 10, 2013)
It looks like I have another book to put on my list for my Fall reading!! Being a big Red Wings fan (sorry), a hockey book is right up my alley!! This sounds like a wonderful book, and I'm really glad that you got a chance to meet the inspiration for your book!! I hope you told him of your plans, and maybe sent him a copy, so that there's a chance his wife could read it!! I'm sure she'd be more than happy to!! I love the cover!! Couldn't be more sweet!!
(Peggy Roberson 9:22am September 11, 2013)
Hockey makes my heart beat faster and both my sons played
when young. I read about one hockey player who claims he
travels light and just takes a toothbrush on trips. You
must still be glowing having met Scott Stevens, a hero with
heart, like a lot of hockey players. Books about sports do
hold my interest and yours looks like an intensely hot read.
(Alyson Widen 12:43pm September 11, 2013)
Sounds like a book I have to read. Books about sports always seem to peak my interest.
(Carol Woodruff 3:59pm September 11, 2013)
Scott Stevens is a legend! Glad I wasn't one of those guys
he's hit lol Epic hits but he's got the skill and talent to
back up his physical play. Cheers!
(Ada H. 5:11pm September 11, 2013)
YAY - glad you like him too, May!
(Anna Sugden 1:53pm October 8, 2013)
Thanks, Peggy - for liking the sound of my book and loving the
cover too! I didn't tell Scotty, but I did get some help from
another Devils legend - Ken Daneyko. I sent him a signed book
as a thank you ... so maybe he'll pass it on! :) Being a Wings
fan is okay!
(Anna Sugden 1:55pm October 8, 2013)
Ah Alyson - sounds like we're like-minded gals! :)

It really was the most wonderful thing to meet Scotty - I've
enjoyed meeting so many Devils players, because they're all
great guys, but he was the most special.
(Anna Sugden 1:58pm October 8, 2013)
Hey, Ada - I'm glad I wasn't one of those guys either LOL. I
think that's another thing that impressed me about him - he
wasn't just about the hits. He was one of the top defensemen
in the League. I think he still holds a bunch of records.
(Anna Sugden 2:00pm October 8, 2013)
Hey Carol - glad you like the sound of A Perfect Distraction.
Always good to hear from someone who loves sports romances! :)
(Anna Sugden 2:01pm October 8, 2013)
Welcome everyone! So, who would you like to meet and what
would you ask them if you did?
(Anna Sugden 5:42am October 25, 2013)
Hi Anna!! You were very fortunate to meet a Hockey player who is a real Prince in every sense of the word. I met a Hockey player one time who played for the St. Louis Blues, who knew he was good, and expected people to "lick his shoes!!" The way he strutted around made me ill, and that was the last time I was interested in meeting a Hockey player!! If I were to meet anyone, I'd have to go back in time, because there isn't anyone nowadays that leaps out at me as any type of role model or person of interest in my book. That person would have to be Helen Keller, because she's been my role model since I read her autobiography as a little girl. I suppose I'd ask her if she felt that she left anything unfinished in her life, and what she would accomplish if given the chance to live in this era. She was such a strong-willed woman, even with her handicaps, and little did I know that when I reached my 20's, I would get ill to the point that I had limitations as well. I always remembered Ms. Keller and what she did with her life, and that gave me the strength to continue when others would have given up. Being a Hockey fan as well, I'm looking forward to reading your book. I won't divulge my home team, but do remember Ken playing, and I'm sure I'll see a lot of him in the book. This is the perfect season for your book to come out. What great reading for the Fall!!
(Peggy Roberson 12:43pm October 25, 2013)
Hi Peggy! Thanks so much for stopping by and commenting. I
have to say that most of the players I met while researching
my books were humble and charming - even some who had tough
reputations on the ice.

I think it would be amazing to meet Helen Keller. Her story
is incredible - I remember being moved by it, as a child.
I'm so glad she inspired you and gave you the strength to
continue, so we can enjoy your company today!

Aren't you a Red Wings fan? ;) I think it would be
fascinating to meet Nik Lidstrom - everyone always talks
about how wonderful he is off the ice, as well as being
unbelievably talented on it.

I hope you enjoy A Perfect Distraction. Have a wonderful
day!
(Anna Sugden 1:04pm October 25, 2013)
Shirley Lalonde

October 25, 2013
(Shirley Lalonde 9:33pm October 25, 2013)
Since I don't follow sports, I don't have a clue who I'd like to meet, but I'd love to win your book.
(Carol Woodruff 11:20am October 26, 2013)
Hi Carol! Thanks for stopping by! How about any famous people,
not just sports people? Is there anyone you'd like to meet?
(Anna Sugden 4:00pm October 26, 2013)
I would love to meet Hugh Jackman. He's so talented and I love how sweet
he seems when he speaks about his wife and children. I'm not sure what I
would ask him though, because I would probably be too tongue-tied to
speak! Thanks for the chance to win!!!
(Linda Brennan 12:59pm October 27, 2013)
Hi Linda - thanks for stopping by! I'd love to meet him too -
we once missed him by seconds when we were in New York. He'd
been signing autographs outside the theatre he was performing
in and went inside just as we walked past - so I did get to
see his rear view ;)
(Anna Sugden 6:16am October 27, 2013)
You had me at hockey. My sons both played when young and it
was always a thrill to root for them and the goals and hat-
tricks. It's a sport where you have to be in great shape
and have "legs" and be sneaky and quick turns on a dime. I
want to read a Perfect Distraction this winter - a perfect
cold weather book.
(Alyson Widen 8:00pm October 31, 2013)
sounds like a great book thanks so much cant wait to read it
(Denise Smith 12:08pm November 28, 2013)
When I was younger I used to collect rocks and gemstones, I like Crystals..they are pretty neat.
(Courtney Haas 12:09pm November 28, 2013)
I hope you and yours enjoy a safe and Happy Thanksgiving
(Jennifer Essad 12:19pm November 28, 2013)
Thanks, Denise! :)
(Anna Sugden 6:56am November 28, 2013)
How cool, Courtney! Do you have a favourite crystal?
(Anna Sugden 6:56am November 28, 2013)
Thanks, Jennifer! We don't celebrate Thanksgiving in the UK,
but I miss being in NJ and celebrating with our dear friends.

Hope you and yours have a wonderful holiday!
(Anna Sugden 6:57am November 28, 2013)
Happy Thanksgiving to you as well, Anna!! Since you love Opals, and they're one of my many favorites, I have a tip for you. They're also a fragile stone, and have to stay lubricated so they don't crumble. From time to time, if you put a little dab of sweet oil on a cotton ball, and rub it on your stones, not only does it bring out more of the fire, it keeps them from drying out!! That was a tip I learned a long time ago, I believe from a Jeweler, and I've used it on all of my Opals ever since. I can't say that there are certain gemstones that I like over others, since I like most of them, but when I got my first Tanzanite, I was bowled over!! I also like certain Blue Topaz. My birthstone is the Emerald, and I'm fortunate enough to own one, which I cherish. The way I look at it, each gemstone has its' own property to make it special, and to fulfill a mood, at a certain time. I'm not very picky. I think I'm pickier about the setting than I am about the gemstone!! I'm looking forward to reading your book. It sounds like it will be a good read for this time of year. Hockey is another one of my passions, so it should fit right in!! In closing, I just want to say that you were one very lucky Lady to be able to go to those Opal mines!! I'm sure it was an exciting experience!!
(Peggy Roberson 8:14am November 28, 2013)
An opal is what I covet.....but I'll have to buy it myself. My husband, a dear man, never thinks of jewelry.
(Clydia DeFreese 9:47am November 28, 2013)
Hey Peggy! Looks like we have a lot in common! Thanks for
the tip. :) My birthstone is the peridot and I hate it! But
I'll happily have opals instead :)

I don't know when the announcement will go up, but you won a
copy of my book back in Sept. Please contact me via my
website with your snail mail details, so I can get your book
out to you.
(Anna Sugden 9:59am November 28, 2013)
Hi Clydia - thanks for stopping by! Yay on being another opal
lover! Perhaps you need to be less subtle and show him what
you'd like ;)!
(Anna Sugden 10:00am November 28, 2013)
I love amethyst, because purple is my favorite color!
(Maria Proctor 12:07pm November 28, 2013)
Amethyst is my birth stone and I love purple also. Have a nice Thanksgiving everyone. Thanks for the contest.
(Gayle Pace 1:25pm November 28, 2013)
I like my wife's birthstone, garnet.
(Richard Proctor 1:32pm November 28, 2013)
Thanks for stopping by, Maria! Have you seen Tanzanites? They
are the most gorgeous purple colour.
(Anna Sugden 1:36pm November 28, 2013)
Good to see you here today, Gayle! Amethysts are lovely stones
- you should check out Tanzanites too!
(Anna Sugden 1:37pm November 28, 2013)
Hi Richard! Thanks for stopping by! Bonus points to you for
knowing your wife's birthstone :) Garnets are lovely - so rich
in colour.
(Anna Sugden 1:38pm November 28, 2013)
Well, I'm not thrilled with them either. Would rather have the
latest electronic toy than a diamond any day!!!
(Vicki Hancock 1:42pm November 28, 2013)
LOL Vicki! Love a gal who knows what she likes! :)
(Anna Sugden 1:56pm November 28, 2013)
Sounds like a great book. Thanks for a chance to win. Happy Holidays.
(Amy Milne 2:33pm November 28, 2013)
Opal is my birthstone (October). I have a pair of pretty opal earrings....I have had an opal ring but it cracked. They are brittle stones, somewhat like our feelings, vulnerable & easily injured. I wouldn't call it my favorite gem ~ I don't have one, but if you must know, I'll take a diamond any day of the week. Sending greetings you way over the pond to you....
(Susan Coster 3:27pm November 28, 2013)
I've always loved amethysts. Thanks for the chance to win your book.
(Carol Woodruff 4:05pm November 28, 2013)
I'm not a diamond lover either---I had emeralds put in my wedding ring instead of diamonds.
(Sue Farrell 4:21pm November 28, 2013)
Thanks for stopping by, Amy. Hope you're having a great day.
(Anna Sugden 5:10pm November 28, 2013)
Hey Susan - greetings winging back across the Pond to you! You
can have the diamonds I don't like, then :) Opals can be
brittle, but I think the more you wear them the stronger they
are. Something to do with the moisture from your skin. That's
my theory anyway :)
(Anna Sugden 5:13pm November 28, 2013)
Hi Carol - good to see you again! Interesting how many
amethyst lovers we have here today!
(Anna Sugden 5:14pm November 28, 2013)
Hi Sue! Thanks for stopping by today! Oh I bet your wedding
ring is gorgeous - emeralds are so pretty.
(Anna Sugden 5:14pm November 28, 2013)
My birthstone is opal (and it's also my fave stone) -- one
of the best gifts I ever got is a 53 ct hard carved opal
pendant.

Thanks for the amazing giveaway!
elizabeth @ bookattict . com
(Elizabeth Hyatt 5:47pm November 28, 2013)
I love sapphires..they are so beautiful. would love to read this book!!!
(Bonnie Capuano 6:43pm November 28, 2013)
Love hockey. I'm sure I would like this book.
(Tina Lechuga 7:18pm November 28, 2013)
Wow, Congrats on your new book: A PERFECT DISTRACTION. I
like the book cover too! Yes, my favorite gemstone is my
birthstone for February. Amethyst and I love the color
purple too. Yes, I think Opals are pretty too and No they
are not unlucky because all gemstones belong and come from
GOD because he owns all people and animals and things on our
pretty planet. I would love to win and read your new book
this Fall. Thank You very much. Cecilia CECE
(Cecilia Dunbar Hernandez 7:53pm November 28, 2013)
Love jade, turquoise and amethyst.
(Mary C 10:46pm November 28, 2013)
A book usually inspires me to pull out a hobby I all ready have and work on
a project. I have a variety of UFOs in my house.
(Laura Gullickson 11:23pm November 28, 2013)
When I got engaged, my husband offered to buy me an engagement ring. Instead I chose a beautiful prism, the first of many. We have been married for 33 years and my home has over 250 prisms of all sizes. It is filled with rainbows and love, enjoyment for all. I like gemstones, but crystal prisms are better.
(Sharon Mitchell 11:46pm November 28, 2013)
Happy Thanksgiving! I love all kinds of jewelry....any will do for me! Can't
wait to read this book!
(Melanie Backus 12:12pm November 29, 2013)
I read a similar romance book about opals. The setting was in Australia but I can't remember the title of the book. It has romance and fact about opal mining. I wonder if Rainbow Fire is the book. I only remember it was a Harlequin. I just can't if it was a Romance or Present.
(Kai Wong 12:18pm November 29, 2013)
Hi Elizabeth - thanks for visiting! Wow - that opal pendant
sounds gorgeous! Emilie was wearing a fabulous opal pendant
when I met her too. Very envious!
(Anna Sugden 5:42am November 29, 2013)
Hi Bonnie - good to see you! Sapphires are so beautiful -
years ago, in Sri Lanka, I saw the most amazing collection of
sapphires of all different colours.
(Anna Sugden 5:43am November 29, 2013)
Hi Tina! Yay! Another hockey fan! A Perfect Distraction is the
first in a series about the New Jersey Ice Cats, so plenty of
hockey and romance!
(Anna Sugden 5:44am November 29, 2013)
Hi Cecilia - thanks for stopping by! Thank you so much for the
compliments on my book. I was very pleased with what Harlequin
did for me :) That's a great way of looking at things :)
(Anna Sugden 5:45am November 29, 2013)
Hi Mary - good to see you. You love some very pretty stones -
jade and turquoise are so unusual!
(Anna Sugden 5:46am November 29, 2013)
Hi Elaine - rubies are lovely. I have some pretty jewellery
with rubies in from my 16th birthday.
(Anna Sugden 5:57am November 29, 2013)
Thanks for stopping by, Laura! How nice that books inspire you
to carry on with unfinished craft projects! I have a few UFOs
at home too and time is running out for Christmas presents!
(Anna Sugden 6:03am November 29, 2013)
Oh how lovely, Sharon. What a special idea and how wonderful
to have that daily reminder of your love!
(Anna Sugden 6:06am November 29, 2013)
Hope you had a lovely holiday, Melanie! LOL yay for the girls
who like bling! :)
(Anna Sugden 6:08am November 29, 2013)
Hi Kai - thanks for visiting. It sounds like Rainbow Fire.
There was a series of books about a family running a jewellery
empire in Australia, which also feature opals (by Miranda
Lee), but the one set in Coober Pedy is by Emilie.
(Anna Sugden 6:10am November 29, 2013)
My birthstone is an Opal. I love them and my husband is pretty good about buying me jewelry with opals ... next on the list is a bracelet. I have the hints out all ready for our 39th anniversary in January.
(Annetta Sweetko 7:25pm November 29, 2013)
This sounds like so much fun to read. I do love rubies.
(Mary Preston 7:40am November 30, 2013)
I love sapphires and amethyst.
(Rita Wray 10:20am November 30, 2013)
Holiday Inn--which begins and ends at Christmas--is another favorite of mine.
(G S Moch 9:19am December 23, 2013)
My list has many from your list. LOL

White Christmas
The Family Stone
The Holiday
While You Were Sleeping
It's a Wonderful Life
(Marcy Shuler 3:12pm December 23, 2013)
don't know that i have a list, altho White Christmas is right up there. But I enjoy all the new ones on Lifetime and Hallmark channels each year.
(Barbara Studer 2:26am December 24, 2013)
Miracle on 34th Street, It' a Wonderful Life, White Christmas, Christmas in Connecticut and almost any one of the lifetime Christmas movie.
(Carol Woodruff 6:29pm December 24, 2013)
You forgot the other classic... Charlie Brown Christmas and
How the Grinch Stole Christmas (the original) but yes I always
watch Miracle on 34th Street all 3, It's a Wonderful Life, and
White Christmas.
(Tina Ullrich 5:47pm December 29, 2013)
At one time, I was a bit of a make-up hoarder, but after my Husband lost his job, and we lost our house, we were living in a pop-up camper. There aren't a lot of items you can fit in one of those, when you have to take the items you're going to start your life over again on. Anyway, I never was able to grow my nails, so I don't get nailpolish. I only buy a couple of tubes of mascara at a time - budget allowing. I don't wear eyeshadow or face powder, at least powder very rarely. I only own one blusher, and use it until it runs out!! My eye-liners I purchase as needed. Lip gloss I tend to keep on hand a bit more, since I wear it whether I have makeup on or not. It's tough working on a tight budget, but that's the only way I can start to get ahead. Thank you for a very enlightening article!!
(Peggy Roberson 7:55am January 13, 2014)
Hi Peggy! Thanks for stopping by today! I'm so sorry for the
reason for your thriftiness, but am glad you are able to spare
some funds to treat yourself occasionally. Hope 2014 is a much
better year for you!
(Anna Sugden 9:35am January 13, 2014)
You're definitely not alone! I have so many eyeshadows, I've lost count. Seems like the powder ones last forever, since such a small amount is used each time. Lipsticks and lip glosses, I tend to use up quickly. I have many bottles of nail polish but don't wear it very often. I did learn years ago that when perfumes or colognes have any particles floating inside toward the bottom, it's time to toss them. They are getting bad, and the scent will not be the same and stronger (good for up to 3 yrs., usually). I'm sure the same holds true for body lotions, creams, etc. After a couple of years, time to toss and avoid skin reactions. I can attest to this from one lipstick I hadn't used in 2 or more years. My lips swelled up from it. I couldn't wait to throw it away! I think powder blush keeps the longest of any makeup item. I think women tend to be attracted to the makeup aisle and new products and buy more whether they really need it or not!
(Linda Luinstra 6:22pm January 13, 2014)
Nice reminder to throw out a lot of stuff that has been
cluttering my drawers, particularly since there isn't much in
there that I still use.
(Janet Martin 8:49am January 14, 2014)
I live in a nursing home and can't be bothered with any makeup, not even lipstick. I do wear chapstick when necessary.
(Carol Woodruff 6:38pm January 14, 2014)
LOL glad I'm not alone, Linda. I love lipsticks and nail
polish, so always tend to have more of those than I'll ever
use. Especially as I work from home! Just before Christmas, I
had enough Boots (UK drugstore) points to replace my entire
make-up essentials for free - so I did!
(Anna Sugden 7:31am January 15, 2014)
Thanks for stopping by, Carol. I must admit that I rarely put
on a full face of make-up anymore. But I try to remember to
use lipstick, if nothing else :)
(Anna Sugden 7:33am January 15, 2014)
I'll be lucky if my hubby evens remembers Valentine's Day. But he usually gets some candy for 50% off the next day. LOL My favorite flowers are daffodils and jonquils.
(Marcy Shuler 5:46pm February 5, 2014)
Don't really celebrate it.
(Cheryl McEwen 7:20pm February 5, 2014)
I think all flowers are beautiful but my husband is not the flower giving kind.
He usually gives me a pretty card. One year he wrote a little verse on
notebook paper. I have it framed and hanging on the wall.
(Melanie Backus 10:56pm February 5, 2014)
Lavender and lilies are my favorite flowers. I just discover the glow touch. I need to find a nursery that sells them.
(Kai Wong 12:15pm February 6, 2014)
My hubby hasn't remembered to do anything for Valentine's Day in years and years---but I usually get him something anyway.
(Sue Farrell 10:43am February 6, 2014)
We celebrate Valentine's Day if we have the funds to do so at the time, but it also falls the same week as our Anniversary, so it's more of a mulit-celebration when we're able to go out. My Husband is full of surprises, and tries to do at least something a little special that week, so the day doesn't just "pass by." By that I mean both our Anniversary as well as Valentine's Day. We prefer to clump it all into one day, and make it a little more special. This year it's going to be 31 years, and it really doesn't seem like it's been that long. Time marches by in the beginning, then as you get a little older, it tends to fly. My flowers won't come until he'll be able to pick them from the wild. My days of Purple Roses (my favorite) or mixed bouquets are over due to funds, so I'll have to wait until Spring, when he'll go outside for a walk, and pick a bouquet of wildflowers as a surprise. I hope you have a wonderful Valentine's Day, and that your Husband really surprises you this year!!
(Peggy Roberson 11:26am February 6, 2014)
Don't really celebrate it. peonies
(Carol Woodruff 7:14pm February 7, 2014)
Love flowers myself. Pastel in color and delicate. Thanks for the giveaway.
(Kathleen Beale 8:17am February 8, 2014)
My favorite flower is freesia, which fragrances an entire
room with the blooms. It's more of a springtime flower from
a bulb and comes in white, yellow or purple delicate
flowers. I don't tend to celebrate Valentine's Day, except
when off a diet the chocolate M&M's around any holiday are
scrumptious and fresh with fun colors.
(Alyson Widen 6:27pm February 25, 2014)
Clutter seems to be my middle name!
(Melanie Backus 1:22am March 5, 2014)
Thanks for stopping by, Melanie! Glad to know I have a
clutter twin!
(Anna Sugden 3:42am March 5, 2014)
Hi Anna!! We seem to be like 2 peas in a pod, although if you saw my desk area, you would think that you were Mrs. Clean!! lol We are of like minds, meaning that we have paperwork around, yet know pretty much where to find what we need in a pinch. I tend to get a bit overwhelmed at times, when I feel that enough is enough, and start to organize my notes, knitting material, and other miscellaneous papers that have made their way to my desk. I'm also one for constantly making notes, so that I never forget about something, and put them in a tray, which is stuffed with papers at the moment. When I get a few spare moments, I go through it, and throw out what isn't necessary anymore. There are also knitting magazines in holders on the rack under my desk for reference, along with my knitting bag. Need I say more!! Have a great week!!
(Peggy Roberson 8:55am March 5, 2014)
Hi Peggy - hope you're feeling better! :)

Ah yes, you'll notice I haven't mentioned my craft stuff. I
have a lovely old carpenter's box to store my materials, but
I have magazines and patterns stacked in a corner of my
closet and current projects on top of that box!

There is a method in our madness, right?!
(Anna Sugden 11:26am March 5, 2014)
I have organized clutter, lol!
(Colleen Conklin 12:00pm March 5, 2014)
Thanks for stopping by, Colleen - glad to hear you have
organised clutter too!
(Anna Sugden 5:29pm March 5, 2014)
Aha, we have a lone tidy person, L Lam! Good to see someone
from the other side! ;)
(Anna Sugden 5:30pm March 5, 2014)
I always have some clutter, but I try to keep under some control.
(Carol Woodruff 7:20pm March 6, 2014)
Lol. My nickname is Suzy cyclone. Certain things for me must
be organized. My desk, where bills are paid and budget is
done, must be clean. My room, forget it. Thank goodness my
husband is ok with it.
(Suzy F. 9:33pm March 7, 2014)
My clutter is pretty organized. Thanks for the giveaway.
(Kathleen Beale 8:53am March 8, 2014)
I think creative minds operate best with a bit of clutter.
Yet they know where the important pieces of information and
stuff is. My most productive time is when I have a lot going
on and time is getting close.
(Alyson Widen 5:25pm March 14, 2014)
Our home is Victorian and we have a lot of dusty rose, peach, pink and our bedroom is RED. No wallpaper. Lots of dolls, rocking horses, and lovely antiqued furniture. Love it Many friends call it The Doll House.
(Patricia (Pat) Pascale 9:08am April 9, 2014)
Thanks for stopping by today, Pat! Your house sounds
gorgeous! Our bedroom will be red, when we get around to
painting it too!
(Anna Sugden 9:11am April 9, 2014)
When I had my house, to break up the monotony, each room had a different color. My living room was a wheat shade, my bathroom had wallpaper against one wall, which had a small design in gold and green, which wasn't gaudy. The master bedroom was in royal blue. We had 2 other bedrooms. One was in green, and the last bedroom, which was mainly my craft room, was done in my favorite color - purple!! The kitchen was in a pearl grey, which was very light. It had other colors for accents. Now before you shake your head, each room that you went into, was an experience unto itself, and when people came over, they usually stayed in one room. The extra bedrooms were, as I said a craft room, and the other one was a library, so the green fit in with the bookshelves. The master bedroom had a bit of an oriental flair, which I carried over into the living room. Prior to that we were living in apartments, and I hated the all-white themes there, so it felt good to have some color!! If I had a large room like the one in the picture, I wouldn't choose purple for the theme, even though I love the color!! As for what I'd choose, it's too early for me yet, since I haven't had enough coffee yet, to pick a color theme!! Have a great day!!
(Peggy Roberson 9:18am April 9, 2014)
An all white house would be a disaster for me!! Too many
critters, kids (friends of kids), and school projects over
the years! Not to mention my total lack of grace. ;-)

I could never decorate an entire house with only one color.
I have a variety of colors - every room has walls with a
different color or at least variation on color -- I've got a
couple rooms that are different shades of green. My house
doesn't have large windows, so we don't have a lot of
natural lighting. Because of this we've stuck to lighter
shades for the walls just so we don't get that closed in
feeling. :-)
(Glenda Martillotti 10:12am April 9, 2014)
I am partial to beiges and browns and pale blue. All white I would go stir crazy!
(Denise Austin 4:22pm April 9, 2014)
Whoa! I had the misfortune of visiting a white-on-white house
before. I am absolutely horrified by this decorative scheme.
It's cold and blah, and empty and easy to damage. I love
jewel tones. Deep red, dark blue, emerald green, and of
course, purple!
(Brooklyn Ann 1:32am April 10, 2014)
Hi Peggy! Great to see you here today! Each of our rooms is a
different colour too, so I'm with you all the way. One of the
problems with that purple room is that it looks dull to me -
I'd brighten it up with a sunny colour! :)
(Anna Sugden 4:19am April 10, 2014)
Thanks for stopping by today, Glenda! Yes, an all-white house
would be a disaster for me too - we have 2 black cats, for a
start! Light is so important - especially during the winter
months, so keeping rooms light and bright keeps you cheerful,
I'm sure!
(Anna Sugden 4:21am April 10, 2014)
Hi Denise! Your colour scheme sounds lovely. We're about to
redo our bathroom in blue and white - so much better than the
all-white the previous owners had!
(Anna Sugden 4:22am April 10, 2014)
Thanks for stopping by, Brooklyn Ann! I know what you mean!
We felt like we didn't dare sit or touch anything in case we
marked something! LOL Jewel tones sound lovely!
(Anna Sugden 4:23am April 10, 2014)
Anyone that has all white walls in every room must be pretty boring. White furniture on top of that...gosh, is that for show only, since these people couldn't have children! I once had a realtor come through my house. All my walls painted in very pale shades. She told me to paint all my walls white whenever I decided to sell it. I thought she was crazy. Supposedly this gives a home a clean look and makes rooms appear larger. I don't think I've ever been in any home that has white walls throughout. I'm not a purple person. I don't think I'd feel comfortable in that purple room in your photo, but everyone has their own tastes. It looks off-balance with those weird archways and a TV thrown off to the side (strange decorating). I do like some wallpaper. I have it on one wall in each of my bathrooms with painted wall on opposite side. Many of my neighbors have barn red living rooms. I really think it looks gross!
(Linda Luinstra 6:12pm April 10, 2014)
Hi, Anna!!
Let me start of by saying that I am in love with your
bed!! At one time I would kill to have a bed like that, and
I always wanted to own an Amish quilt for my bed!!
Unfortunately, as you know, times have changed, and I'm
lucky to have a place to "hang my hat," as they say. lol
Because my bedroom is large, but filled with assorted
pieces of furniture, my dream bed is going to continue to be
just that. For now, I have to dream about getting a good
mattress to sleep on at night. The one we have now has seen
better days, and I sink on the spots that my husband has
worn in, after flipping it so many times. lol Hopefully
that will change before the end of the year.
As for sleep, I really don't require much. As a rule, I
can stay up until midnight, trying to get caught up on this
endless onslaught of e-mails, get to bed, then wake up
between 5 and 6, start the coffee somewhere around 7, and be
bright-eyed-and bushy-tailed, and have some of my chores
done, including being on the computer already, getting some
of my work done for the day!! As you know, my Husband and I
are Caretakers here, and we don't know what the day will
bring, so we have to be prepared for whatever happens in the
day. If the Landlord calls and needs us to do something, we
have to be ready at the drop of a hat to do it. I also have
my knitting class, and have to get my knitting in, and have
managed to get my reading in, along with other things, since
I've redone my daily schedule a little. There have been a
couple of days where I've been totally exhausted, and my
Husband has caught me on line, with my head plopped on the
computer, completely asleep!! These are my catnaps, which
have happened on occasion, but that's just when I'm
overworked. Even with my health problems, I try to keep a
sunny disposition, which on rainy or cold days is hard to
do, but somehow I manage. It's lovely to see you here
again, and
(Peggy Roberson 10:11am May 8, 2014)
Hi Peggy! With all you do, you make me exhausted! I wish for
you to have a bed as lovely as mine some day soon! You're a
special woman and you deserve the very best!
(Anna Sugden 7:14am May 9, 2014)
Oh I do love to sleep! these past few weeks my sleep has been disrupted as a side effect of medical treatments, and I find myself up at 3:30am, taking a nap in morning and in the afternoon, newspaper in hand. My bed is supremely comfy, with a lovely foam topper and - bliss! - an electric mattress pad, but I just can't stay asleep. It'll all be better in a few months! I love the window open, but those darn mockingbirds are singing 24 hours a day - they need a matchmaker, and fast. What a lovely bed, and lovelier quilt - your quiltmaker would so take pleasure in hearing your joy in her creation. Thank you for sharing!
(Beth Fuller 8:12pm May 10, 2014)
Registered users may leave comments.
Log in or register now!