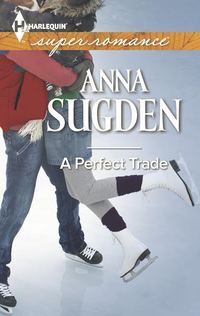 Purchase
Harlequin Superromance
July 2014
On Sale: July 1, 2014
Featuring: Truman "Tru" Jelinek; Jenny Martin
ISBN: 0373608608
EAN: 9781460335321
Kindle: B00IB5D9F4
Mass Market Paperback / e-Book
Add to Wish List

A win-win negotiation?
Truman "Tru" Jelinek's life is pretty much off the rails. With his professional hockey career on thin ice, and his personal life falling apart, he's ready to implement some serious changes. Helping Jenny Martin—the only girl he's ever loved—make her dreams a reality is a good place to start.
There's just one problem: Jenny doesn't want his help. She barely wants to speak to him. But Tru is prepared to negotiate a deal that even Jenny can't refuse. As trading favors turns into sharing passion, he has to face the truth that when it comes to Jenny, the game is far from over.
Comments
14 comments posted.
Re: A Perfect Trade

The plot really thickens with this book, and I wouldn't miss
it for the world!! Now I know why you've been so busy writing
this book!! Congratulations on your upcoming release, and
I'll be keeping my eyes peeled!!
(Peggy Roberson 11:06am June 4, 2014)
Thanks so much, Peggy! I'm busy at work on book 3 now - no
peace for the wicked! Hope you're well and life has picked up
for you!
(Anna Sugden 4:58am June 5, 2014)
This sounds wonderful! I love a story where the two main characters are 'barely speaking' but fate has other plans for them!
(Debbie Kelly 6:39am June 5, 2014)
Thanks so much, Debbie. I hope you enjoy it :)
(Anna Sugden 6:55am June 5, 2014)
Who of us hasn't looked back at a first love that didn't last
and wondered "What if?".
(Dana Wong 4:46pm July 2, 2014)
That's so true, Donna. And sometimes you think 'phew that was
a lucky escape!' ;)
(Anna Sugden 6:06pm July 2, 2014)
I love second chance romances, but I think it must be really hard to forgive someone who has hurt you before.
(Cheryl Castings 8:41pm July 2, 2014)
It is indeed, Cheryl. Hopefully in Tru and Jenny's case, the
journey to forgiveness is a believable one. :)
(Anna Sugden 8:40am July 3, 2014)
Why else do we read romance, Anna? :)
(Anna Sugden 8:40am July 3, 2014)
The first time I laid eyes on the man that I married, I knew
that was going to be our destiny. The sad part was that he
didn't know my true feelings, and we went our separate ways
for a few years. All of those years, I still held a torch
for him, and through a mutual friend, who ran into him, we
got back together. When he proposed to me, I was over the
moon!! We've been together now for 31 years, so even though
I can never bring back the years we missed, it gave me a
chance to not only grow up a bit, but also to grow as a
person. It was for the best that way, I suppose, and I
think he learned to appreciate me that much more, too!!
Since I'm a lover at heart, I have to believe in love in all forms - be it first love, second love, but after that, I
tend to question it a little!! lol Have a great week!! I
know your book is going to be great!!
(Peggy Roberson 10:55am July 3, 2014)
What a lovely story, Peggy! Doc Cambridge was my best friend
before he became my hubby, so I believe in love in all forms
too. Thanks so much - have a great holiday!
(Anna Sugden 8:40am July 4, 2014)
I would love to have a second chance but it has never came. I do wonder about the what ifs.
(Kai Wong 3:49pm July 4, 2014)
Thanks for stopping by, Kai! I wish for you to have a second
chance. Or a wonderful first chance that makes it clear why
that second chance never came.
(Anna Sugden 5:24am July 5, 2014)
I love reading about second-chance romances, but would have a hard time forgiving someone for hurting me.
(Carol Woodruff 7:34pm July 5, 2014)
Registered users may leave comments.
Log in or register now!