Find your own luck with the continuing sage of some of your favorite urban characters.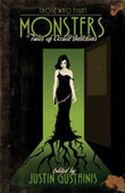 THOSE WHO FIGHT MONSTERS, Julie Kenner et al. (Edge, March 2011, March 5, 2011, $14.95 )
THOSE WHO FIGHT MONSTERS: Tales of Occult Detectives, is your one-stop-shop for Urban Fantasy's finest anthology of the supernatural. Fourteen sleuths are gathered together for the first time in all-original tales of unusual cases which require services that go far beyond mere deduction! THOSE WHO FIGHT MONSTERS: Tales of Occult Detectives brings together popular characters from many Urban Fantasy paranormal investigative series, for your enjoyment.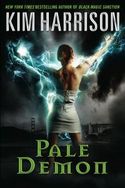 PALE DEMON, Kim Harrison (Harper Voyager, March 2011, March 1, 2011, $26.99)
Banned from the airways, Rachel's options for getting across the country are slim, until she grudgingly agrees to travel with elven tycoon Trent Kalamack, who has his own secret agenda on the West Coast. Coming along with the duo are Rachel's associates, the living vampire Ivy and Jenks, a pixy, and legions of assassins out to ensure they never reach their destination. The fun really starts when someone frees a fearsome, day- walking demon from his eternal prison under the Arch in St. Louis. It's been a rough couple of Milena and this soul- devourer is hungry for vengeance, and Rachel is his ultimate prize.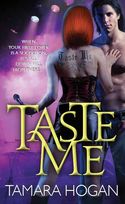 TASTE ME, Tamara Hogan (Sourcebooks Casablanca, March 1, 2011, $6.99, Underbelly Chronicles #1)
Ever since their tempestuous fling years ago, incubus Lukas Sebastiani has known that siren Scarlett Fontaine was meant to be his. But when you're a sex demon with an insatiable desire, relationships are…complicated. Rock star Scarlett Fontaine desperately needs a break after a grueling tour. But with murder and mayhem surrounding her band, and Lukas guarding her body, life is going to be anything but peaceful. Every encounter between them creates more turmoil- and heat- until Scarlett pushes Lukas to the boiling point, and unleashes forces that go way beyond anything she can hope to control.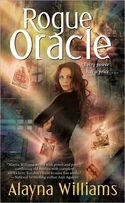 ROGUE ORACLE, Alayna Williams (Pocket, March 2011, $7.99)
Tara Sheridan is the best criminal pro-filer around- and the most unconventional. Trained as a forensic psychologist, Tara also specializes in Tarot card reading. But she doesn't need her divination skills to realize that the new assignment from her friend and sometime lover, Agent Harry Li, is a dangerous proposition in every way. Former Cold War operatives, all linked to a top-secret operation tracking the disposal of nuclear weapons in Russia, are disappearing. There are no bodies, and no clues to their whereabouts. Harry suspects a conspiracy to sell arms to the highest bidder. The cards- and Tara's increasingly ominous dreams- suggest something darker. Even as Tara sorts through her feelings for Harry and her fractured relationship with the mysterious order known as Delphi's Daughters, a killer is growing more ruthless by the day. And a nightmare that began decades ago in Chernobyl will reach a terrifying endgame that not even Tara could have foreseen.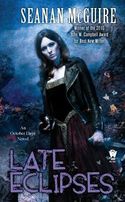 LATE ECLIPSES, Seanan McGuire (DAW, March 1, 2011, $7.99, October Daye #4)
With Blind Michael and his Hunt safely behind her, October "Toby" Daye is doing her best to settle back into a normal routine- or as normal of a routine as she can manage, with her personal Fetch now paying half the rent. Still, things seem to be mostly under control, until the events of a single night send everything reeling. Now, with the Queen of the Mists watching her back and the Lady of the Tea Gardens deathly ill, Toby has no choice but to get involved, no matter how much she wants to avoid it


UNDER WRAPS, Hannah Jayne (Kensington, March 1, 2011, $6.99, The Underwold Detection Agency Chronicles #1)
As a human immune to magic, Sophie Lawson can help everyone from banshee to zombie transition into normal, everyday San Francisco life. With a handsome werewolf as her UDA boss and a fashionista vampire for a roommate, Sophie knows everything there is to know about the undead, the unseen, and the uncanny. Until a rash of gruesome murders has demons and mortals running for cover, and Sophie finds herself playing sidekick to detective Parker Hayes.


ETCHED IN BONE, Adrian Phoenix (Pocket, March 2011, $7.99, Maker's Song #4)
More beautiful and powerful than any creature the world has ever seen, Dante Baptiste has become the supreme target of the three worlds that spawned him. The mortal agents of the Shadow Branch have tried to control his mind through psychological torture. The vampire elders who guide night-kind society have plotted to use him in their bloodthirsty bid for power. And the Fallen have waited for millennia for Dante to claim his birthright as their Maker. But Dante belongs to no one- except the woman he loves.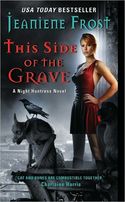 THIS SIDE OF THE GRAVE, Jeaniene Frost (Avon, March 2011, $7.99, Night Huntress #5)
Half- vampire Cat Crawfield and her vampire husband Bones have fought for their lives, as well as for their relationship. But just when they've triumphed over the latest battle, Cat's new and unexpected abilities threaten to upset a long- standing balance.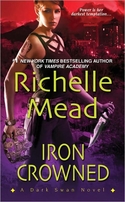 IRON CROWNED, Richelle Mead (Zebra, March 2011, $7.99, Dark Swan #3)
New York Times bestselling author Richelle Mead takes readers back to the Otherworld, an embattled realm mystically entwined with our world- and ruled by one woman's dangerous choice. Shaman- for- hire Eugenie Markham is the best at banishing entities trespassing in the mortal realm. But as the Thorn Land's queen, she's fast running out of ways to end the brutal war devastating her kingdom. Her only hope: the Iron Crown, a legendary object even the most powerful gentry fear. Who Eugenie can trust is the hardest part. Fairy king Dorian has his own agenda for aiding her search. And Kiyo, her shape-shifter ex- boyfriend, has every reason to betray her along the way. To control the Crown's ever-consuming powers, Eugenie will have to confront an unimaginable temptation- one that will put her soul and the fate of two worlds in mortal peril.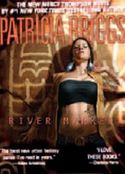 RIVER MARKED, Patricia Briggs (Penguin,March 2011, $26.95, Mercy Thompson Series #6)
Car mechanic Mercy Thompson has always known there was something different about her, and not just the way she can make a VW engine sit up and beg. Mercy is a shapeshifter, a talent she inherited from her long-gone father. She's never known any others of her kind. Until now.

An evil is stirring in the depths of the Columbia River-one that her father's people may know something about. And to have any hope of surviving, Mercy and her mate, the Alpha werewolf Adam, will need their help...

Enjoy,
Sara Edmonds
No comments posted.