She had me at Chocolate Chip Cookies!
And then Strawberry Shortcakes, Blueberry Muffins, Lemon Meringue Pie … Yes, cozy mystery author Joanne Fluke is a sweet-tooth temptress, and her Hannah Swenson Mystery series are just the right cure for the craving.
I've been reading Joanne's cozy mystery series for going on ten years now, since her first book, CHOCOLATE CHIP COOKIE MURDER, so it was a great honor for me that she accepted my invitation to be interviewed for my column here.
So, with no further ado...here is Joanne Fluke, talking about writing, baking, and solving murders!
Sharon: At what age did you know that you wanted to be a writer?
Joanne: I'm not exactly sure, but my mother is the one who encouraged me. I remember reading a book when was in grade school and complaining that I didn't like the ending. My mother suggested that I sit down and write another ending, one that I liked better. I did and in retrospect, I think that's when my writing career began. I knew for certain that writing was in my future in eighth grade. Every Friday our teacher wrote three titles on the board, passed out a sheet of narrow-lined paper, and told us to write something that fit the title of our choice. We could write anything we wanted as long as we filled up both sides of the paper. I was the only one in my class who loved English class on Fridays.
Sharon: How did you get interested in writing cozy mysteries?
Joanne: When I first started writing, I wrote in a variety of genres: humor, romance, historical, family sagas, young adult suspense, and thrillers. Writing thrillers was the most difficult and I scared myself half to death. I used to wake up with nightmares. My very patient husband asked me if I thought perhaps I could writing something else a bit more benign ... like that family cookbook I was always talking about doing someday. I spoke with John Scognamiglio, my editor at Kensington, and he suggested turning all those recipes I'd collected and perfected over the years into a culinary mystery series. And that's how the Hannah books started.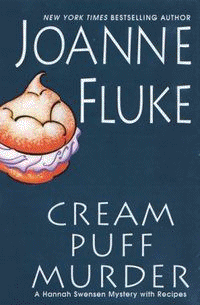 Sharon: What inspired the theme of your series? And is Hannah based on a real person?
Joanne: All those yummy recipes suggested the theme. I simply had to have someone who was involved in baking and cooking as my amateur sleuth. Hannah, as a character, is my conception of the perfect friend. She's funny, supportive, kind, generous, and if she lived next door to me, she'd probably bring me cookies. What more could you ask for in a friend? Hannah doesn't remind me of any one person I know, but she's very real to me. I went to my local grocery store yesterday to pick up some apples for a recipe I was trying. I caught myself just as I was about to turn around to ask Hannah if I should buy Granny Smiths or Gala.
Sharon: What appealed to you about the genre of cozy mysteries as opposed to hardcore mysteries or suspense stories?
Joanne: I'd just finished writing twelve thrillers and six young adult suspense novels and I needed a break from the dark side of life. I was more than ready for a change to something kinder and gentler. I certainly sleep better at night, now that I'm writing the Hannah books. Oh, I still wake up with the occasional nightmare, but now I can handle it because my dream usually stars Hannah running out of chocolate!
Sharon: Where do you find the delicious cookie recipes that "Hannah" bakes for The Cookie Jar?
Joanne: Some of my recipes are old family recipes. My grandmother came to this country to work as a "pie girl." She helped the pastry chef in the kitchen of a very wealthy family in Northern Minnesota. She didn't write down any of the recipes, but she remembered them. My mother is the one who watched Gammie bake, measured those four handfuls of flour to find out how many cups they really were, and wrote down all of our favorites.
My curiosity leads to a second source of recipes. There are times when I say "what if." For instance, what if the wonderful chocolate sauerkraut cake that's so popular in Minnesota could be made as a cookie? (That led to the Don't Ask Don't Tell Cookie in CREAM PUFF MURDER.)
Readers provide a third recipe source for me. They're very generous about sharing their favorite family recipes. If you see a recipe attributed to some character you've never met, like Lisa's Cousin Judy, or Hannah's college friend Grace, the recipe probably came from a Hannah reader.
Sharon: With more and more series coming out in the cozy genre, do you see the competition for readership becoming more fierce? What do you do to keep your readers coming back for more?
Joanne: First of all, I think it's great that more and more books are published. To me, that means people are reading more. Reading is wonderful. It lifts you right out of your own life and into someone else's life. And unlike a movie, you can get back to your own life instantly by bookmarking your page when the phone rings, or the kids need something. You won't miss a thing because of the interruption. The story will be waiting for you when you open the book again.
I've never thought of other cozy writers "competition." People do read more than one book a year, you know.
I don't think I do anything special to keep the Hannah readers coming back for more. I just tell the stories I enjoy myself, and let those wonderful characters in Lake Eden drive the continuing storyline along.
Sharon: The cover art on your books is just gorgeous -- very eye- catching. Who does the artwork for each book and are you consulted as to how it will look?
Joanne: I love my covers! The artwork is done by my talented hero, Hiro Kimura. There's a bakery close to his studio in Brooklyn and he always goes out to try the title dessert so he can get the "flavor" just right.
Lou Malcangi at Kensington Publishing designs the cover using Hiro's artwork. It's a team effort and the result is always mouthwatering. When I pass my books in a bookstore and they're turned face out, I get so hungry my tummy growls!
Sharon: Who are some of your favorite authors? Who inspires you?
Joanne: Of course there are the usual suspects including the author who inspired me the most, Agatha Christie. Reading is a great joy in my life and I have a book I'm currently reading in almost every room. There's one in the bedroom, the top book in a stack to be read. There are oodles of cookbooks in the kitchen, many on technique or the science of recipes since I've never had any formal training. There are several books in the living room next to the chair I prefer for reading, and there's even a bookshelf in the bathroom! Unfailingly, my favorite author is the one I'm currently reading. I adore Laura Levine's deft touch with one-liners, and I'd love to see Jaine Austen's cat Prozac meet Moishe. Leslie Meier's sleuth Lucy Stone is homey and sincere, and Leslie's cozy mysteries are heartwarming. When I want a good scare, I read Beverly Barton, Lisa Jackson, or Gregg Olsen, but never when I'm alone at night! And I read countless books for research to learn all I can about whatever might interest Delores, or Hannah, or Tracey it in the next Hannah book.
Sharon: What do you have coming up in the future?
Joanne: Oh, boy! I'd just love to say I have a vacation coming up! I'm so busy I don't even have time to sneeze. Hannah's Christmas book, PLUM PUDDING MURDER, is just out and I've spent the past couple of months signing books and putting the finishing touches on APPLE TURNOVER MURDER, which will be released on February 23rd! It's another full- length Hannah book with a murder backstage at a charity function, a secret that two of the Swensen sisters share, a surprise announcement from Norman, and lots of yummy recipes.
Then there's the title novella I'm writing for GINGERBREAD COOKIE MURDER, Laura Levine and Leslie Meier are each doing Christmas novellas, and the hardcover will be released in October 2010, just in time for Christmas gift- giving. There's another full-length Hannah book for March of 2011 called DEVIL'S FOOD CAKE MURDER I just finished writing the outline for that and it's going to be great fun to write! And then there's the cookbook for Christmas of 2011. But I'm getting way ahead of myself.
Sharon: What advice would you have for anyone wanting to break into the "cozy mystery" genre.
Joanne: It takes a lot of nerve to give advice to others, but I can give you a basic truth. If you want to write, there are two things you must do: read and write. When I first became serious about writing as a career, I kept a notebook right by my side while I read. I wrote down everything other writers did that I liked, and also of the things I didn't like. It's never too early to start that notebook. Do this for several months and when you think you're ready to begin your own writing, just sit down and start.
Write every single day, even if it's just a note to the phone company, or a long descriptive e-mail message to a friend. Keep at it. Hone your skills. Then, when that perfect idea for a mystery pops into your head, you'll be all primed and ready to write it.
Know where you're going and the path you'll take to get there. Every story has a beginning, a middle, and an end. If you always keep that final scene in sight, you'll get there.
Develop thick skin. Don't ignore criticism -- some may have merit -- but do not allow it to destroy your faith in your own judgment, or to sap your initiative.
And finally, don't give up your day job. It's extremely rare that a first novel sells millions and puts the writer on Easy Street. Plan to work in some other field and write in your free time. You must support your writing the same way you'd support a dependent child. When it matures, it might end up supporting you, but you must do your part first.
A Note from Jo: I'll be going on a 14-city tour for APPLE TURNOVER MURDER at the end of February, so check my web site www.murdershebaked.com to see if I'll be in your area. I'd love to meet you in person. It's wonderful to talk to talk to readers who like Hannah almost as much as I do!
Many thanks to Joanne Fluke for taking time out of her busy days to chat with us about her writing.
Be sure to come back in March, when I'll be chatting with Utah author Josi S. Kilpak about her "foodie" mystery series. Until then, cozy reading, ya'll!
1 comment posted.
I enjoyed reading this post. I love Joanne Fluke's Hannah Swenson Mystery series. I enjoyed learning more about this Joanne and this series of hers. I love the recipes that she shares in each of the stories too.
(Becky Ward 7:10pm February 16, 2010)