How much historical research is involved with your books?
It depends on each book. Sometimes the particular subject matter or slice of historical time in which the book is set requires a great deal of research, and sometimes it's not quite so intensive. And of course, that is on top of the vast amount of background research about all the particulars of the time period and my characters' backgrounds that I conducted before ever beginning to write the series. Plus, I'm often reading general and social histories during my free time, simply trying to always be increasing my knowledge and search out interesting plot ideas.
In A PERILOUS PERSPECTIVE there is a forgery and a murder. Do you normally have different criminal elements along with murder?
Sometimes. Though, not always. I was inspired to explore the art forgery aspect for this book because Lady Darby is a gifted portrait artist, and I hadn't utilized that trait fully with any of my recent plots. It was an absolutely fascinating subject to research, and then try to figure out how much my heroine could have feasibly known and been able to detect in 1832 versus all the tools we now have at our disposal for detecting forgeries.
There are readers who enjoy cozy mysteries, and those who enjoy thrillers. How would you describe this mystery novel?
I always struggle a bit with this question because my books definitely lie somewhere in the middle. There is no foul language, on-page love scenes, or gratuitous violence. But they are definitely darker, more intense, and descriptive of the murders than the average cozy. Though by no means do I delve excessively into the gore. I really feel like they stride very much along the middle of the road.
This series started out with a single Lady Darby as a sleuth. When did you decide to change gears and write about a couple who are investigators? Was that planned from the beginning?
I always intended for there to be a romantic element to the stories. Throwing two seemingly disparate, incompatible people together who also happen to be attracted to each other and making them investigate mysterious deaths forces them to confront things about themselves they might not otherwise have. It also makes them realize that perhaps they're not so different and incompatible after all. Lady Darby and Gage bring out the best in each other.
Your Lady Darby series is set in the 1800s and your Verity Kent series is set in the 1920s. Besides the obvious, what are the differences for you writing the two different series? Is there another time period you'd be interested in writing about?
Obviously, the technology is different as well as some of the mores of the period. But the difference I'm always most struck by when writing both series is the language. They each have their own rhythm, their own nuance. I often equate it to the popular music of the era. In 1830, music was still what we call classical, but it was entering the romantic era. As such the Lady Darby series is crisper, more formal, but it also has a sense of lyricism, of sweeping drama and emotion. While the 1920s-set Verity Kent series is very much influenced not only by WWI and soldiers slang, but also rag music and jazz. It gives it a swing, a playfulness that goes along well with the new vernacular. Yet there's an undercurrent of blues—of sadness, of loss, of the desperation of struggling to find one's way after so much upheaval.
I've toyed with the idea of setting something in the later 18th century, either around the American or French Revolution. Maybe someday if the right plot came to me.
A few authors I've interviewed have told me that they don't read the same type of books that they write. What do you enjoy reading? Favorite books? Authors?
I do happen to read the same books I write. They're my favorite combination—history, mystery, and romance. However, I do tend to avoid reading books set around the same time period as whatever book I happen to be drafting, just because I find that sometimes it hampers my natural writing voice. Some of my favorite authors include Mary Stewart, Susanna Kearsley, Kate Ross, and Ashley Weaver. I also read a lot of nonfiction for research and my own interests.
If you could pick only one of your books to recommend to a reader unfamiliar with your work, which one would you choose? And why?
I suppose I would ask them whether they prefer Jane Austen/Bridgerton or Downton Abbey/Miss Fisher's Murder Mysteries. If they said Jane Austen, I would recommend THE ANATOMIST'S WIFE, simply because it's Lady Darby Book 1. And if they said Downton Abbey, I would suggest THIS SIDE OF MURDER, Verity Kent Book 1. I write my books so that hopefully readers can jump in at any point in the series and not be confused, but it is definitely easiest to suggest they simply start from the beginning.
What are you currently working on?
I am currently writing Lady Darby Book 11, which will release next spring. I'm also finishing final proofreads of A CERTAIN DARKNESS, Verity Kent Book 6, which releases on 8/30.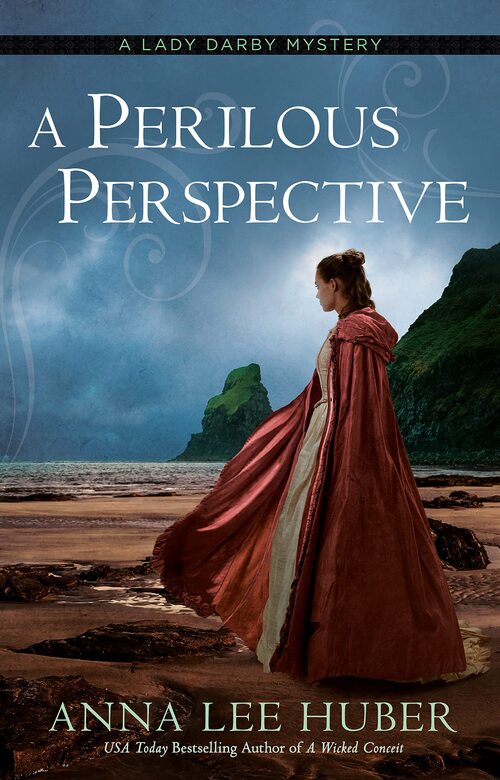 An all-new historical mystery in this USA Today bestselling series featuring beloved inquiry agents Lady Kiera Darby and her dashing husband, Sebastian Gage.
Argyll, Scotland. July 1832. After a trying few months in Edinburgh, Kiera and her husband and investigative partner, Sebastian Gage, are eager to escape to the Highlands with their three-month-old child. Kiera is overjoyed for her cousin Rye and her detractor-turned-friend Charlotte who are being wed in a private ceremony at the estate of Rye's great-uncle, the Marquess of Barbreck, in what seems to be the perfect wedding party.
But when Kiera is invited to peruse Barbreck's extensive art collection, she is disturbed to discover that one of his most priceless paintings seems to be a forgery. The marquess's furious reaction when she dares to mention it leaves her shaken and the entire house shocked. For it turns out that this is not the first time the word forgery has been uttered in connection with the Barbreck household.
Matters turn more ominous when a maid from a neighboring estate is found murdered where the forged painting hangs. Is her death connected to the forgeries, perhaps a grisly warning of what awaits those who dare to probe deeper? With unknown entities aligned against them, Kiera and Gage are forced to confront the fact that they may have underestimated their opponent. For they are swiftly made to realize that Charlotte's and Rye's future happiness is not the only issue at stake, and this stealthy game of cat and mouse could prove to have deadly consequences.
Mystery Historical [Berkley, On Sale: April 5, 2022, Trade Size / e-Book, ISBN: 9780593198469 / eISBN: 9780593198476]
Murders stalk a Highlands estate
Anna Lee Huber is the Daphne award-winning author of the national bestselling Lady Darby Mysteries, the Verity Kent Mysteries, and the Gothic Myths series, as well as the forthcoming anthology The Deadly Hours. She is a summa cum laude graduate of Lipscomb University in Nashville, Tennessee, where she majored in music and minored in psychology. She currently resides in Indiana with her family and is hard at work on her next novel. Visit her online at www.annaleehuber.com.
No comments posted.