Kari Lee Townsend | It's That Time of Year + Giveaway!
Win a signed copy + basket of goodies!

January 10, 2022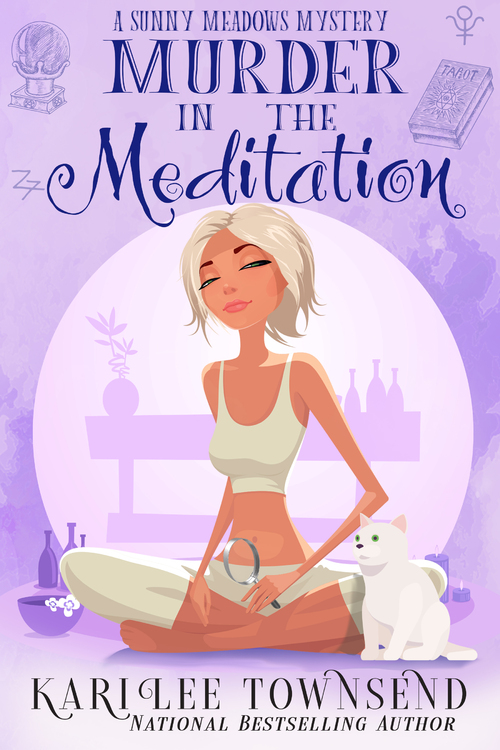 Murder in the Meditation
Kari Lee Townsend
AVAILABLE
Fortune Teller Mystery #7

December 2021
On Sale: December 28, 2021
ISBN: 0005275393
EAN: 1230005275397
Kindle: B095V867XN
e-Book
Add to Wish List
Add to review list

Also by Kari Lee Townsend:
An Inkling of Evil, April 2023
Add to review list
A Touch of Malice, October 2022
Two Cents of Doom, April 2022
Add to review list
Murder in the Meditation, December 2021
Add to review list

Time to start fresh. A brand-new year of possibilities. That got me thinking about New Year's Resolutions. Some people are for them. Some people are against them. Where do you stand on the matter? I, for one, am for them. I like to reflect on the past year both personally and professionally. I like to think about goals I set the previous year and see if I met them. If I didn't, then I reflect on why not and what I need to do to differently?
Life is complex. It can get busy and crazy and a jumbled mess if we let it. Happiness is about balance, or so I'm learning ;-) I'm finding the older I get, the more balance I need to be happy. The older we get, the wiser we get. As cliched as it sounds, it's true! I no longer need all the things I once thought I did to be happy and fulfilled. It's taken me years to realize my success isn't based on the accomplishments of anyone else. It's based on my own goals and working hard to meet them.
2020 hit hard for us all. I never in my wildest dreams imagined we could live through a pandemic. All of us at home, learning to navigate work and school and way more togetherness than anyone was used to. My youngest child graduated high school and started college that year, missing out on so many milestones yet gaining several unique experiences her brothers never had. It made me realize life being different doesn't always mean it has to be bad. There is no use stressing over things we can't change. So instead, I chose to take a close look at things I can change. If we don't like the story we're in, then we need to write a new one.
That's exactly what I did in 2021. Thanks to my amazing agent, I took a chance and signed with Oliver-Heber Books in March. Since then, they relaunched my backlist and have published several new books for my frontlist for a grand total of 13 novels, 8 novellas, and 3 short stories. We also sold the house we lived in for 17 years, stayed in an extended stay hotel with two big dogs for 3 months, then moved into a brand-new ranch we had built in November that we love.
I have never been more excited to start a new year. I have high hopes for 2022. I plan to write 4 brand new novels and one I had already written will also be published for a total of 5 new full-length books releasing this year. When I stop and think that I will have written 18 books, 8 novellas, and 3 short stories by the end of this year, I feel proud and successful. I get to do what I love for a living and take people on a journey along the way. Now if only I can get my personal goals to be as successful. This year I am going to put myself first and work on being mindful in the health of my mind and body. Meditate more, don't take friends and family for granted, and learn to say no.
--
To celebrate the release of MURDER IN THE MEDITATION (book 8 in the Sunny Meadows Mystery Series), Kari Lee Townsend is giving away a signed copy of the book as well as a basket of goodies. Comment on what you want to accomplish in 2022 for a chance to win. Good luck and happy reading!
--
Fortune Teller Mystery #7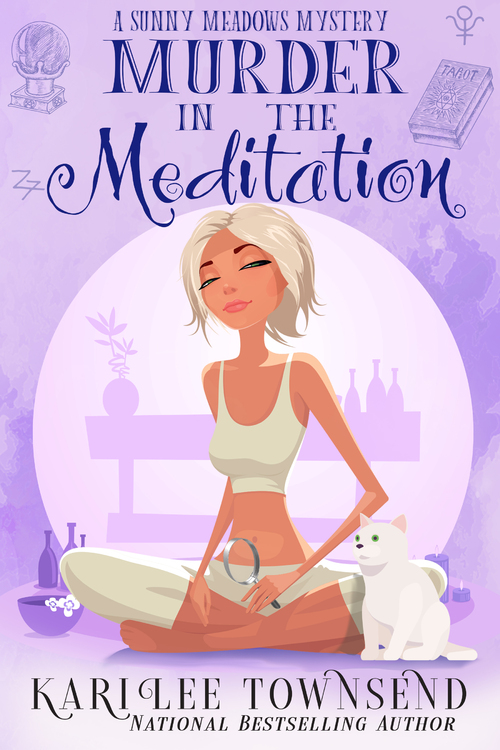 Meditation leads to peace and tranquility—or deadly visions if you're psychic Sunshine Meadows…
Sunny's parents and Granny couldn't be happier—or more overbearing—with the news of their first grandchild on the way, and Sunny's new husband Detective Mitch Stone couldn't be more terrified—or overprotective. Even her biggest ally Morty the cat has turned against her and partnered up with her husband, which is something she never thought she'd see in this lifetime. All because trouble has a way of seeking her out. When Sunny becomes over stressed, her doctor orders her to meditate. Not an easy task with a psychic convention in town. Sunny's visions are not of pink and blue; she's seeing red as meditation leads to murder and the head psychic winds up dead. With no prime suspects, Sunny has no choice but to seek out trouble and use her clairvoyant abilities to solve this case if she is ever going to be free to focus on being a mother. That is if the real killer doesn't make her lose her mind first…
Mystery Cozy [Oliver-Heber Books, On Sale: December 28, 2021, e-Book, ISBN: 1230005275397 / ]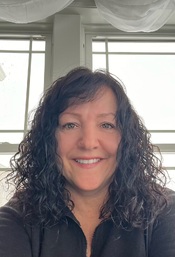 Kari Lee Townsend is a National Bestselling Author of mysteries & a tween superhero series. She also writes romance and women's fiction as Kari Lee Harmon. With a background in English education, she's now a full-time writer, wife to her own superhero, mom of 3 sons, 1 darling diva, 1 daughter-in-law & 2 lovable fur babies. These days you'll find her walking her dogs or hard at work on her next story, living a blessed life.
Comments
28 comments posted.
Re: Kari Lee Townsend | It's That Time of Year + Giveaway!

I'd love to become more active and get into better shape.
(B.J. Bernal 12:49pm January 10, 2022)
I have gotten so far behind with everything, it is overwhelming. This year I hope
to regain control of my life. I have a compromised immune system and the past
two years have been a challenge. We are active volunteers (one reason I didn't
get much done at home.) and not being able to help the various organizations
has been a disappointment. That being said, I need to work on spending more
time on myself. I was diagnosed with a second serious disease last year and
haven't been able to wrap my mind around it. Getting my house in order,
weeding out emails (I am maxed out), and doing things I enjoy, like reading,
need to be moved to the forefront. We enjoy traveling and it is the only time we
do something strictly for ourselves. The past two years have robbed us of that.
We will have to find a way to bring our COVID free bubble with us so we can at
least have a few short trips. I have a milestone birthday next week and will truly
try to make this a New Year of getting my life back.
(Patricia Barraclough 2:00am January 10, 2022)
My main accomplishment goal for 2022 is to make time every day
to read for fun.
(Pam Howell 5:45am January 10, 2022)
After hibernating for two years I want to try to live with the threat of COVID. I had given up my classes - dancing, Zumba, yoga and want to resume them and try to get control of my eating and weight again.
(Linda Gawthrop 6:17am January 10, 2022)
I would like to organize my house in 2022. Your new book sounds amazing! Thank
you for the opportunity to enter a contest. Have a wonderful day and take care!
(Tracey Boehm 9:30am January 10, 2022)
im starting over,,building a tiny house,,selling my bigger
house and selling all the junk inside,,went thru a bad divorce
3 yrs ago and now im letting everything go and going to free
from burdens
(Vickie Couturier 9:39am January 10, 2022)
I plan to declutter my spare bedroom and turn it into my office.
(Susan Smith 11:34am January 10, 2022)
I would like to sort out the things stored in my closets, get
rid of items no longer need and have everything left
organized. Anyway, it's my dream. Wish me luck.
(Anna Speed 11:42am January 10, 2022)
I'd like to get rid of the things no longer used/needed in
my home.
(Tina Rucci 12:32pm January 10, 2022)
I'm working on saving money to but a house.
(Jana B 12:41pm January 10, 2022)
Love this series. I just want 2022 to be better than last
year.
Thanks for the chance.
(Ann Ivey 12:43pm January 10, 2022)
I would love to do some downsizing in 2022 and get to read all the books
in my TBR. Your book sounds great. Thanks for the chance to win.
(Nancy Reynolds 2:27pm January 10, 2022)
My main goal is to move more and I'm off to a good start using my new Apple
Watch.
(Kara Marks 4:35pm January 10, 2022)
Clear some junk out and read as much as I can
(Colleen Conklin 6:59pm January 10, 2022)
finding more time for hobbies...
(Martin Bodnar 7:16pm January 10, 2022)
I'm paying off all my debt.
(Lori Byrd 7:21pm January 10, 2022)
To declutter and spring clean the often overlooked areas in my house all while
listening to books!
(Tracy Urschler 9:23pm January 10, 2022)
I hope To be a more kind and helpful person this year
(Patricia Treskovich 10:33am January 11, 2022)
I would like to organize, declutter, and read more.
(Tanja Dancy 10:52am January 11, 2022)
I want to continue my journey of eating healthy and moving
more.
(Alyson Widen 9:53pm January 11, 2022)
I want to eat healthier and exercise! I know it seems easy, but it's not. I really
need to stick with it! Also need to do some deep cleaning my house.
(Andrea Drake 5:19am January 12, 2022)
This year I have made a resolution that I know I can keep.
No more far fetched and impossible resolutions. This year, I
am going to get outside more with my husband and kiddos. My
family recently moved to Michigan and we are already
enjoying the outdoors and the fun in the snow. I am looking
forward to all the new adventures we will have as the
seasons change here.
(Tamara Regan 8:50am January 12, 2022)
I could not imagine not being able to relax in meditation!
That would be a horrific event! Sounds great!
(Athena Graeme 10:49pm January 12, 2022)
I want to get rid of many of the items cluttering up my house.
I plan to retire in 3 years and move some place warm. I'll
need the three years to pare myself down to just a pod.
(Anne Muller 6:58pm January 13, 2022)
Meditation is a daily thing for me so it would be fun to read a book that includes it.
(Catherine Myers 11:45pm January 14, 2022)
In 2022 I want to continue my goal to remove clutter and
organize my home. I completed half of the downstairs in 2021
and hope to finish the rest this year.
(Nancy Krueger 7:15pm January 15, 2022)
I would love to finally get more fit and eat healthier. I've had a lot of health
issues now like high blood pressure and pre diabetes that I feel would be gone
or at least better by getting myself healthy again.
(Richelle Leffler 8:36pm January 15, 2022)
I would like to find the adventure in the everyday.
(Rebecca Shields 7:45am January 16, 2022)
Registered users may leave comments.
Log in or register now!