Kate Carley | Love In an Airport
GIVEAWAY: win Amazon Gift Card

September 29, 2021
You know the scene. That one where the hero races through the airport to catch his sweetheart before she boards the plane and soars out of his life forever. It's a moment in countless stories, both in print and in cinema, where we cheer for the couple and maybe even become a little misty-eyed. But really, what would you do if you were faced with the potential of losing the best thing in your life?
Many great love stories feature an airport or airplane scene, often in those final moments of the story when all hope seems lost. That's when one of the characters realizes the depth of their feelings and risks everything to declare their love.
Here are my top five favorite airport/airplane scenes from movies and television:
Love Actually: This movie is unique in that it starts and ends in Heathrow airport. As the movie opens, we see various couples and families happily hugging their loved ones at the arrival gate. At the end of the movie, we watch as a dad, played by Liam Neeson, rushes his son through the airport so that the young boy can express his feelings to a classmate who is moving away. Love Actually reminds us that both in the comings and goings found throughout an airport, love is often the overriding emotion. It makes people laugh or cry or race through the crowds in a last-ditch attempt to proclaim their love.
There is an iconic sprint through the airport in the TV show Friends. Ross was never good at hiding how he felt about Rachel. Everyone understood the extent, except maybe Rachel. So, Ross and Phoebe make a mad dash to the departure gate, hoping to catch Rachel before she boards her flight. Then when Ross makes his heartfelt announcement, Rachel can't cope so she gets on the airplane anyway. It isn't until later when Ross listens to a message on his answering machine that we learn that Rachel tried desperately to get off the plane at the last minute when she realizes her love for him. And just like Ross, our hearts are gripped with the question, "Did she get off the plane?"
Sometimes the airport terminal is simply the backdrop for a giant epiphany as in the movie Sleepless in Seattle, starring Tom Hanks. Hanks plays Sam, a single father to Jonah. Together Sam and Jonah go to the airport to drop off Sam's girlfriend at the departure gate. While there, Jonah makes it thoroughly clear that he doesn't like his dad's girlfriend. This leads Sam to share some wisdom with his son—"There's no such thing as perfect." The moment those words are out of his mouth, Julia, played by Meg Ryan, walks through the arrival gate, sparking Sam's interest and proving that sometimes timing and a connection are truly perfect.
An example of a perfectly grand gesture is when Marshall goes to the airport to pick up Lily in How I Met Your Mother. This is one of my favorites. The hero goes to extraordinary lengths to be there for the woman he loves, even arranging for Lily to be serenaded by a marching band playing Auld Lang Syne.
By far, my favorite airport/airplane scene is in the movie, The Wedding Singer, starring Adam Sandler and Drew Barrymore. Sandler plays Robbie Hart, a wedding singer with a broken heart, and Barrymore plays Julia, a woman engaged to a thoughtless jerk. In the end, Robbie wins Julia's heart when he surprises her by serenading her with "Grow Old With You" midflight.
In my story, JUST FOR A MOMENT, you'll find something a little different. Grace and Aaron work together to restore a WWII aircraft her grandfather left her at his death. It is out of love for Edwin Ross, Grace's granddad and Aaron's dear friend, that they both labor together on the project. And it's during those long hours working side-by-side that they find themselves falling in love.
--
COMMENT TO WIN: What's your favorite airport/airplane scene in a book, movie or TV show? Did I miss one? One random commenter will be chosen to win a $10 Amazon Gift Card + one of my backlist eBook titles (winner's choice). Good Luck!
--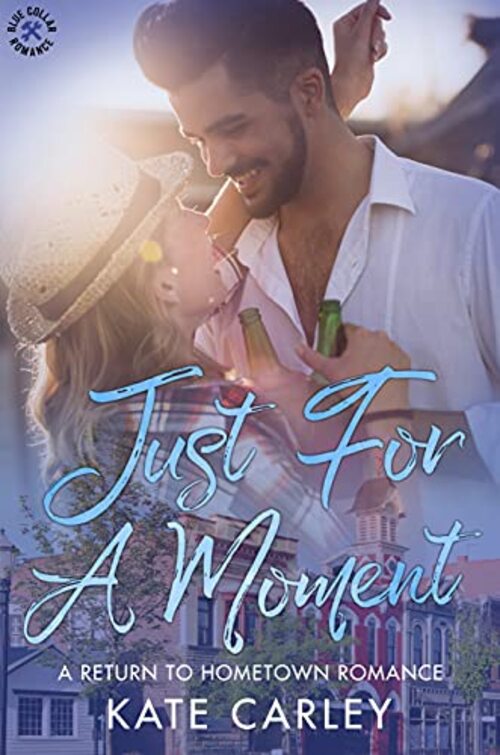 From author Kate Carley comes a blue collar, return to hometown romance with heat, heart and a happily ever after.
For Grace Holland, coming home to Oak Bend isn't easy. The journey stirs up old memories, including the heartbreaking reason her family left town. But now that she's inherited both her granddad's old Victorian home and a World War II aircraft that he'd been working desperately to restore, Grace is ready to face down the demons of her past—if the people in Oak Bend will let her.
Aaron Beckett's life is a balancing act. His aircraft mechanic business is booming and being a single parent of a young daughter keeps him on his toes. But when Gracie Jane Holland, granddaughter of his late friend, steps into his aircraft hangar, Aaron's well-managed life soars out of control, and every free thought begins and ends with that beautiful blonde.
Even with plenty of excuses to avoid each other, sparks fly while they work together to restore an old fighter plane. And just for a moment, it feels as if they've found a deeper, more sustainable connection—until well-meaning half-truths threaten to tear them apart.
When her past and present collide, nothing can prepare Grace for the storm of hatred that pours down on her. Ruthless words leave her questioning whether staying in Oak Bend and putting her heart on the line is worth the pain. Can this small town ever be home again?
Escape to Oak Bend, where blue-collar hotties work hard and love even harder, especially when it comes to landing their happily ever after.
Romance Contemporary [Part-Time Publishing, On Sale: September 24, 2021, e-Book, / ]
Kate Carley broke onto the indie publishing scene in 2016 with her debut novel, Challenged, a 2017 RONE award winner. Since then, she has released ten additional titles that explore small town, family sagas in both the romantic suspense and contemporary romance genres.
Kate took a meandering path to get to the point of published author, including a short stint as a computer systems designer and an extraordinary journey as a home-schooling mom. After more than a dozen years of teaching her kids, Kate opened the front door, pointed the youngest in the direction of the local high school, and focused her attention on writing romance novels.
Now that her four children are off writing their own adventures, Kate is free to drift along in her fictional world, plotting the rise and fall of her characters. She has a passion for black coffee, dark chocolate, and red wine. Not necessarily in that order. Kate lives in the Midwest with her family.
Comments
34 comments posted.
Re: Kate Carley | Love In an Airport

I recently learned that the filmmakers used real instances
of airport reunions (not scripted, not actors) in the
closing credits of "Love Actually." Those scenes always seem
so heartfelt to me that I always thought they must be real,
but I like that it was confirmed.

More recently, of course, there's the delightful airplane
scene in "Crazy Rich Asians," but I'd like to mention "For
Love of the Game." The film is a reflection of the
relationship between Kelly Preston's character and Kevin
Costner's character, switching between past and present day,
while he pitches a game for the the Detroit Tigers and she
waits for a plane at the airport.
(Lyssa H 1:41am September 24)
Favorite airport scene would be in Home Alone. I love comedies.
(Rebecca Shields 6:52am September 24)
When Bogart sends Bergman away in Casablanca.
(Linda Gawthrop 7:36am September 24)
couldnt happen today because of all the new standards,they
would probably shoot you for running thru a airport,sadly
(Vickie Couturier 9:29am September 24)
I can't think of any fictional scenes but years ago I saw a story of a man who was
flying in to meet his girlfriend who was picking him up at the airport. He had
flowers and arranged to have every passanger on the flight give his girlfriend a
flower as they exited the plane. He was the last one off the plane and when he got
to her he dropped to one knee and asked her to marry him.
(Tracy Urschler 9:38am September 24)
I totally agree with you about How I Met Your Mother.
(Catrina Pomerleau 9:50am September 24)
There have been several airport scenes with military personnel coming home and
being greeted by family and their dog. Those tend to be my favorite. I have bee
part of that scene 4 times and I always feel it in my heart.
(Patricia Barraclough 12:53pm September 29)
The classic Casablanca.
(Patricia Wong 2:56am September 29)
I have to go with Casablance, of course.
(Nancy Reynolds 9:40am September 29)
Your new book sounds amazing! Thank you for the opportunity to enter a contest.
Have a wonderful day and take care!
(Tracey Boehm 10:48am September 29)
no favorite
(Colleen Conklin 8:57pm September 29)
I loved the very last scene of Love Actually where you see the connections
between all the various characters.
(Kara Marks 9:53pm September 29)
Sleepless in Seattle had me mesmerized. I like the actors and
how they met at the airport terminal.
(Alyson Widen 12:02pm September 30)
Your new book sounds great I can't wait to read
(Pam Sims 12:42pm September 30)
When Harry Met Sally was one of my favorites even though
it's not an airport scene.
(Amy Dudley 2:59pm September 30)
Everytime I am on an airplane I always think of the Wedding
Singer!! My favorite scene of the movie!!
(Jill Chenevert 3:12pm September 30)
Sleepless in Seattle, is my absolute favorite!
(Jory Bradley 3:52pm September 30)
I like Love Actually and Sleepless in Seattle. Up in the air
with George Clooney is a nice film. trailer >
https://www.bing.com/videos/search?
q=up+in+the+air+youtube&view=detail&mid=012A4E023B42AC3C1EFD01
2A4E023B42AC3C1EFD&FORM=VIRE
(Deb Pelletier 4:42pm September 30)
The Wedding Singer definitely is my favorite! Thanks for
sharing Just For A Moment! I love hometown romances and blue
collar heroes!
(Elizabeth Haney 5:41pm September 30)
Sleepless in Seattle
(Joanne Mckeareany 6:38pm September 30)
This sounds like a book I will enjoy reading. Thanks for the
giveaway.
(Anna Speed 8:41pm September 30)
The wedding singer scene! I absolutely love that movie! Adam Sandler is
still one of my favorite actors! Ty for the chance!
(Andrea Drake 10:29pm September 30)
My favorite is the scene from The Wedding Singer.
(Janie McGaugh 10:30pm September 30)
The Wedding Singer. With Billy Idol in the airplane.
(Melanie Rosen 12:56pm October 2)
Love actually. But I also loved the episode of House that
took place on a plane. And then Monk had another great
episode on a plane.
(Pam Howell 9:01am October 3)
The Wedding Singer when Billy Idol is on the plane too.
(Tina Rucci 2:44pm October 3)
The Wedding Singer for sure! I love that movie!
(Kelly Mcburney 6:53pm October 3)
My favorite is The Wedding Singer scene!
(Janel Lafferty 1:52pm October 4)
Definitely Wedding Singer when he sings to her on the plane.
It was so sweet!
(B.J. Bernal 10:55am October 5)
The scene I recall best is when Elsa leaves Rick at the end of Casablanca.
(Jackie Wisherd 11:16pm October 5)
Love Actually is my favorite
(Nancy Krueger 9:44pm October 6)
The Wedding Singer is one of my favorite movies and definitely
my favorite pick of a romantic scene that took place in an
airplane. I love the part where he sings her the song. It
touched my heart.
(April Harvey 3:18am October 7)
I like the scene on Friends.
(Tanja Dancy 8:01am October 7)
Sleepless in Seattle is my all time favorite
(p Chung 7:17pm October 7)
Registered users may leave comments.
Log in or register now!