Elizabeth Heiter | Reflecting on Holiday Traditions and Looking Forward to the New Year
Comment and you could win!

January 2, 2019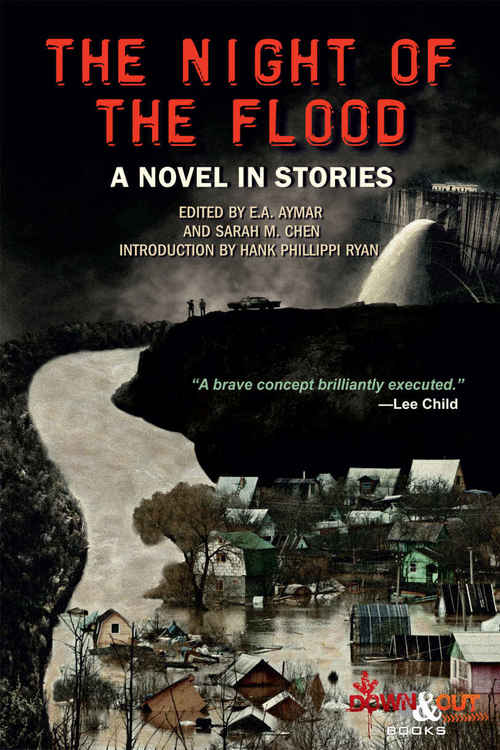 Night Of The Flood
Hank Phillippi Ryan, Elizabeth Heiter, E.A. Aymar, Sarah M. Chen
AVAILABLE
A Novel in Stories

March 2018
On Sale: March 5, 2018
258 pages
ISBN: 1946502510
EAN: 9781946502513
Kindle: B078861MCJ
Paperback / e-Book
Add to Wish List

Also by Hank Phillippi Ryan:
Trust Me, January 2019
Trust Me, September 2018
Night Of The Flood, March 2018
Say No More, September 2017

Also by Elizabeth Heiter:
K-9 Defense, May 2019
Night Of The Flood, March 2018
Betrayed, October 2017
Secret Agent Surrender, August 2017

Also by E.A. Aymar:
Night Of The Flood, March 2018

Also by Sarah M. Chen:
Night Of The Flood, March 2018

ĎTis the season for family, friends, and fun traditions. If youíre like me, youíve got some that have lasted since childhood and others that morph every year. This time of year can be frantic and sometimes overwhelming, but I always love it.
For me, the season starts at the beginning of December with a newer tradition: high tea surrounded by Christmas lights. Each year, I do it twice: once with a group of friends Iíve (mostly) known since elementary school, then again with my fiancť. Then, the season kicks into high gear with a long-time favorite: holiday shopping for my family.
Next up is a newer one: tree and ornament shopping with myfiancť. The way that tradition is going, Iím going to have to buy a bigger tree each year to hold all of the ornaments!
Next up are a few traditions that you might expect for a suspense and romantic suspense writer. First is something I do with my critique partner: the annual watching of our favorite holiday movie: DIE HARD (yes, itís a holiday movie!). Then is a newer tradition Ė since I sold my first novels in 2012, Iíve either had a book due in December or one hitting bookstores (or both)! This year is no different Ė Iíve got to finish a short story by New Yearsí Eve.
As December races along, the parties start: with my various writersí groups, with friends, and with family. Christmas Eve always comes faster than expected and then Iím celebrating with my fiancť and his family. Christmas morning finds me surrounded by my family (watching my niece and nephews get excited over whatever Santa has brought this year!). Then, after Christmas, I keep the spirit going with one final get-together, merging my family and my fiancťís.
And under my own tree? Inevitably, there are books. I hope there were some under yours, too (or wrapped up for however you celebrate the holidays!) But in case there arenít, if you share your own favorite holiday tradition and on goal for 2019 here, youíll have a chance to win a signed copy of THE NIGHT OF THE FLOOD, the novel in stories Iím part of Ė and that was named as the Best Anthology of 2018 by BOLO Books!
Comments
11 comments posted.
Re: Elizabeth Heiter | Reflecting on Holiday Traditions and Looking Forward to the New Year

There are some interesting writers in this! --Thanks for the comments about the
holidays!
(John Smith 2:20pm January 2)
We open one gift on Christmas Eve . It is a German tradition. I hope to be more organized in 2019
(Melinda Marks 3:40pm January 2)
My favorite holiday tradition is the marathon cookie
baking session my family holds. There are enough of us
that a few people man the kitchen while others of us play
cards or boardgame. As those in the kitchen get to
wanting a break, they swap places with a random game
player and take over their hand/spot. My goal in the new
year is to decrease my sugar intake in general.
(G. Bisbjerg 4:33pm January 2)
My tree for 2 years has been a crochet white tree with
mini lights and is about 6 inches tall. Tradition for
our family are stockings first with a tangerine in the
toe, a small box of cereal, a bit of chocolate, a candy
cane and a small gift. This would buy another hour of
sleep before we had to get up, have breakfast, then open
gifts and visit two sets of grandparents.
(Alyson Widen 11:46pm January 2)
Some of my favorite traditions we donít do anymore. It is a matter of time and
place. I mentioned one on an earlier post this week about Santa and Christmas
Eve visit to Read ĎTWAS THE NIGHT BEFORE CHRISTMAS.
The on I really miss is one we had when I was a child. My motherís family went
to midnight mass together, then went to my grandparentsí for brunch
afterwards. I still canít figure out how we all fit into their house. She was one of
9 children and I had over 60 cousins. It was total chaos with that many children,
but in a good way. We would get home after 2 am and somehow Santa had
come. We would open our presents and then go to bed. I realize now how smart
that was. We could all sleep in after such a late night. If one of us woke up early,
the gifts were open and we could play with them without waiting for anyone
else. Christmas day we would go to my Dadís parents and have Christmas
dinner. He was one of 7 siblings, but there were only 10 grandchildren on that
side of the family, 6 from my family. Much time has gone by. The grandparents
are gone, my dad and all his siblings are gone, my mother, many of her siblings
are gone, and even some of the cousins are gone. We have moved all over the
country and have children and grandchildren of our own. I would have liked to
do it with our family, but all the children usually do not get to our house until
after Christmas. We do have our Christmas dinner together , just not on
Christmas day. I hope everyone has a wonderful Christmas.
(Patricia Barraclough 12:28pm January 3)
I would love to read and share your books thanks
(Susan Gannon 8:30am January 3)
We always add a new ornament to the tree each year...
(Colleen Conklin 12:15pm January 3)
We don't really have any traditions too much. I didn't have any books under the tree but some amazon giftcards so same thing LOL. And I got some gorgeous earrings that say So many books so little time.
(Amber Hall 4:54pm January 3)
I usually get books for Christmas because my family knows how much I like
to read. But this year I got a gift certificate to a book store instead of books.
That way I can pick my own books to read.
(Jackie Wisherd 4:22pm January 5)
we have some traditions but not as many as i had as a child
(Vickie Couturier 7:25pm January 5)
I always decorate my tree with lots of handcrafted Angels that I have collected over the years. And as for the New Year I plan on making my health a top priority this year. Sounds like a really good book, putting on my TBR list. Thank you for the chance.
(Margaret Yelton 6:06am January 6)
Registered users may leave comments.
Log in or register now!