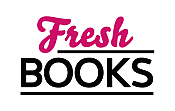 New Year, New Books to love in January
Get to Know Your Favorite Authors
Blogging Soon:
Jade Lee

Amanda Bouchet | Five Things that set my Heart on Fire
Giveaway

January 4, 2018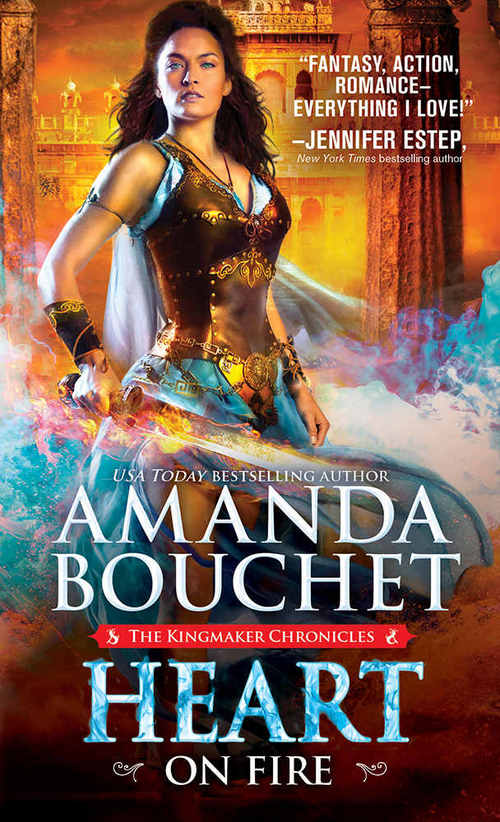 AVAILABLE
The Kingmaker Chronicles #3

January 2018
On Sale: January 2, 2018
Featuring: Catalia Fisa
445 pages
ISBN: 1492626074
EAN: 9781492626077
Kindle: B01MRZTI93
Paperback / e-Book
Add to Wish List

Also by Amanda Bouchet:
Heart on Fire, January 2018
Breath of Fire, January 2017
A Promise of Fire, August 2016

I've always believed that to be passionate about something is a gift. Personally, passions give me something to dream about, to look forward to, and to pour my love, energy, and excitement into. The nature of some interests is to evolve as we do, sometimes even disappearing entirely to make room for new ones that fit into the different stages of our lives. Other things become essential to us, a part of our very natures, and settle deep into our hearts where their spark will never be extinguished.
Here are five of the things that set my Heart on Fire.
Family. I have two amazing children, a nine-year-old boy and a five-year-old girl, and a helpful, generous husband who is a terrific father. I have parents, a sister, nieces and a nephew, and a whole slew of both close and extended in-laws that we see when we can. Not a day in my life has gone by when I didn't know I could count on my mother if I needed to, for whatever, no matter what. That's a huge gift to any child, and I hope that my children will feel the same way about me each and every day of their lives. Giving them the love and support they need and deserve is something that truly sets my heart ablaze.
Writing. The moment I got serious about writing, it instantly became a passion. I quickly reached the point where I was frustrated, and even unhappy, if I wasn't putting words down every day. My imagination started going wild and needed an outlet. In fact, I couldn't write fast enough. When I wasn't at the computer, the story would just keep going in my mind. I started having a terrible time sleeping, because the words wouldn't shut off. I just kept on writing and writing and writing in my head—and hoping I would still remember some of the good lines when I finally got back to the keyboard again. Luckily, I've mostly managed to corral writer-related insomnia into a first draft syndrome, but I always keep a pen and notebook next to the bed, because I never know when I'll need to scribble notes to myself in the middle of the night.
Scotland. I will admit it… I was bitten by the Outlander bug. It bit me about twenty-five years ago, though (long before the TV show!), and was helped along by Julie Garwood's Scottish historical romances (The Bride was the first romance novel I ever read). I've been passionate about Scotland ever since. So much so, that I've been there eight times in the last twenty years and often dream about going back. My favorite place to visit is Oban, on the west coast. It makes a great base for exploring all of Argyll, the Highlands, and the islands. One of my favorite things about the area is being able to suddenly spot a ruined castle from the road and just stop the car, get out, and explore the ruins, sometimes without another soul in sight (Carnasserie Castle near Kilmartin is a gem of this kind). Scotland is a tourist madhouse in the summer, but you can have the roads and castles practically to yourself at other times of the year.
Kindness. I think there's nothing that swells my heart faster or sends tears rushing to my eyes more quickly than acts of kindness, simple or huge. I try to make kindness a way of life, even if it's just asking a person who looks lost if they need directions, or helping an elderly person who is struggling on the stairs. I'm grateful for the organizations and charities that make it possible to contribute to humanitarian efforts all over the globe, and I am in awe of the people who choose to leave the comfort of their homes and lives to go out into the world in the service of others. I'd like to give a special nod to my father here, who spent two years of the early 1960s in Nigeria with the Peace Corps.
Romance novels. Talk about a life-long passion! I probably started reading romance novels at fifteen, and I never plan to stop. Now I write them, too, so it's fair to say that romance is a huge part of my life. Romance novels bring joy and hope to hundreds of thousands of people a day—which is huge! There's an undeniable pull to the idea that a happy ending is out there for all of us, even if getting to it isn't easy. Love always triumphs. But romance novels are so much more than that. They're: "Look at that! It's okay to dream big, to have fantasies, to expect sexual satisfaction, to be both smart and sexy, to not be perfect but be worthy of love anyway, to be in a relationship with whoever (or whatever—shifters? vampires?) I want, to cross boundaries of color, gender, and class, to kick taboos to the curb and say, 'to hell with it, it makes me happy, so I'm doing it anyway'." Romance is powerful and a bright light inside all of us who love it.
What are some of the things that set YOUR Heart on Fire?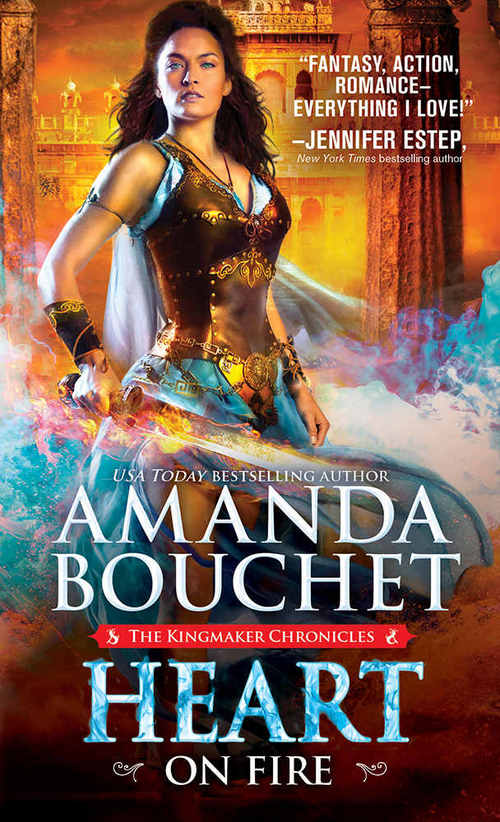 The riveting conclusion to the Kingmaker Chronicles, available January 2018!
Who is Catalia Fisa?
With the help of pivotal figures from her past, Cat begins to understand the root of her exceptional magic, her fated union with Griffin Sinta, and Griffin's role in shaping her destiny.
Only Cat holds the key to unlocking her own power, and that means finally accepting herself, her past, and her future in order to protect her loved ones, confront her murderous mother, and taking a final, terrifying step—reuniting all three realms and taking her place as the Queen of Thalyria.
What doesn't kill her will only make her stronger...we hope.
Fantasy | Romance Paranormal [Sourcebooks Casablanca, On Sale: January 2, 2018, Paperback / e-Book, ISBN: 9781492626077 / eISBN: 9781492626084]

It all comes to a head in this tense and sexy finale


Cat and Griffin must make their final stand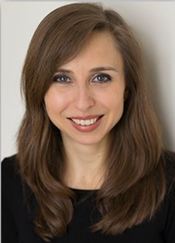 Amanda Bouchet grew up in New England where she spent much of her time tromping around in the woods and making up grand adventures in her head. It was inevitable that one day she would start writing them down. Drawing on her Greek heritage for the setting and on her love of all things daring and romantic for the rest, her debut trilogy, The Kingmaker Chronicles, took form. She writes what she loves to read: epic exploits, steamy romance, and characters that make you laugh and cry.
Her first novel, A Promise of Fire, won several Romance Writers of America chapter contests, including the Orange Rose Contest and the paranormal category of the prestigious Golden Pen.
A French master's graduate and former English teacher, Amanda lives in Paris, France. She met her husband while studying abroad, and the family now includes two bilingual children who will soon be correcting her French.
What are the things that set YOUR heart on fire? Tell us below to be entered to win a copy of HEART ON FIRE
Comments
13 comments posted.
Re: Amanda Bouchet | Five Things that set my Heart on Fire

I love your list since it is a beautiful and meaningful list.
Family, and especially my 4 grandchildren.
Being thoughtful and considerate.
Learning and reading.
(Sharon Berger 11:15am January 4)
"What are the things that set YOUR heart on fire?" Financial security, art, food,
and a good book! (Nice clothing, also.)
(John Smith 10:59pm January 4)
I am passionate about cinema!
(Richard Brandt 2:40am January 6)
Security, family and reading!
(Cheryl Haut 7:48pm January 6)
You list is pretty good. I agree with your #1... Family. My
hubby and boys are who set my heart on fire. Even after 18
years my hubby still makes my heart stop.
(Jeannie Platt 1:15pm January 7)
Although I'm getting older and have medical problems, my
passions have dimmed somewhat, family is most important,
then my work for the rights of the unborn and the elderly,
my music, I sang in all kinds of things for 49 years and
last is reading. I've enjoyed sharing new books with my
grandchildren.
(Nancy Luebke 4:04pm January 7)
My grandchildren! They are so sweet. I love movies and books.
(Melanie Rosen 6:42pm January 7)
I'm passionate about animal rescue. Although the problem is overwhelming, it's very rewarding to even help one injured, abused or abandoned animal.
(Nancy Marcho 7:23pm January 7)
peace,music,family
(Gary Bronstein 8:50pm January 7)
My husband and son!
(Sally Baldwin 8:05pm January 8)
Three passions: family (my husband and son), good books
(the best problem is having a stack of books and having to
choose which one to read next), and creativity (adding a
little art and imagination to our lives).
(Rachelle Chang 10:46pm January 8)
Kindness , no matter how small, is ever wasted.

thanks for chance
(Susan Gannon 10:13am January 9)
Artistic expression and creativity are what sets my heart
on fire.
(Cecilia Rodriguez 2:38pm January 10)
Registered users may leave comments.
Log in or register now!