This year marks the tenth anniversary of the publication of my first book, AND ONLY TO DECEIVE. It's a milestone I never dared dream I would reach, and as I look back, I'm more grateful than I could ever adequately express to the readers and booksellers who have made it possible for me to make a career as a novelist.
One of the best parts of my job is doing the research each book requires. In my early days, I chose locations I had already visited, relying on my memories, photographs, and the stacks and stacks of books necessary to every writer of historical fiction. I could not live without the library! As time went on, I was able to supplement all this with research trips, and over the years have found there is nothing that compares to visiting the places my characters inhabit. Granted, some locations have changed more than others, but it is always possible to get a feel for a place and its people, no matter how much time has gone by. In addition to gleaning all sorts of fantastic and useful information, these trips also give me experiences that don't always wind up in the books.
In Istanbul, when I was in the Grand Bazaar buying a tea set for a friend, the young man selling it to me would not look me in the face. Staring down at the floor he explained he could not meet my eyes because, "You shoot electrics." I'm still not entirely sure what that means, but I like the sound of it. In Normandy, I learned it is not only acceptable to buy twelve kinds of cheese at a time (because, really, who in their right mind can resist French cheese?), it is encouraged. London, one of my favorite cities in the world, never disappoints, and while doing research there, I met the most wonderful man, a retired member of the Household Cavalry (he served in World War II), who did everything he could to get me seats in the stands at the annual Trooping the Colour. Without research trips my husband never would have leapt onto a wellhead in Venice outside the church of San Zaccaria and roared—a tradition that ensures a long and happy marriage. While visiting a number of great estates in the English countryside, we learned that we are not—by far—the only people who show up at Castle Howard wanting to play Brideshead Revisited. In Paris, I was shocked to find two Russian library books sitting on top of a grave in Père Lachaise cemetery. Can you imagine the fines that must be racking up? Last year, when in Cannes researching THE ADVENTURESS, I saw an extremely elegant woman of a certain age window shopping along La Croisette. She paused in front of the Dior boutique, and adjusted her bag (Hermès) so that the live chicken in it could see better. We should all live as well as that chicken.
This past March, while in Greece working on next year's book, I saw a quite elderly gentleman dancing in a restaurant with a young woman I took to be his granddaughter. It was a Sunday evening, and the combination of live music, ouzo, and the celebration of his birthday made everyone in the place exuberant. Best of all? The girl was neither his granddaughter nor any part of his family—he had never before met her, yet she was delighted to dance with him. My next trip is to St. Petersburg, Russia. It's got a lot to live up to…
Tasha Alexander attended the University of Notre Dame, where she signed on as an English major (with a concentration in Medieval Studies) in order to have a legitimate excuse for spending all her time reading. Her work has been nominated for numerous awards and has been translated into more than a dozen languages. She and her husband, novelist Andrew Grant, divide their time between Chicago and the UK.
Website | Facebook | Twitter | Pinterest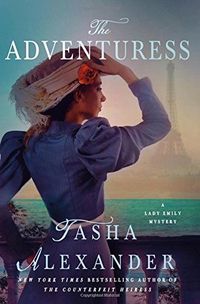 Emily and husband Colin have come to the French Riviera for what should be a joyous occasion - the engagement party of her lifelong friend Jeremy, Duke of Bainbridge, and Amity Wells, an American heiress. But the merrymaking is cut short with the shocking death of one of the party in an apparent suicide. Not convinced by the coroner's verdict, Emily must employ all of her investigative skills to discover the truth and avert another tragedy.
1 comment posted.