Chewy, chewy Tootsie Roll lasts a long time. Get your mind out of the gutter! This is a serious article about literary tastes and something else that we all love – books.
Like a roller coaster ride, a beach vacation, or, well, use your own imagination here, the enjoyment of some books ends once that last page has been read. Other stories, like a lasting love, linger on for days, weeks, maybe for years, consciously or subliminally adding to our enjoyment or understanding of life itself in a much deeper way.
How do you pick your books? Are you looking for short-term thrills or true love in literature?
Life can be tough, that's for sure. Most of us need to escape reality at least every now and then, in one way on another, and to some degree. Some people get totally blitz on drugs or alcohol…. Of course, all of life's problems are still there, maybe worse, when these folks sober up. Other people will binge on food, video games…. Of all addictions, reading is the least harmful, and sometimes it's healthful or beneficial during our pursuits of happiness.
People read "genre" fiction, like young adult, mystery, fantasy, or romance novels, for entertainment – to find a story that sucks you in so deep that it becomes an escape from reality. In contrast, "literary" fiction is less about escaping from reality and more like escaping into reality, if that makes sense. Real-life issues, like racism or poverty, are often part of a character driven literary fiction story. Genre fiction tends to leave out such issues and is more plot driven with action and imaginary detail.
If a reader privately reflects on the words after the last page is turned, experiences the magic of the story over and over again, it may have been a "literary" work that was read. Literary works can be suitable for youthful readers, and often include elements of genre fiction, such as romance or mystery.
Any type of fiction can have great (or poor) writing. Commercial or "the-most-popular-kid-in- school" type of fiction may not have anything to do with quality. Originality of ideas may set literary fiction apart from some genre fiction. Genre fiction may be more likely to have fan bases, such those readers who are so in love with Harry Potter that no other boy will do. Everyday speech might be expressed more formally in literary fiction, but THE COLOR PURPLE sure blew a giant hole in that distinction. Plus, especially in the fantasy genre, there seems to be a lot of flowery adverbs and adjectives used, such as by Ursula K. Le Guin in her social science fiction novels.
You know how two biological species cannot successfully mate? That's not the case with book genres. Another animal exists. Its first name is "literary" and its middle name is the genre of the story. As examples, there is literary science fiction, literary fantasy, and, conceivably, any other genre. A story that falls into the "western" genre could have the first name "literary" if it has strong characters who address sexism in the Wild West instead of just more gunfights at the OK Coral.
My debut novel, RARITY FROM THE HOLLOW, is tough to peg into a genre. It's been called every name genre under the sun. Fortunately, most of them have been complimentary. Please check it out and nominate the perfect name for a story that includes serious social commentary but is escapist literature with elements of satire, tragedy, drama, comedy, adventure, everyday horror, a little paranormal, and true-love romance.
Robert Eggleton has served as a children's advocate for over forty years. He is best known for his investigative reports about children's programs, most of which were published by the West Virginia Supreme Court where he worked from 1982 through 1997.
Today, he is a recently retired psychotherapist from the mental health center in Charleston, West Virginia.
RARITY FROM THE HOLLOW is his debut novel and its release followed publication of three short Lacy Dawn Adventures in magazines: Wingspan Quarterly, Beyond Centauri, and Atomjack Science Fiction. Author proceeds have been donated to a child abuse prevention program operated by Children's Home Society of West Virginia.
Website | Facebook | Twitter | Goodreads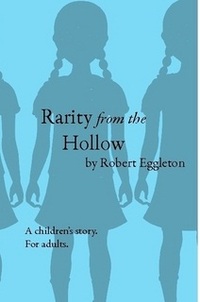 Lacy Dawn's father relives the Gulf War, her mother has lost her teeth, and her best friend is killed by her own father. Life in The Hollow in West Virginia isn't great. But Lacy Dawn has one advantage-she's been befriended by a semi-organic semi-robot (DotCom, alias Buddy) who works with her to 'cure' her parents. Buddy wants something in exchange, though. It's up to Lacy Dawn to save the universe.
No comments posted.