Sarah E. Ladd | Have You Read a Regency Lately?

July 6, 2015
The Curiosity Keeper
Sarah E. Ladd
AVAILABLE
Treasures of Surrey #1

July 2015
On Sale: July 7, 2015
Featuring: Jonathan Gilchrist; Camille Iverness
338 pages
ISBN: 0718011783
EAN: 9780718011789
Kindle: B00PYSLYKI
Paperback / e-Book
Add to Wish List

Also by Sarah E. Ladd:
The Governess of Penwythe Hall, April 2019
The Weaver's Daughter, April 2018
A Stranger at Fellsworth, May 2017
Dawn at Emberwilde, May 2016

Summer is here, and you know what that means! Hot, sunny days. Long, lazy afternoons. In other words, the perfect time for a great read! So what's your go-to read? Contemporary romances, YA, women's fiction, historical romance?
What about a Regency novel?
The Regency Era is a very specific time period in English history. It officially took place from 1811-1820, although many Regency novels span a longer time period.
If you are a fan of Regency novels, then you already know about all the unique aspects they have to offer. But if you aren't familiar with Regency novels, allow me to enlighten you! Here are a few things to love about the Regency Era and novels set during that time:
The clothes.
Let's be real – those gowns are gorgeous! Long, flowing gowns, shimmering fabrics, dainty slippers. The men's attire was just as attractive – cravats and waistcoats, buckskin breeches and riding boots. It may not be the ideal ensemble for going to the beach, but it is fun to daydream! (Want a see a sample? Check out my Pinterest boards of women's gowns and men's fashion!)
The manners.
Good manners never go out of style, do they? While some might consider the Regency's strict rules of etiquette a bit over the top, what lady does not like having the door opened for her, or having the gentlemen stand when she enters the room? It is fun to spend an afternoon with a Regency novel and escape to a world of elegant and refined manners.
The stakes are always high!
During the Regency, a woman's reputation was her most valued possession. One simple mistake in decorum or poor decision could ruin a woman's future. With such high stakes, how could the story not be interesting?
The settings.
What could be better than escaping to the world of opulent estates and pristine, lush gardens? Or what about the ballrooms in Bath or London? Or the haunting moors and deep, dark forests? Escape to a new, different world – from the comfort of your favorite reading chair.
Jane Austen.
Okay, so I know she is not a "thing to like about the Regency Era," but Jane Austen's novels give us wonderful insight into this very specific time period and are full of witty dialogue and rich settings. Even if you don't feel like reading (gasp!) you might consider curling up on the couch with a movie version of Pride and Prejudice, Northanger Abbey, or Sense and Sensibility. (The 1995 version of Sense and Sensibility with Emma Thompson is my favorite!)
So we want to hear from you. What Regency novel are you going to read this summer? Grab a beach chair, something cool to drink, and a Regency novel – and be sure to let us know what you think!
GIVEAWAY
So we want to hear from you. What Regency novel are you going to read this summer? Grab a beach chair, something cool to drink, and a Regency novel – and be sure to let us know what you think! Leave a comment below and be entered for a chance to win a copy of THE CURIOSITY KEEPER.
Sarah E. Ladd received the 2011 Genesis Award in historical romance for The Heiress of Winterwood. She is a graduate of Ball State University and has more than ten years of marketing experience. Sarah lives in Indiana with her amazing husband, sweet daughter, and spunky Golden Retriever.
Website | Facebook | Twitter | Goodreads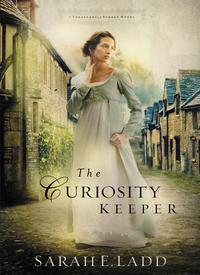 "It is not just a ruby, as you say. It is large as a quail's egg, still untouched and unpolished. And it is rumored to either bless or curse whomever possesses it."
Camille Iverness can take care of herself. She's done so since the day her mother abandoned the family and left Camille to run their shabby curiosity shop on Blinkett Street. But when a violent betrayal leaves her injured with no place to hide, Camille has no choice but to accept help from the mysterious stranger who came to her aid.
Jonathan Gilchrist never wanted to inherit Kettering Hall. As a second son, he was content working as a village apothecary. But when his brother's death made him heir just as his father's foolish decisions put the estate at risk, only the sale of a priceless possession—a ruby called the Bevoy—can save the family from ruin. But the gem has disappeared. And all trails lead to Iverness Curiosity Shop—and the beautiful shop girl who may or may not be the answer to his questions.
Curious circumstance throws them together, and an intricate dance of need and suspicion leads the couple from the seedy backwaters of London to the elite neighborhoods of the wealthy to the lush, green Surrey countryside—all in the pursuit of a blood-red gem that collectors will sacrifice anything to possess.
Caught at the intersection of blessings and curses, greed and deceit, two determined souls must unite to protect what they hold dear. But when a passion that shines far brighter than any gem is ignited, each will have to decide how much they are willing to risk for their future, love, and happiness.
Comments
20 comments posted.
Re: Sarah E. Ladd | Have You Read a Regency Lately?

To be honest with you, when I grab a book, I don't look at
the spine to see if it's a "Regency" book or not. I just
grab it because of it's content. This year I decided to go
"all out" and read all genres across the spectrum, since I
became bored reading the same thing over and over. So far I
have found it not only eye-opening, but a wonderful
experience!! As for a Regency title, I couldn't give you
one, but I can assure you that there will be some in my mix
of books that will be read!! I'm also looking forward to
reading The Curiosity Keeper. I love the cover, too!!
Congratulations on your latest book!!
(Peggy Roberson 9:14am July 6, 2015)
I like historical and so Regency would be included. I will
add your book to my TBR list. I could not give you any name
now.
By the way, I am taking care of my granddaughter's Golden as
he hates the fireworks and we live way out. He is sleeping
now but all wet because he loves to run and comes back wet.
I think he finds a swamp somewhere or the lake.
Leona
(Leona Olson 11:35am July 6, 2015)
I love historical Regency novels and this one is definitely on my TBR. The other one that is on my list is Lady Maybe by Julie Klassen. I love both of these authors because they include some intrigue and mystery in their books. By the way, the cover on this book is beautiful!!
(Sheri Pruitt 12:04pm July 6, 2015)
I love Regencies, I just purchased Always Have Hope by
Maureen Driscoll and that's my next read.
(Angela Daffern 1:44pm July 6, 2015)
Regencies are captivating and memorable. Only a Promise by
Mary Balogh.
(Sharon Berger 2:47pm July 6, 2015)
I love reading historicals so there are plenty of
Regencies in my TBR. I'm currently reading Vanessa Kelly's
Renegade Royals Series!
(Glenda Martillotti 8:23pm July 6, 2015)
So funny! I've been working my way through Georgette Heyer's
audio books. And the really cool thing is that they are
absolutely timeless. They are still as delightful now as they
ever were! I just finished These Old Shades and Devil's Cub
this week.
(Marcia Berbeza 11:15pm July 6, 2015)
Any regency that comes my way, I'll read it. I love the feeling of "period" books.
(Nancy Reynolds 9:45am July 7, 2015)
Love and Let Spy by Shana Galen is next on my reading list.
(Janie McGaugh 11:25am July 7, 2015)
I'm not sure what novel I will read next--maybe I'll be
lucky and win this one.
(Sue Farrell 12:34pm July 7, 2015)
I love historical romance. I would love to win your book. I enjoy finding new authors. thanks, cindy
(Cindy Davenport 1:28pm July 7, 2015)
I have always the Regency books I have read.
Marilyn
(Marilyn Collins 7:37pm July 7, 2015)
Love the Regency books .In the stories I read I can see the castles ,the gardens ,the forest ,everything . I put myself in the story . I love the Ballroom dances and the beautiful dresses the women wear . I sometimes wish I lived in that era, of course that is the wealthy that had the ballroom dances . Thanks for this chance to win this book of yours .
(Joan Thrasher 12:35pm July 8, 2015)
I have a few Georgette Heyer books on my list.
(Pam Howell 2:01pm July 8, 2015)
I started with Georgette Heyer and then progressed to more.
Historical fiction takes you on a trip to the past along
with the customs and strictness of being proper and being a
lady. I love to see how the women are tempted by the men
who are usually rascals or rakes.
(Alyson Widen 8:17pm July 8, 2015)
I am the mother of six children. Summer vacation is an oxymoron in my world! When I do have time to read, I usually catch up on my mother, Carolyn Brown's western/cowboy romance book. However, I do love a good regency and THE CURIOSITY KEEPER has me hoping I win this contest!
(Amy Morgan 9:03pm July 8, 2015)
I "found" Regency Romances when I was in 10th grade and have been hooked ever since - besides having The Curiosity Keeper on my hoping-and-praying-I-win-list, I have been reading An Escapade and An Engagement by Annie Burrows - it is great!
(Felicia Ciaudelli 8:15am July 9, 2015)
I never check to see what type of book I'm reading. I select one because of the plot. As a result, I read various types, including Regency. The Curiosity Keeper appeals to me.
(Anna Speed 12:47pm July 9, 2015)
I am so excited for the release of The Curiosity Keeper! Thanks for the giveaway.
(Caryl Kane 3:22pm July 11, 2015)
Stephanie Laurens, Devil's Bride -- An oldie but a goodie!
(Beth Elder 3:20pm July 15, 2015)
Registered users may leave comments.
Log in or register now!