CJ Lyons | Help a starving writer!

November 15, 2007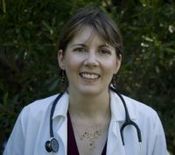 No, I'm not going to ask you to buy my book—you couldn't even if you wanted since it doesn't come out until March.
I need a different kind of help—the kind of help only readers can give.
First, let me introduce myself. I'm CJ Lyons and I'm a pediatric ER doc turned medical suspense author. My first novel, LIFELINES, will be published by Berkley on March 4, 2008.
I love my new job as a writer—not only can I go to work in my pj's, I also get the chance to meet lots of interesting people and ask questions that no one else would dare.
I mean, how many 9-5er's get to visit the FBI academy at Quantico or talk to crime scene experts about the "best" way to kill someone and get away with it?
And no beepers, trauma alerts, or 3am calls to deal with—for the first time in 17 years, I'm finally getting some sleep!
But there is one thing about being a writer that I'm not too happy about. It's ruined me as a reader!
All my life I've been a voracious reader, following my favorite authors blissfully into the worlds they created for me. But now that I'm a writer and know the "tricks of the trade" I no longer travel blindly into these fictional realms.
Instead, I now proceed with eyes wide open, taking note of what works and what doesn't. I dissect technique, scavenge evocative word choices, flag areas where the pace lags or the characters feel contrived.
I no longer can accept that a character does something "too stupid to live"— like going down into the basement when the lights are out and there's a serial killer on the loose—unless they have a darn good reason to do so—something more than simply the author needing another action scene. Romances where the only reason the hero and heroine remain apart is because they don't stop sniping long enough to actually talk about their problems smack of melodrama. And thrillers where the main goal is simply racking up a body count rather than changing or saving the hero's world seem lackluster.
Yikes!!! Now instead of reading 3-5 books a week, I find myself starting 8-10, quickly casting most aside within a few pages, setting the rest down and never feeling compelled to pick them up again.
I long for the days when I would pick up any book in any genre and devour it like candy. Now I'm left with an often fruitless search for literary sustenance.
But then I'll find that jewel—that precious gem of a story that draws me in, introduces me to characters I not only understand but care about, makes me feel that saving their world is as important as anything going on in my own.
You know what books I'm talking about—those keep me up all night books. Suddenly they seem harder to find than ever, but once I find one I savor the experience, reading much slower than my usual headlong rush, trying to prolong my enjoyment as much as possible.
So help a poor starving reader/writer out here! What books have you read lately that gave you more than entertainment, that were fresh and different, able to transport you to another world that you were reluctant to leave? Which characters have you fallen in love with lately and why?
I'd love to hear about the books that moved you—and what made them stand out from all the other ones out there.
Thanks for helping this hungry reader!
CJ
In addition to being a voracious reader, CJ Lyons is also a pediatric emergency physician and award-winning medical suspense author. Her first novel, LIFELINES, will be released by Berkley March 2008. For more information on CJ and her books, go to www.cjlyons.net
NOTE: We apologize that our blog isn't updating so we've put CJ's entire blog entry here for you to enjoy. Thanks!
Comments
17 comments posted.
Re: CJ Lyons | Help a starving writer!

Hey, CJ - great post!

The same thing happened to me after I became a writer and unknowingly unleashed my constant editor - for a long time, reading for pleasure just wasn't the same.

But somehow, I've learned how to turn the internal editor off (thank goodness!), and I've gone back to being able to enjoy the stories as they're written without getting sidetracked by writing issues.

That said, my most recent favorite is Ken Follett's PILLARS OF THE EARTH - I've had this book on my shelf forever, since I love all of Follett's work, and I finally read this right before it became an Oprah pick. It's every bit as marvelous as everyone claims, and I can see why of all his books, it's the best-selling and most enduring. While essentially it's a saga about building a great cathedral during Middle Ages Europe, at heart, it's really a love story. Follett is a master at creating both men and women characters (how does HE know what it's like to give birth, I'd like to know???), and in this novel, his care and attention to detail really shows.

It's his wonderful characters that kept me reading all 973 pages (in three days, no less!). I can't wait to dive into his newest, WORLD WITHOUT END, that allegedly takes up the story several hundred years later, but that'll have to wait until I finish MY new novel. It's not a question of shutting down my internal editor - it's a matter of time!

Karen
FREEZING POINT (Berkley, October 2008) www.karendionne.net
(Karen Dionne 9:00am November 15, 2007)
Hiya, CJ! Good job!

I'm right there with you in throwing books across the room, or at least putting them down unfinished (and there was a time when I felt guilty doing that). These days, I don't. There are too many other books out there to try, and I have too much of my own writing to do to get hung up on something that doesn't work for me. (Not that one can't learn a lot from what NOT to do...)

Anymore, I pretty much only buy books I know I'm going to want to read again, and those I go back to over and over. Terry Pratchett is a favorite - talk about being able to transport you to a world you don't want to leave (although why someone would want to be in Ankh-Morpork in the first place is beyond me, really...) Anyway, Pratchett is fabulous. Lois McMaster Bujold equally so (SF). Elizabeth Peters. Lillian Stewart Carl. Tamora Pierce (YA fantasy) and (obviously) JK Rowling... (I'm an equal opportunity, cross-genre reader. I'm not too concerned with where the book is shelved in the bookstore as I am with whether the writer is outstanding.) Donna Andrews's 'Murder With Peacocks' is one I go back to when I want a pick-me-up. There isn't a single word in that whole book I'd change. Dorothy L. Sayers. Ngaio Marsh. Julia Spencer-Fleming. Tasha Alexander's Lady Emily Ashton series is fresh and fun. Lindsey Davis! And if you don't mind childrens books, Bruce Hale's Chet Gecko series.

I could go on, but I won't. This'll keep you busy for a while, I think.
(Jennie Bentley 9:56am November 15, 2007)
If you're looking to stay up all night, try Mary SanGiovanni's THE HOLLOWER. It's scary enough to make you keep the light on. And, I promise you'll fall in love with the characters.

Happy Reading,
Heidi
(Heidi Miller 10:05am November 15, 2007)
Karen,
I soooo agree with you about Pillars of Earth--what world building!! Not only a joy to read but so much for any writer to learn from!

Hmm...might just have to re-read it before I get his new one.

Great reccomendation!
CJ
(Cj Lyons 10:16am November 15, 2007)
Jennie,
Thanks for the wonderful reccomendations! I've read most of them (love Tasha's books!) but hadn't read Donna Andrews before, so definitely adding her to my list!

Thanks for the help!
CJ
(Cj Lyons 10:18am November 15, 2007)
Heidi,
What a wonderful thing to say about a book--I'll defnitely add it to my list!

I'm going to have to report back to you guys in a month or so and let you know how much I enjoyed them! But it's so great to have new authors to look for, I feel like a kid on Christmas morning!

Thanks,
CJ
(Cj Lyons 10:19am November 15, 2007)
CJ, I've bought many a book, like you, read the first half because I'm guillible enough to believe maybe, just maybe, the author will take a chance and do something real and better. When that happens, down goes the book. So I've taken to reading outside my genre, paranormal. I read nonfiction. It gives me ideas for my own work. I just finished a book about the early history of Chicago. This town sucked before the fire. LOL But afterwards, the growth, economic, political, and social was tremendous.
(Dorothy Bins 11:31am November 15, 2007)
Actually, Dorothy, you're totally right--I've found a lot of biographies and nonfiction to be "easier" to read when I get totally frustrated by fiction.

Maybe I turn off my editor and don't have the same expectations. Anyway, I just read one that was great: Lone Survivor by Marcus Luttrell.

I'm sure his attitudes (he's a Navy SEAL) will influence some of my characters down the line...

Great point!
CJ
(Cj Lyons 11:53am November 15, 2007)
I've thought of a few more! You may or may not have tried these, but they're all wonderfully written. If you like historicals, Patricia Wynn's Blue Satan series. (Blue Satan is a nobleman turned highwayman in the early 1700s). Chris Grabenstein's down the shore books, 'Tilt-a-Whirl', 'Mad Mouse' and 'Whack-a-Mole'. The present tense is hard to get used to at first, but the writing is first-rate and the pacing wonderful. I had occasion to listen to Chris speak on plotting/pacing a few days ago at our local SinC meeting, and it was interesting. JD Robb (Nora Roberts writing as) In Death series - futuristic police procedurals. Not literature at all, but for what they are, wonderful. Lauren Willig's Pink Carnation series is a lot of fun. And of course JT Ellison's debut, All The Pretty Girls.
(Jennie Bentley 12:07pm November 15, 2007)
Jennie, great titles!!! We think too much alike--I've read them all except Patricia Wynn and Lauren Willig, so will add those.

Oh it's soooo much fun to see my list growing!!! And I just got coupons from Borders and Barnes and Noble (we don't have an indy store nearby).

Can't wait to go shopping, keep the great titles coming!
CJ
(Cj Lyons 12:35pm November 15, 2007)
CJ, I think all of us have the same experience. When I'm actively writing, which I am now, I stick with non-fiction, usually in my area of research, because anything else will influence me too much.

When I can delve in and I'm in the mood for a traditional mystery, though, I'd say Jennie and I have similar tastes ... Ngaio Marsh, the indefatigable Dorothy L, Elizabeth Peters ... I also really enjoyed Rowling.

By contrast, if you want something really drop-dead frightening to shiver with on a dark and story night, try Shirley Jackson's The Haunting (made into a couple of films--the original version is the best). She wrote short stories (best known for The Lottery), and was just an incredible writer of understated horror.

I also recently finished Laura Benedict's elegiac and masterful Isabella Moon, which is frightening, suspenseful, lyrical, literary, and will give you strange dreams at night--an unforgettable book, and an instant classic.

Then there's my favorite noir/hardboiled writer of them all ... Raymond Chandler. He's one of the few in the genre that you can reread endless times, and enjoy it just as much as you did the first time. He is the poet of private eye fiction.

I think you've got quite a list--try some comparison shopping on the American Bookseller's Exchange, because your budget is going to explode! :)

Kelli
(Kelli Stanley 8:50pm November 15, 2007)
Hey, CJ--Have you read anything by Tim Maleeny, yet? I read "Stealing the Dragon" not long ago and found his SF noir style fun and refreshing. His protagonist Cape Weathers is vulnerable and self-effacing, and Cape's partner is one seriously tough chick! I loved the Hong Kong backstory, too. I have "Beating the Babushka" on order.

And be sure to put Charlie Huston's "Shotgun Rule" on your list!
(Laura Benedict 8:51pm November 15, 2007)
Thanks, Kelli! Great advice! And you love all my fav authors--except I'm more a Hammett fan than a Chandler one.

And Isabella Moon rocked!
CJ
(Cj Lyons 8:56pm November 15, 2007)
Laura, I actually have Beating the Babushka on my toberead list, so will move it to the top Thanks for the reccomendation!
CJ
(Cj Lyons 8:58pm November 15, 2007)
While I'm at it ... James Rollin's The Judas Strain! :)
(Kelli Stanley 9:52pm November 15, 2007)
CJ--that's so funny to hear you say
that--same with me. I have book
carcasses strewn about my life--started
but abandoned, left for dead. I've become
too critical for my own good LOL
(Jenny Gardiner 10:20pm November 15, 2007)
Book carcasses! What a great visual--and that's exactly what it's like, I can't stand to totally abandon them until I find them spine-broken, face down slid under the bed or couch in full rigor.....

Thanks for the laugh, Jenny!
CJ
(Cj Lyons 7:43am November 16, 2007)
Registered users may leave comments.
Log in or register now!