Romance, Adventure and Thrillers heat things up with these February YA releases from favorite and debut authors.
ETIQUETTE & ESPIONAGE (Finishing School) Gail Carriger (Little Brown)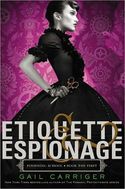 Fourteen-year-old Sophronia is more interested in dismantling clocks and climbing trees than proper manners. So her mother enrolls her in Mademoiselle Geraldine's Finishing Academy for Young Ladies of Quality. But the school is not quite what her mother might have hoped. Certainly, they learn the fine arts of dance, dress, and etiquette, but the also learn to deal out death, diversion, and espionage--in the politest possible ways, of course. Set in the same world as the Parasol Protectorate, this paranormal YA series debut is filled with all the saucy adventure and droll humor Gail's legions of fans have come to adore. (Victorian Paranormal)
HYSTERIA by Megan Miranda (Walker Childrens)
Mallory killed her boyfriend, Brian. She can't remember the details of that night but everyone knows it was self-defense, so she isn't charged. In desperate need of a fresh start, Mallory is sent to Monroe, a fancy prep school where no one knows her . . . or anything about her past. But her secrets follow her, and when one of her new classmates turns up dead, suspicion falls on Mallory and she must find a way to remember the details of both deadly nights so she can prove her innocence. A riveting tale of life and death that brings readers along for a ride to the edge of sanity and back again. (Thriller)
THE RUINING by Anna Collomore (Razorbill)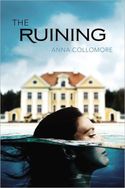 Annie Phillips is thrilled to leave her past behind and begin a shiny new life on Belvedere Island, as a nanny for the picture-perfect Cohen family. But all too soon cracks appear in Annie's seemingly perfect world. She's blamed for mistakes she doesn't remember making. Her bedroom door comes unhinged, and she feels like she's always being watched. Libby, the children's mother, who once felt like a big sister, is suddenly cold and unforgiving. As she struggles to keep up with the demands of her new life, Annie's fear gives way to frightening hallucinations. Is she tumbling into madness, or is something sinister at play? The Ruining is a complex ride through first love, chilling manipulation, and the terrifying depths of insanity. (Thriller)
PIVOT POINT by Kasie West (HarperTeen)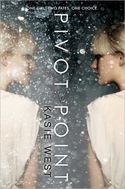 As a Searcher, whenever Addie is faced with a choice, she can look into the future and see both outcomes. It's the ultimate insurance plan against disaster. Or so she thought. When Addie's parents ambush her with the news of their divorce, she has to pick who she wants to live with—her father, who is leaving the paranormal compound to live among the "Norms," or her mother, who is staying in the life Addie has always known. Addie loves her life just as it is, so her answer should be easy. One Search six weeks into the future proves it's not. "West's premise is a winner, and Addie is the kind of heroine readers would want as a best friend—loyal, unpretentious, and thoughtful....What truly makes West's story memorable, however, is Addie's wry humor...and the book's fascinating exploration of how life can change with one simple choice." (Publishers Weekly (starred review) (Paranormal)
REVEL by Maurissa Guibord (Delacorte)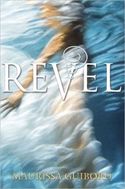 Shrouded in mist and protected by a deadly reef, Trespass Island guards its secrets from outsiders. Seventeen-year-old Delia has come in search of her family. But Delia's not welcome and soon finds herself enmeshed in a frightening and supernatural world where ancient Greek symbols adorn the buildings and secret ceremonies take place on the beach at night. Sean Gunn, a handsome young lobsterman, befriends Delia and seems willing to risk his life to protect her. But it's Jax, the coldly elusive young man she meets at the water's edge, who finally makes Delia understand the real dangers of life on the island. Delia is going to have to fight to survive. Because there are monsters here. And no one ever leaves Trespass alive. (Paranormal)
THE TROUBLE WITH FLIRTING by Claire LaZebnik (Harper Teen)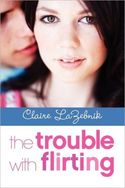 Franny Pearson is supposed to be working for her aunt, the resident costume designer at the prestigious Mansfield Summer Theater Program, not flirting with her crush, Alex Braverman. If only he were as taken with the girl hemming his trousers as he is with his new leading lady. When Harry Cartwright, a notorious flirt, shows more than a friendly interest in Franny, she figures it can't hurt to have a little fun. But why is Alex suddenly giving her those deep, meaningful looks? In this charming tale of mixed messages and romantic near-misses, one thing is clear: Flirting might be more trouble than Franny ever expected. (Romance)
ALSO KNOWN AS (AKA series) Robin Benway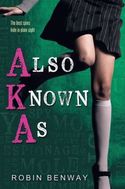 For Maggie Silver, cracking safes for the world's premier spy organization and traveling the world with her insanely cool parents definitely beat high school. But when Maggie and her parents are sent to New York City for her first solo assignment, suddenly she's attending a private school with hundreds of "mean girl" wannabes, trying to avoid the temptation to hack the school's elementary security system, and working to befriend the aggravatingly cute son of a potential national security threat . . . all while trying not to blow her cover. This fast-paced caper proves that even the world's greatest spies don't have a mission plan for love. (Contemporary Adventure)
DUALED by Elsie Chapman (Random House)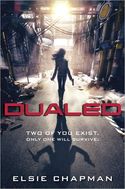 Two of you exist. Only one will survive. The Hunger Games meets Matched in this thrilling high-concept YA where everyone has a genetic Alternate—a twin raised by another family—and must prove their worth by eliminating their Alts before their twentieth birthday. Fifteen-year-old West Grayer has trained for the day when she will to hunt down and kill her Alt. But after a tragic misstep, she's no longer certain that she's the best version of herself, the version worthy of a future. If she is to have any chance of winning, she must stop running not only from her Alt, but also from love . . . though both have the power to destroy her. Elsie Chapman's suspenseful YA debut weaves unexpected romance into a novel full of fast-paced action and thought-provoking philosophy in this "textual equivalent of a Quentin Tarantino movie." --Publishers Weekly (Dystopian Adventure)
New books in popular series
SCARLET
(Lunar Chronicles) by
Marissa Meyer
(Feiwel & Friends)
PERFECT SCOUNDRELS (Heist Society) by Ally Carter (Hyperion)
THE INDIGO SPELL (Bloodlines) by Richelle Mead (Razorbill)
SEVER (Chemical Garden Trilogy) by Lauren DeStefano (Simon & Schuster)
FRAGMENTS (Partials) by Dan Wells (Balzer + Bray)
THE MADNESS UNDERNEATH (The Shades of London) by Maureen Johnson (Putnam)
Rosemary Clement-Moore writes Young Adult books because she loves to read them. Visit her webpage or blog to find out more about her award winning Maggie Quinn: Girl vs. Evil series, and her gothic romance, THE SPLENDOR FALLS (now in paperback) and her latest: TEXAS GOTHIC.
No comments posted.