It's September and time for new fall programming. There are several adaptations this fall and one of my favorites is L.J. Smith's SECRET CIRCLE (The CW, Sept. 15). The books are about a young girl who becomes part of a coven of witches. I've only seen the pilot, but I can tell you that the show varies from the book in a big way. Kevin Williamson, who adapted VAMPIRE DIARIES, is also doing this one. He stays true to the idea of the witches, but makes some necessary changes to help with the pacing of the show. That said, if you're a fan of the books, you will like the show.
There are two fairy tale adaptations coming later in the fall, Once Upon a Time (Oct. 23, ABC) and Grimm (Oct. 21 NBC). The two dramas couldn't be more different. Grimm is about a police detective who begins to see strange things around him. It's part procedural, part paranormal and a lot of fun. The same can be said of Once Upon a Time. The show begins in a fairy tale world and goes back and forth between our world and the one where all your favorite fairy tale characters are real. I liked both of these pilots and I'm curious to see where they go next.
I have a ton of books to tell you about for September, so let's get going: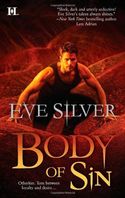 "I've taken up kayaking this summer and I'm out on the water every chance I get," says author Eve Silver. "On calm days, the water's like a mirror, reflecting the blue of the cloudless sky. I'm out there with the quiet, the calm, and my thoughts. I love those moments. They're like little presents I can unwrap bit by bit. Lokan Krayl, the hero of my September release, BODY OF SIN, knows a bit about the quiet, but I suspect he doesn't feel as I do about those moments when he's alone with nothing but his thoughts. Because back when I started the Otherkin/Sins series, Lokan was betrayed, murdered, his soul condemned to a vast nothingness where he was trapped with only his thoughts and, at times, not even those. Lokan was lost to the world, and sometimes lost to himself. The first three books in the series were all about his brothers, Dagan, Alastor and Mal, united in their desire to bring Lokan back. And now he's back in BODY OF SIN...with a vengeance."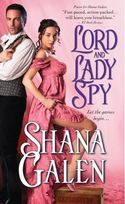 Shana Galen's book LORD AND LADY SPY was inspired by a movie. "I got the idea when I was watching Mr. and Mrs. Smith on cable a few years ago. I was so intrigued by the idea of a married couple who knew virtually nothing about one another. I started thinking, what if Mr. and Mrs. Smith were Lord and Lady Smythe. And what if the year wasn't 2005, but 1815? And that's how Adrian and Sophia's story began!"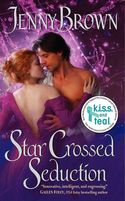 When researching a book one never knows what she might discover. That's what Jenny Brown says about her new book STAR CROSSED SEDUCTION. "While researching the lives of soldiers in the English army stationed in India during the Regency period," Brown says, "I learned that they were still expected to wear wool uniforms despite the heat. So according to one book on the history of the British soldier in India, to keep cool they would line their uniforms with fresh cabbage leaves. Fortunately for me, by the time, we meet the hero of STAR CROSSED SEDUCTION, he has just returned to England on leave and has no need of vegetable undergarments. He's freezing in London's most untropical climate, even in his heavy wool uniform --which, cruel author that I am, I make him take off, piece by piece, very slowly, later on in the book."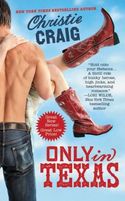 Author Christie Craig's new book has been getting a great deal of publicity because the title, DON'T MESS WITH TEXAS is also used by the state of Texas. But that doesn't keep the book from being one heck of a fun read. Craig says she puts animals in books "because they humanize us. A man can be downright unlovable but have him love a puppy or a kitten and suddenly he's a hero. Dallas O'Connor is dead set against falling in love after getting burned by his ex when he and his PI partners were wrongly convicted of murder. But helping wrongly accused Nikki Hunt may lead to a change of heart. Especially, if Dallas' dog, Bud, short for Budweiser, has his way."
"Our novella, THE UNQUIET is filled with other-worldly tales by J D Robb, Mary Blayney, Patricia Gaffney, Mary Kay McComas, and myself," says Ruth Ryan Langan. Since we're all good friends, it's just fun to write one of these novellas each year for our publisher, Jove, and to see their always-fascinating cover concept. This year's cover is no exception. With blood red letters on a gray brick background, it lets the readers know that they're in for a startling, thrilling, amazing ride."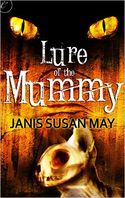 Speaking of scary fun, Janis Susan May's new horror novella, LURE OF THE MUMMY is out. "It takes place in my beloved Cairo and concerns a man who acquires a votive cat mummy sacred to Sekhmet, the lion-headed goddess," May says. "I got the idea for the story during my trip to Egypt last year, when I actually was offered a votive cat mummy by a street hawker. It looked authentic, but there are a lot of good fakes. Plus, I think it's illegal to buy a real mummy, and then there's the problem of how on earth do you get it home. I still think about it, though, because it would make such a great companion piece to the skull on my desk."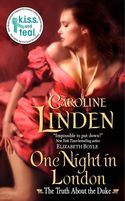 A trip to a London museum helped to inspire some scenes in Caroline Linden's book ONE NIGHT IN LONDON. She was on a family vacation and was trying to keep her children entertained. "When we got home from London," she says, "I still had a few chapters of my book to finish up, including a lighter scene where the hero and heroine go out and have fun together--and luckily, there was already an art- related subplot. I looked up an art collection they could have seen, found images of paintings that belonged to the collection during the story's time period, and made up slightly snarky new titles for some of them. My proper hero was shocked, and then amused, by the heroine's irreverence, and it turned into one of my favorite scenes in the book."
More books for you to check out in September include Cindy Kirk's IF THE RING FITS, STAND IN MOM from Megan Kelly, SINS OF THE ANGELS: Book One of the Grigori Legacy by Linda Poitevin and THE WOUNDED HEART by Adina Senft. The lovely Jenny Gardiner has a story in the upcoming dog anthology, I'M NOT THE BIGGEST BITCH IN THIS RELATIONSHIP, and part of the proceeds go to the Humane Society of the United States.
No comments posted.