Start spring with some of these new and page turning paranormal titles.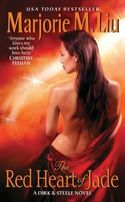 THE RED HEART OF JADE, Marjorie M. Liu (Avon, March 2011, $7.99, Dirk & Steele #3)
Dean Campbell can see and sense things that others canít- an extraordinary ability that drew the ex-cop to the Dirk & Steele Detective Agency, a global association of more-than-human men and women. Dean and his peers- shapeshifters, psychics, and other paranormals- are dedicated to protecting life. Dean's investigation into a series of unthinkable killings is calling him to Taipei, where a pattern is emerging that is more deadly than anything he could have foreseen. While searching through the streets of Taipei, he finds a link to the possible next victim: the love of his life, Mirabelle Lee, whom he thought had been dead for 20 years.


NEVER AGAIN, Michele Bardsley (Signet, March 2011, $7.99, Wizards of Nevermore #1)
Lucinda Rackmore is a witch cursed. Desperation sends her to the last place anyone would think to find her- the small Dragon- protected town of Nevermore, Texas. To escape the wrath of her ex- lover, she must plead her case with the town's Guardian- the man her family betrayed a decade ago. Gray Calhoun is a wizard scorned. Gray wants nothing to do with the Rackmores, especially not the spoiled younger sister of the woman who sacrificed him to a demon lord. But when Lucy shows up at his door begging for sanctuary, he can't turn her away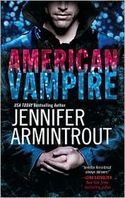 AMERICAN VAMPIRE, Jennifer Armintrout (Mira, March 2011, $7.99)
Buried in the Heartland is a town that no one enters or leaves. Graf McDonald somehow becomes its first visitor in more than five years, and he was only looking for a good party. Unfortunately, Penance, Ohio, is not that place. And after having been isolated for so long, they do not like strangers at all. Jessa's the only one to even remotely trust him, and she's desperate for the kind of protection that only a vampire like Graf can provide.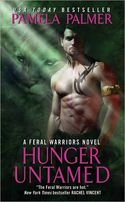 HUNGER UNTAMED, Pamela Palmer (Avon, March 2011, $7.99, Feral Warriors #5)
For a thousand years she has haunted him- Ariana, queen of the Ilinas, a beauty of mist and light. Kougar believed Ariana was lost to him forever until the truth of her stunning betrayal left him bitter and hungry for revenge. Now she alone holds the power to save two trapped and desperate Feral Warriors.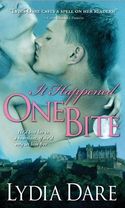 IT HAPPENED ONE BITE, Lydia Dare (Sourcebooks Casablanca, March 2011, $7.99, Gentleman Vampires #1)
Blaire Lindsay has been warned that her ancestral home is haunted. But it will take more than tales of fictional ghosts to frighten Blaire, a battle-born witch with supernatural strength and the ability to make sparks fly from her fingertips. Hearing spectral wails, she decides to search for their source, and is surprised to find a handsome English baron chained to the dungeon wall. As soon as Blaire frees James, Lord Kettering, from his bonds, she quickly finds herself in the arms of the vampyre lord, whose perfect manners are more dangerous than anything Blaire has ever faced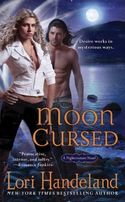 MOON CURSED, Lori Handeland (St. Martin's Press, March 2011, $7.99, Nightcreature #10)
Kristin Daniels is passionate in her pursuit of the truth. As the host of the television show , sheís traveled to the ends of the earth to explore- and expose- lifeís most enduring myths. Her latest undertaking is no exception: Kris is bound for Scotland, where she intends to get to the bottom of the Loch Ness Monster legend once and for all. Instead, Kris encounters something far more mysterious.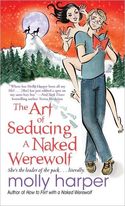 THE ART OF SEDUCING A NAKED WEREWOLF, Molly Harper (Pocket, March 2011, $7.99, Naked Werewolf #1)
Generations of werewolves have been secretly residing in a secluded valley a stoneís throw from Grundy, Alaska. So when a snooping Outsider comes to Grundy to investigate rumors of lycanthropic shenanigans in the area, the valleyís pack alpha, Maggie Graham, resolves to chase him away, even if doing so takes a quick bite on the butt. What a pity that researcher Nick Thatcher turns out to be so drool- worthy, and that his kisses make Maggie want to sit up and beg. Maggie just canít seem to convince Nick to leave. Even worse, she canít convince herself to stay away from him. Combining romance and a career can be tough for anyone; for a werewolf in love with a human, it may be disastrous..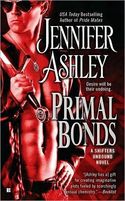 PRIMAL BONDS, Jennifer Ashley (Penguin, March 2011, $7.99 Shifters Unbound Series #2)
When a female Shifter comes to town seeking refuge, Feline Shifter Sean Morrissey claims the new arrival and finds a beautiful woman who looks him straight in the eye without fear, stirring the mating frenzy within him. To relocate to a new Shiftertown, half-Fae, half-Shifter Andrea Gray must accept a new mate. But Andrea's intense attraction to Sean is something she never expected-a perilous complication for a woman with a troubled past.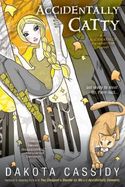 ACCIDENTALLY CATTY, Dakota Cassidy (Penguin, March 2011, $15.00, Accidental #5 )
A purrr- fectly scintillating new novel from the national bestselling author of Accidentally Demonic. Katie Woods never thought she'd be forty-one, divorced, and thrust back into the dating world. To start fresh, Katie uproots her veterinary practice to upstate New York-not exactly the hottest dating scene on the planet. But when an unconscious cougar appears at her clinic, Katie's newly single life gets a much needed jolt of the supernatural kind. After Katie examines the cougar and leaves him caged overnight, she's shocked to find a big strapping specimen of young, hot man in its place. And when the scratch she got during the exam results in some unnatural side effects, Katie has more to deal with then her animal attraction to a much younger guy-she has to figure how to stop herself from becoming a cougar of the four-legged variety.


VAMPIRE MINE, Kerrelyn Sparks (HarperCollins, March 2011, $7.99)
Nothing on earth can make Conner fall in love. After 499 years of existence, Connor Buchanan has arrived at an inescapable conclusion: he is a cold-hearted SOB. He's been watching his friends plummet off the cliff into love like a dazed herd of sheep. But not Connor. He knows that love leads to nothing but heartache. Until Marielle. She is an angel cast down from heaven for disobedience. Trapped in mortal form, she finds a protector in Connor, a Scottish vampire haunted by a dark past. Marielle hopes to heal his broken heart and earn her way back home, but suddenly she has these . . . feelings.

Enjoy,
Sara Edmonds
No comments posted.