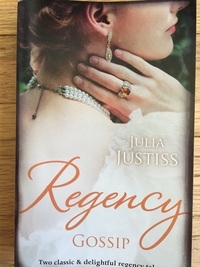 June…the month summer vacation begins! In honor of having just spent a week vacationing with friends she's known for many years, for the contest this month, Julia Justiss offers two copies of a very special UK release. REGENCY GOSSIP, a two-in-one volume, contains Julia's first two novels, THE WEDDING GAMBLE and A SCANDALOUS PROPOSAL, both of which are now difficult to obtain in print. THE WEDDING GAMBLE introduces the Wellingford family, whose youngest daughter Faith is the heroine of Hadley's Hellions hero Davie in STOLEN ENCOUNTERS WITH THE DUCHESS. A SCANDALOUS PROPOSAL features a widow so desperate to keep her son hidden from the vengeful father-in-law who would take him away from her that she agrees to a secret, shameful liaison with a powerful lord. Enter now below!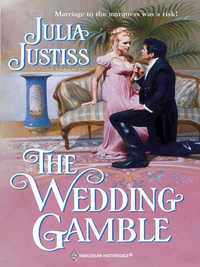 Sarah Wallingford Would Do Her Duty Even if that meant putting herself on the Marriage Mart during a London season she could ill afford - and did not desire. Now ironic circumstance had wed her to the compelling Marquess of Englemere, a fabled gamester, who had awakened passions she was honor-bound not to express!
A marriage of convenience could be deucedly inconvenient - even for a marquess - when one was perilously close to loving his own wife! But that was impossible, Nicholas Stanhope knew, for hadn't his tragic past proven that women - especially wives - were not to be trusted?
Romance Historical Harlequin, On Sale: October 31, 2002, Paperback (reprint), ISBN: 9780263831429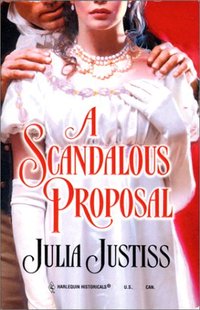 Threatened by extortionists, disowned widow Emily Spenser has little recourse--until the handsome Earl of Cheverley unexpectedly comes to her aid. Emily cannot repay the Earl's expenditures on her behalf--not in coin. But having learned through bitter experience not to trust the largesse of powerful men and desperate to hide her son from the aristocratic father-in-law who would take him away, she decides to cancel her obligation to the earl immediately. Evans Mansfield thinks Emily Spenser an exquisite jewel set among the dross of a bonnet shop. Although he assures her he requires no repayment for the assistance he willingly offers, when she makes him A Scandalous Proposal, he cannot bring himself to refuse.
But as they spend time together, Evan finds in Emily an intelligence, wit and talent to rival her beauty, and Emily discovers a man who possesses a complexity and courage equal to the soldier husband she still mourns. An affair both expect to be fleeting quickly turns into something neither can afford...love.
Romance Historical Harlequin Historical Romance, On Sale: October 1, 2000, Paperback, ISBN: 9780373291328
Contest ends: June 30, 2017