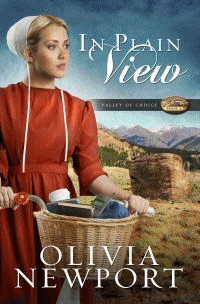 To celebrate the release of her highly anticipated novel, In Plain View, award-winning author Olivia Newport is giving away a fabulous prize package. Enter today to win a beautiful Nantucket bicycle basket (similar to the one on the cover) filled with Amish country's finest comforts along with an autographed copy of In Plain View.

In Plain View
Order Today
Choosing the simple life has never been so complicated. . .

Annie's quest for simplicity is about to get complicated. Nearly a year after leaving her successful but unsatisfying high–tech life, she wonders if she can truly succeed at being Amish. A lucrative job offer, a red dress, and the shadow of an Amish woman looking for a husband create a vortex that clouds Annie's choice. Her parents seem determined to sabotage her efforts, and Rufus Beiler, the Amish carpenter who captured her heart, leaves room for doubt about their future. When an explosion brings Annie under suspicion, she wrestles with how her new values will manifest in her efforts to clear her name.

Meanwhile, Amish parents Eli and Franey Beiler struggle with their daughter Ruth's decision to live away from the Amish settlement and pursue higher education in Colorado Springs, and the attentions of Elijah Capp bring Ruth's path to a crossroads.

Facing decisions that can change their own futures as well as the futures of generations, both Annie and Ruth unravel the past in order to bring the future into plain view.
US / Canada Addresses only
Contest ends: June 30, 2013