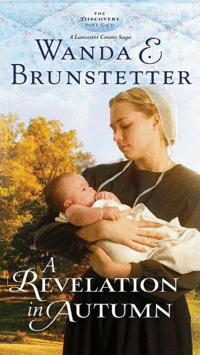 Award-winning and New York Times bestselling author Wanda E. Brunstetter, one of Amish fiction's earliest and most well-known authors, continues The Discovery Saga, a 6-part serial novel series with Book 5, A Revelation in Autumn. The Discovery offers a compelling love story brilliantly mingled with an unexpected twist.
To celebrate the serial novel's success, Wanda will award one grand prizewinner a popcorn basket, made in the heart of Indiana Amish Country. The basket features a 6-quart stovetop popper, yellow popcorn, canola oil, white cheddar and yellow cheddar seasonings, buttery popcorn salt and white popcorn salt. The grand prizewinner will also receive copies of Goodbye to Yesterday, Book 1, The Silence of Winter, Book 2, The Hope of Spring, Book 3, The Pieces of Summer, Book 4, and Book 5, A Revelation of Autumn. Four additional winners will each receive copies of books 1 through 5.
Meredith needs a new beginning . . .
Despite the disapproval of her late husband's parents, Meredith Stoltzfus has become closer to Jonah Miller. Meredith knows he can never replace her first love, but Jonah is head-over-heels for Meredith and cares deeply for her baby. Jonah promises to be a good provider—what Meredith needs for her son's future.
Just as Meredith and John begin to talk of marriage, the husband Meredith believes to be dead is about to remember something from his past. .  .
But can the young man called "Eddie" put the pieces of his life back together—before he loses Meredith again?
To learn more about Wanda's novels, Amish facts and to see photos of her travels, visit www.WandaBrunstetter.com.
Contest ends: June 30, 2013