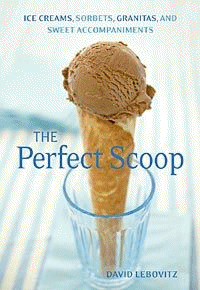 One lucky reader will have fun stocking up on spring reading with a $25 Amazon Gift Card, can try out her own ice cream recipes and desserts with David Libovitz's The Perfect Scoop and relax with a copy (e or paper) of fun, flirty, sensual Anything But Vanilla, her latest book from the exciting new Kiss imprint, (Harlequin, April 2013.

Anything But Vanilla
Order Today
Sorrel Amery has set her sights on the taking the family ice cream business, Scoop!, into the big time and her summer event the talk of the town with her champagne sorbet! It's all going exactly to her carefully laid out business plan until the ice cream parlor's owner runs off, leaving Sorrel's plans melting faster than a sundae in the summer sun. Bad enough, but when the gorgeous Alexander West arrives to wrap up the business she has to think fast, abandon her five year plan and prove that she has what it takes to be the business woman of the year... While he is reminding her that she is first and foremost a woman. Once these two get up close and personal over the sorbet, no amount of ice is ever going to cool things down.
"Liz ... knows how to give a reader a good time. She can charm you and intrigue you and keep you glued to your e reader (or your book). ... Alexander West will capture your heart, readers, as will Sorrell and her adorable family..." Reader on Goodread (Maria Perry Mohan)
"This book was an absolute pleasure to review. The pacing is smooth (back story is kept to a minimum until well past the second half of the story ) the pages are packed with sizzling sexual tension, deeply experienced emotion and crisp, concise dialogue." The Gods of Romance
"With a spunky heroine, playful banter and tender moments, Fielding's story has all the ingredients of perfect romance." 4.5* Romantic Times
US / Canada Addresses only
Contest ends: April 8, 2013