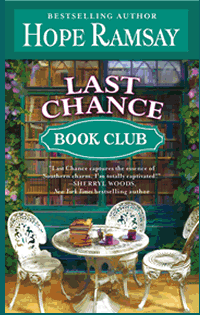 I love the springtime, especially early spring when my wisteria blooms. The blooms last for about five days if the weather doesn't get too hot or if a windy day doesn't come around and blow the blossoms away. I wait 51 weeks for this one special time in mid–April. And if it gets warm enough, we dine alfresco beneath the vine that grows on a pergola above my deck.
The rest of the year, the vine is like a weed. I pretty much have to prune it on a weekly basis in mid–summer. But I do that gladly, just so I can enjoy the one brief week when it blooms.
I don't know why, but wisteria seems like a metaphor for all the really good things in life. You have to work for them and wait for them. And then enjoy them when they come around, without thinking about what's going to happen tomorrow. All of spring is kind of like that, but wisteria seems especially so.
So in honor of this special time of year, I'm giving away an autographed copy of my latest book, LAST CHANCE BOOK CLUB, which is set during the springtime when the azaleas are in bloom. And to go along with the book, I've got a box of beautiful botanical note cards by Michel Design Works for one lucky winner. Enjoy!

Last Chance Book Club
Order Today
After a painful divorce, Savannah White wants nothing more than to find her happy place. So when she gets the chance to pack up her life –and her son – and move to the idyllic town where she spent childhood summers, she jumps at the opportunity. Last Chance is just as charming as she remembered. She's even invited to join the local book club, where talk soon turns to Savannah's plan to bring the ramshackle downtown movie theater back to life. A new challenge is just what Savannah needs to move forward.. . .
Dash Randall wants to put his fortune to good use, but he remembers Savannah as the bratty "princess" who descended upon him each June, causing no end of trouble. But the teenager he remembered has grown into a gorgeous and generous woman, and it isn't long before Dash finds himself wanting to make brand new memories with Savannah. But first, Dash and Savannah will need to make peace with their pasts to find a new chance for love.
US / Canada Addresses only
Contest ends: April 8, 2013