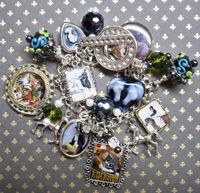 In honor of the release of the first book of her new four–cousin Ransleigh Rogues series, THE RAKE TO RUIN HER, Julia is offering a very special prize: a one–of–a–kind original charm bracelet featuring Regency and English country scenes, created by Jean Judy, who makes jewelry for the Jane Austen Society. There's even a blank locket in which to place a pic of your love-or a favorite scene. For your chance to win this unique bracelet, enter here.
The Rake to Ruin Her
Order Today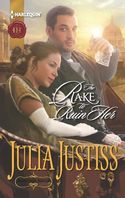 Known as "Magnificent Max," diplomat Max Ransleigh was famed for his lethal charm until a political betrayal left him exiled from government and his reputation in tatters. He seems a very unlikely savior for a well–bred young lady.
Except that Miss Caroline Denby doesn't want to be saved...she wants to be ruined! To Caroline, getting married is tantamount to a death sentence, and meeting the rakish Max at a house party seems the answer to her prayers... Surely this rogue won't hesitate to put his bad reputation to good use?
US / Canada Addresses only
Contest ends: March 31, 2013