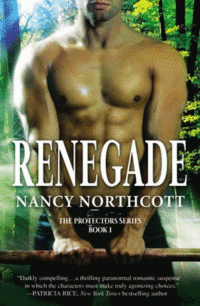 Debut author Nancy Northcott is giving away a special package to celebrate her first holiday season as a published author.  Her paranormal romantic suspense novel RENEGADE was released in digital format on November 6 and will be available in print on demand format December 18.
Nancy's special holiday prize package includes an art glass Christmas tree bottle stopper, a Keeper Kase ™ with a collection of cover cards, including a signed RENEGADE card, and a Kindle or Nook download of RENEGADE.  Only residents of the continental United States are eligible to win.
Nancy will ship the package after she receives the winner's name and contact information from Fresh Fiction, and she will send the download after receiving the winner's Kindle or Nook preference and email address.
SHE ENFORCES THE RULES

As the mage council's sheriff for the southeastern United States, Valeria Banning doesn't just take her job seriously, she takes it personally. So when a notorious fugitive and supposed traitor risks his life to save hers, she has to wonder why. To find the answer, she'll have to put everything on the line, starting with her heart.
HE BREAKS EVERY ONE OF THEM
As a mage, Griffin Dare is sworn to protect innocents from dark magic, which is how he finds himself fighting side by side with the beautiful Valeria Banning. But when the council finds out the two have been working together, the pair must run for their lives--from the law, the threat of a ghoul takeover, and a possible council mole.
NOW THEY ARE EACH OTHER'S ONLY HOPE
Contest ends: December 12, 2012