Nancy Northcott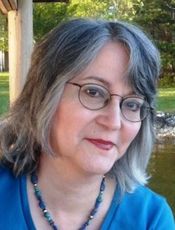 Blogging at Fresh Fiction
Nancy Northcott | The Right Time for Love
July 9, 2013
Did you ever look back on a past relationship and think it might've gone better if it had started earlier or later?  I did Read More...
Nancy Northcott | In the Habit
March 2, 2013
When you have to meet someone at an airport or have a doctor's appointment, do you take a book with you?  I do.  It Read More...
Nancy Northcott | Memories of Christmas Reading
December 24, 2012
Living in a cultural melting pot gives people in the U.S. a wide range of holidays and traditions to celebrate.  At our house, Christmas Read More...
Nancy Northcott | The First Date Jitters
November 6, 2012
Do you remember your first date?  Was it a mix of excitement and jitters and hope?  Mine was.  I feel a little like that now Read More...
Nancy Northcott | Pruning the Keeper Shelf
September 27, 2012
Any book I like well enough to keep after reading it is one I'm likely to read again.  Okay, maybe not this year.  Or Read More...
Nancy Northcott has loved fantasy, science fiction, and comic books since her childhood in a small southern college town. She started writing at her grandfather's knee, when he and she drew stick figures together and made up stories about them. In time, Nancy progressed to writing stories by herself and discovered the delight of playing in her own imaginary worlds.
Somewhere around fourth grade, she realized her ambition to become Wonder Woman was doomed by lack of Amazon genes, but her inner super–heroine finds expression in her writing. Her debut paranormal romantic suspense, RENEGADE, blends the dark fantasy and action elements she loves into its heart–twisting plot. It also pays homage to the small–town values of mutual support and trust she remembers from her childhood.
Nancy and her husband have one son, a bossy dog, and a house full of books.
Log In to see more information about Nancy Northcott
Log in or register now!
Series
Private Protectors | The Protectors | Lethal Webs
Books:
The Deathbrew Affair, October 2017
Lethal Webs #1
e-Book
Sentinel, April 2014
Light Mage Wars
e-Book
Guardian, July 2013
Protectors #2
e-Book
Protector, March 2013
Protectors #1.5
e-Book
Renegade, November 2012
The Protectors #1
e-Book

Videos
Click Title to Play
Renegade