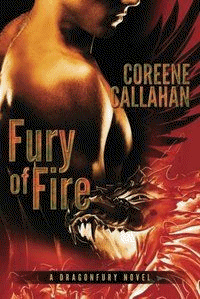 The Year of the Dragon is heating up today's pop culture scene with all things scaly and fire–breathing. Debut author Coreene Callahan had a jumpstart on that trend as evidenced with the February release of her first Dragonfury novel, FURY OF FIRE (Montlake Romance Trade Paperback, on sale now!). This steamy fantasy romance novel boasts incredible action and an irresistible brotherhood of hard–bodied, half–human/half–dragon heroes.
One lucky winner in Coreene's April contest will show her dragon support by adding these intricately detailed Dragon Bookends and a copy of FURY OF FIRE to her keeper shelf. This June, watch for FURY OF ICE, Book #2 in Coreene's addictive Dragonfury series.
FURY OF FIRE
Order Today
When duty calls, a warrior answers—no matter the consequences.
A clandestine race of half–dragon, half–humans known as dragon–shifters lives among us. Bastian, leader of the Nightfury dragon clan, is sworn to protect humankind at all costs. For him, honor and duty always come ?rst. When the clan dictates he take a human mate to sire a son, he falters, aware that for a human to birth a dragon–shifter she must die. Myst, the woman given into his care, is the most extraordinary he's ever met, and though he can't bear the thought of harming her, he is bound by duty.
Myst loves her life in the human world, but Bastian has captured her heart in an instant of electric connection. But Bastian and his warriors are in the middle of a deadly battle with the Razorback dragon–shifters, who are intent on killing every Nightfury clan member—and the humans they protect. The fate of their world and ours hangs in the balance.
"Coreene Callahan has written a fantasy novel sure to thrill lovers of this genre, as well as those who love a fierce, lusty romance story!"
—Viviane Crystal, TheBestReviews.com
"I was blown away by this book! Coreene Callahan's brilliant storytelling skills shine in this novel as she introduces her readers to a race of men—part dragon/part human, and the women who love them. There is lots of action, adventure, suspense, drama, romance, and even, surprisingly quite a bit of humor to be found woven in among this story. . . I personally can't wait for the next installment—Fury of Ice, due to come out in June."
—Sharon Galligar Chance, Sharon's Garden of Books
To find out more about this exciting new author, visit her website at www.CoreeneCallahan.com, and "Like" her on Facebook for the latest news as dragon–shifters invade Seattle.
Contest ends: April 30, 2012