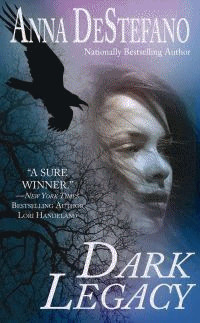 Win a signed copy of Dark Legacy and an amazing COACH Butterfly Purse!!!
"Die!" scream her nightmares. The voice is her sister's, the compulsion stronger than any ordinary dream.
Maddie Temple can't go through this again. Her twin has been in a coma for the last ten years. Their psychic link was severed. At least, that's what she thought.
But there's a lot Maddie doesn't know—about the 200-year-old curse on her family, about the shadowy group that wants to exploit the Temple twins' powers for themselves, about the sexy psychiatrist offering to help her. The only way to find the answers and avoid being pulled into the abyss of madness is to trust her heart and confront her... Dark Legacy.
To be eligible to win the Coach Butterfly Purse, you must READ the excerpt and type your FAVORITE passage below!
Reviews
"A sure winner!" — Lori Handeland, New York Times Bestselling Author, RITA Award Winning Author, Author of DOOMSDAY CAN WAIT

"An emotional and intense read that will leave you demanding more." — Bob Mayer, New York Times Bestselling Author

"Chilling...Mesmerizing...Fascinating." — Library Journal

"An attention-grabbing plot...provides excitement and suspense...a satisfying head trip..." — Romantic Times BOOKReviews Magazine

"You will be wondering till the end..." — Night Owl Romance

"This is the book for you..." — Fresh Fiction

Read these FREE Dark Legacy excerpts, then enter your favorite passage below--the passage that draws you into the story or characters and refuses to let you go ;o)

For a second chance to win a Coach Butterfly Purse, a Dark Legacy Couture Necklace and more, visit Anna's September Dark Legacy Blog Page!
Contest ends: September 30, 2009