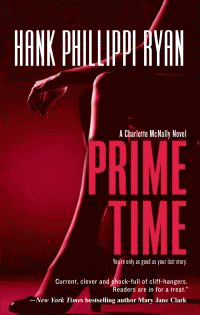 Get ready for your close-up and a little AIR TIME (MIRA Books, September 2009) with Agatha-winning mystery author and Emmy-winning TV reporter Hank Phillippi Ryan. Charlotte McNally, the smart and savvy heroine in Hank Phillippi Ryan's mystery series, knows the secrets to looking fantastic in front of the camera. The grand prizewinner in Hank's July contest can tap into that glamour with luscious lip glosses, powders, shadows and brushes from the ultra-hip selection at Sephora. The winner will also receive a signature ChicoBag and an autographed copy of PRIME TIME and FACE TIME. Four great prizewinners will each receive a limited edition Hank Phillippi Ryan tote bag.
Star reporter Charlotte McNally enters the glamorous and high-stakes world of high fashion...and soon discovers when the purses are fake—the danger is real.
To break her latest big-money blockbuster, Charlotte must go undercover—but what if the bad guys recognize her? This savvy TV journalist must face more than her fear of flying when her inside scoop on designer duplicates suddenly turns deadly.
Carrying a hidden camera and dressing to deceive, Charlie finds she's not the only one disguising her identity. Nothing—and no one—is what they seem. And that means nothing—and no one—can be trusted. In her high-risk job and in her suddenly steamy love life, how can she tell the real thing?
Charlie is forced to make some life-changing—and life and death—decisions. With only a split-second to act and with her own life in the balance, Charlie knows if she chooses wrong it will be the last decision she ever makes.
"AIR TIME is fast-paced and seamlessly interlaced with one terrific plot line after the other. Murder, arson, betrayal, and life threatening danger are a few thrills Charlie faces, and then there is her relationship with Josh that is deteriorating daily. Hank Phillippi Ryan gives the reader another fantastic read featuring real, outstanding characters and an attention-grabbing, informative storyline. This is a super read and comes highly recommended." —Betty Cox for Reader To Reader
"Hank had me from the first line. In her latest addictive page-turner AIR TIME, real-life TV reporter Hank Phillippi Ryan once again thrills us with her terrific counterpart, investigative reporter Charlotte McNally. AIR TIME isn't only exciting and sexy and even funny—it's also damned well written." —David Morrell, Founding co-president International Thriller Writers
"Loved it! Smart, funny, fresh, intriguing and thoroughly entertaining—I highly recommend this series." —New York Times best-selling author Suzanne Brockmann
"Sassy, fast-paced, and appealing. This is first-class entertainment." —Sue Grafton, author of The Kinsey Millhone Series
"The most fun I've had reading in a long time. Hank Phillippi Ryan has given us one of the best heroines to emerge in a long while, and her stories zip along as fast as news bulletins. AIR TIME is a fun, fast read with a heroine who's sexy, stylish, and smart. I loved it." —Nancy Pickard, award winning author
Visit www.HankPhillippiRyan.com for breaking news on the award winning author and her Charlotte McNally series.
Contest ends: September 30, 2009