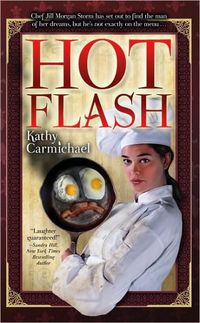 I have great news! BOOKLIST has chosen HOT FLASH as one of the Top 10 Romance novels for the year! To celebrate, I'm running a contest!
The lucky winner will receive a copy of HOT FLASH along with a $10 gift certificate for her choice of IndieBound, Borders, Barnes and Noble, or Amazon.com!
Calm, cool, and premenopausal?
In this laugh-out-loud story about self discovery and coming to terms with aging, forty-year-old Jill Morgan Storm sets out to find the man of-if not her dreams, her son's college tuition. Thanks to survey responses from couples celebrating significant anniversaries, she's discovered the secret to a successful marriage: a man who travels. When she "auditions" traveling salesmen, she's hoping for one week of marital bliss, three weeks off, and a monthly paycheck. Will she find herself and the man of her schemes?
Contest ends: August 31, 2009