"You only live once, but if you do it right, once is enough."
That's my favorite Mae West quote. But while Ms. West's independent spirit is an inspiration to all of us, she doesn't tell us how to live right, nor does she tell us what to do if we feel like we're living all wrong.
For me, as for a lot of women, the answer was to run away from home and build a new and better life in the West. Packing only what matters most, we find our way to Montana, Wyoming, or maybe Texas, leaving our troubles and our timid old selves behind. I call us Red Boot Women because nothing hollers independence like a pair of red cowboy boots. We buy them first with our scraped-up savings because they help us find our swagger and stomp up some confidence.
In Cowboy Trouble, Libby Brown doesn't have time to buy those boots. She's too busy ditching her cheating fiancé, quitting her job, and moving 1500 miles from home with only what fits in the bed of a cherry-red pickup. Acting on a long-held dream, she buys a tumbledown ranch with a big red barn, takes a job with a local paper, and buys a bunch of chickens.
Why chickens? Why not? Here's how the book begins:
A chicken will never break your heart.
Not that you can't love a chicken. There are some people in this world who can love just about anything.
But a chicken will never love you back. When you look deep into their beady little eyes, there's not a lot of warmth there—just an avarice for worms and bugs and, if it's a rooster, a lot of suppressed anger and sexual frustration. They don't return your affection in any way.
Expectations, relationship-wise, are right at rock bottom.
That's why Libby Brown decided to start a chicken farm. She wanted some company, and she wanted a farm, but she didn't want to go getting attached to things like she had in the past.
It doesn't take long for Libby's personal West to turn wild, and in spite of her resolution to keep relationships at rock-bottom, her expectations rise when trouble shows up in the form of the rancher next door. Luke Rawlins is lean and rugged, with a hefty dose of cowboy charm and a sense of humor that slips past her defenses and warms her from the inside out.  
I don't know why the West draws women who are hunting for change. Maybe it's the big sky or the wide-open spaces. The jagged rocks and windswept plains feel like they're holding their breath, hungry for something new, while the sounds of the old frontier seem to echo through every small town - the slap of saloon doors, the sharp xxx of gunshots, the shouts of men driving cattle and the crooning of cowboys calming the herd at night.
We know it was once wild, and it will be again. The Silver Dollar bars, the lights of town, the rodeo grounds - there's an undercurrent of excitement that draws restless souls like me and Libby. At night we find solace in the holy hush of the wind, the velvety depth of the sky, and the stars above, unbelievably bright, spattered across a heaven wide as forever.
In a lot of ways, Libby's story is mine. This was my first book, and I was falling in love with the West when I wrote it. I was falling in love with my now- husband, too, and we'd take long road trips together, traveling from one small Wyoming town to another, enjoying every quirky little diner, every hokey little bar, and every small-town main street. We fell in love and we laughed a lot. Those experiences were braided together into  Cowboy Trouble , along with a cold-case mystery, a dose of suspense, and a whole lot of cowboy trouble.
Trust me, the title keeps its promise.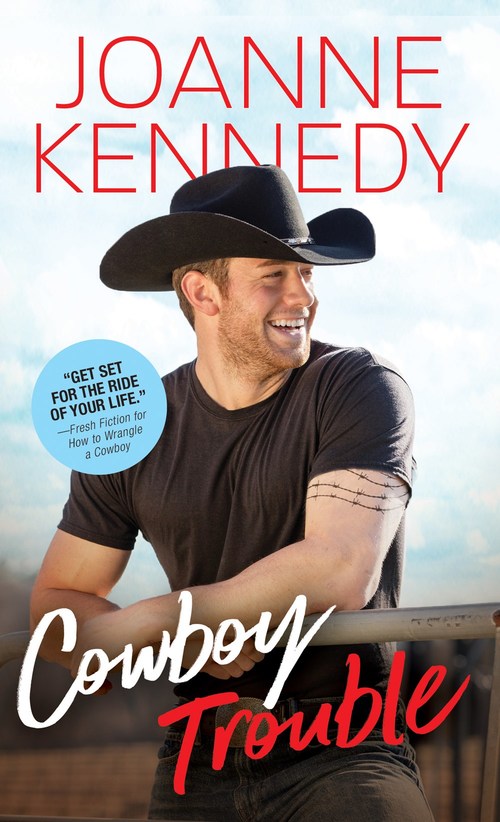 A cowboy like that could break your heart...
Fleeing her latest love-life disaster, big city journalist Libby Brown's transition to rural living isn't going exactly as planned. Her childhood dream has always been to own a farm-but without the constant help of her charming, sexy cowboy neighbor, she'd never make it through her first Wyoming season.
Handsome rancher Luke Rawlins is impressed by this sassy, independent city girl, but he yearns to do more than help Libby out with her ranch. He's ready for love, and he wants to go the distance. When the two get embroiled in their tiny town's one and only crime story, Libby discovers that their sizzling hot attraction is going to complicate her life in every way possible...
Romance Western [Sourcebooks Casablanca, On Sale: March 26, 2019, Mass Market Paperback / e-Book (reprint), ISBN: 9781492683995 / eISBN: 9781402247118]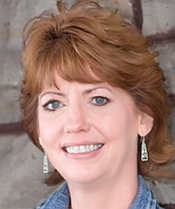 Joanne Kennedy is the RITA-nominated author of ten contemporary Western romance novels, including Cowboy Trouble, Tall, Dark and Cowboy, and Cowboy Tough. The first book in her Decker Ranch trilogy, How to Handle a Cowboy, was named one of Booklist's "Best Romances of the Decade." She lives in a secret mountain hideout on the Wyoming border with too many pets and a retired fighter pilot. The pets are relatively well-behaved. Joanne loves to hear from readers and can be reached through her website, www.joannekennedybooks.com.
8 comments posted.
You only live once so I say just have fun with it, and sometimes that means things will just happen, so just have fun!!!
(Margo Beredjiklian 3:29pm April 3, 2019)