Miranda Owen: As with other books in this Six Pack Ranch series, Family is a major theme in ROCKY MOUNTAIN HOME. Are the tight-knit Colemans anything like your family? Was it difficult making a family that is so lovable without crossing the line and making them artificially sweet?
Vivian Arend: My family is not nearly as…prolific…as the Colemans. But I do admire my papa as a solid, wise man, so Mike Coleman might be a little like him.
For the most part, though, I write a family in a way I think is real. People who are caring, but can make mistakes. They see the big picture and are willing to forgive, but they don't blindly do so without proof the troublemaker has really changed their ways.
And of course, Marion Coleman is going to go all mama bear for her kids, even when she knows they've screwed up. She's their mom!
Miranda Owen: Jesse Coleman is a character haunted by guilt, as well as being a super-hot cowboy. What is the appeal in writing about cowboys?
Vivian Arend: Cowboys spend a lot of time in their own heads, which makes them wonderful to torment as a writer. Gives all that time while they're doing repetitive tasks for their own stupidity to hit them upside of the head. And I love how cowboys are used to working with their hands, and ready to get down and dirty—which nicely applies to so many other things that the heroines are definitely interested in! Ahem.
Miranda Owen: One thing I really like about the romance that evolves between Jesse and Darilyn is that, despite an unexpected pregnancy, Jesse and Darilyn never really lash out at each other. Even though they struggle with some internal doubts, there is a feeling that they're in this together. I love stories in which the hero and heroine work together toward some common goal and present a united front. Do you prefer writing stories like that, or ones in which the hero and heroine have some initial friction between them initially?
Vivian Arend: When I'm writing I try very much to get into the heads of the people I'm writing about, and because they become real to me, I can feel when their tipping point approaches. You know what I mean, that moment when it would be too much drama, too much heartache, too much hurt. If you add up all the things Jesse and Dare were already dealing with: an unexpected pregnancy with a person they don't really know, Dare's past losses, Jesse's relationships with his family to fix—there was so much going on they needed a place to stand that was solid while dealing with the rest of the world. That solid place this time was each other.
In other stories, when the outside world isn't as overwhelming, I think the hero and heroine can overcome a lot more interpersonal strife without making it OMGDRAMALAMA. In that case, I have no problem tossing them into the fire.
Miranda Owen: Your heroines are all very different types of women but I love how they seem very real, and have a lot of backbone. Darilyn, in ROCKY MOUNTAIN HOME, is another example of this kind of fab female character. Are any of your heroines based in any small part of yourself or your family or friends?
Vivian Arend: I can't say that I base any of the heroines on a specific real person, but I do write women I would like to be friends with. Some are more shy, some bold, some brash, but at the core, they've all got big hearts and they really want the best for others, especially their heroes. That kind of love gives anyone a solid back bone and strength of character.
Miranda Owen: Since ROCKY MOUNTAIN HOME is the last book in your Six Pack Ranch series, are you satisfied with how the series has ended? Were you able to tell all the stories you wanted? If you had to choose, do you have a favorite book, hero, heroine, couple?
Vivian Arend: I'm very happy with this final novel and the series overall. I've really tried to make them books fit the characters, and that even with a big family, each cousin had different hopes and dreams, and that made their books completely different.
Did I tell all the stories I wanted? Nope! Which is why I'll be writing more cowboys in the future.
My favorite? Every single one, for more than one reason, but if I had to pick a reason to share:
Blake & Jaxi in ROCKY MOUNTAIN HEAT: because they started the love, and I respect Blake, and would be BBF w Jaxi.
Daniel & Beth: because I had a reader write to tell me she left an abusive relationship for the sake of her children after reading ROCKY MOUNTAIN HAVEN. She was safe, they were safe, and she knew she deserved more.
Matt & Hope: because I love how people from small towns GET how small the dating pool is.
Gabe & Allison: because I love a good guy hero, and I love a sacrificial love like Allison shows in ROCKY MOUNTAIN ANGEL
Joel & Vicki: because standing up to people you love to find your own HEA takes courage, and in ROCKY MOUNTAIN REBEL reputation and truth get looked at closely.
Travis, Cassidy & Ashley: because people who would NEVER read about two men falling in love, let alone two men, and one woman, tried ROCKY MOUNTAIN FREEDOM, and they saw that love was love.
Steve & Melody: because starting over can be a tough thing, but in ROMANCE we see it's worth the fight.
Lee & Rachel: because being snowed in at a cabin is one of my favorite tropes ever, and I love a hero in pursuit like Lee in ROCKY MOUNTAIN RETREAT.
Trevor & Becky: because the storyline is real—love is more than sex. Becky is a fighter to the core, and Trevor is her SHELTER in all the ways a man can be.
Rafe & Laurel: because being in love forever and growing together is powerful, and we see that in ROCKY MOUNTAIN DEVIL. Faith is a part of who we are, even if we're not religious.
Jesse & Dare: because at the end, like in ROCKY MOUNTAIN HOME, it's our family that wraps up love in a bow. Whatever that family looks like, two people, more—we choose our true family.
Miranda Owen: One of the things that I love so much about your Six Pack Ranch series, as well as the Thompson & Sons series, is the way you maintain a balance between drama, fun, and sexiness. Is maintaining that kind of balance something you consciously try to do?
Vivian Arend: Thank you! I'm glad you enjoy the balance, but I have no idea how it happens. Consciously doing it would require I actually plot, right? *looks around* I don't deliberately do it. I just write a book that I'd like to read, and so far, it's worked.
Miranda Owen: Can you say how many books will be in the new spin-off Heart Falls series?
Vivian Arend: I'm starting with a quartet of books involving the Stone family, to begin with. But this series will be a little different as I plan to include Christmas novellas and summer stories for other heroes and heroines from the town of Heart Falls as well. So…short answer is right now I have plans for two mini-series (four books, three books) plus four other standalone happily-ever-afters. We'll see how quickly I fall in love with everyone I meet and just HAVE to get them the right sweetie to make them happy!
Miranda Owen: What are you currently working on?
Vivian Arend: I'm working on a number of things! More cowboys—The first Heart Falls book, A RANCHER'S HEART is ready to go for November! The second book, A RANCHER'S SONG, will be out early 2018. I've got a light-hearted mystery series that will be starting in 2018 as well. The Jack Of All Trades stories will be set all over the US and Canada, with a mysterious protagonist and a lot of light-hearted mayhem. And I have a few paranormal novellas I'm playing with in my spare time- the bears and wolves are calling!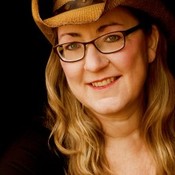 With over 1.6 million books sold, Vivian Arend is a New York Times and USA Today bestselling author of over 50 contemporary and paranormal romance books, including the Six Pack Ranch and Granite Lake Wolves.
Her books are all standalone reads with no cliffhangers. They're humorous yet emotional, with sexy-times and happily-ever-afters. Vivian pretty much thinks she's got the best job in the world, and she's looking forward to giving readers more HEAs. She lives in B.C. Canada with her husband of many years and a fluffy attack Shitzu named Luna who ignores everyone except when treats are deployed.
1 comment posted.