I confess I have no answer to that. My debut novel was birthed from blood, pain, tears and tantrums. Don't get me wrong. It's all worth it. When you've done as much research as your weary brain can take; you've had the mother of ideas at 2 am in the morning (on more than one occasion) and you HAVE to get it down on your laptop; you've coped with the hiccups and glitches of your pc and you've recovered from all the trauma of thinking that your manuscript has disappeared into the ether; you've edited, edited and edited it for what you pray is the final time and there's an "oops, I need to check that", or, "have I done this, that or the other?", it's finished! A huge sigh of relief, throw your hands in the air and do a little cha-cha around the living room before falling exhausted into bed. So, after all that, why, oh why, did I choose to right a sequel?
I will truthfully say, with some embarrassment, that I had totally and utterly fallen in love with my characters, Joe and Katie. I missed them, their love for each other and their struggles and I felt that their journey together was not at an end. My initial idea was to have Joe killed but those of my friends who had given me feedback and help on the rough drafts of FOR THE LOVE OF A MARINE, protested vehemently. I am not going to divulge anything more or tell you what decision I came to as that would only spoil it.
Suffice it to say that the urge to write further of Joe and Katie's love for each other, despite the trauma and struggles of war, was too strong to deny and once I had taken a break, off I went - another journey into the realms of editing, blood, sweat and tears, my faithful laptop resignedly ready for the swearing and the occasional thump when it decided to spit is dummy.
Success again! Another dance around the living room, my West Highland Terrier looking at me as though I had lost my mind, my husband rolling his eyes, tolerant and accepting of my weird antics. A FALLEN HERO - done and dusted, sent off into the electrical ether and Joe and Katie could continue their love affair in print indefinitely.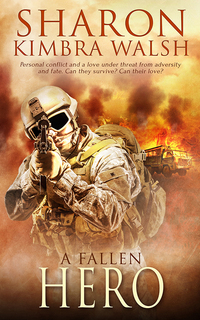 War, trauma, destruction, death. Personal conflict and a love under threat from adversity and fate. Can they survive? Can their love?
US Marine Staff Sergeant Joe Anderson is home after having been missing for many months, a shell of the man he once was—tormented by guilt, consumed by rage and with a terrible hunger for revenge.
Corporal Katie Anderson nee Walker finds out how far she will go to help the man she loves. Is she willing to put her life on the line to stop Joe from his continuous journey toward mental destruction? Does she have the strength and the commitment? Does she love him enough?
On a military base in Afghanistan, Katie finds Joe and realizes that she has bitten off more than she can chew. Life in a combat zone is already tough. The Taliban have stepped up their attacks. There is no room for complacency, loss of focus or personal life issues. But are there worse things than the enemy lining her up in their sights to kill her?
Can Joe find peace or will he die trying? Can Katie find the tenacity to bring Joe back to his senses, convince him that revenge will only get him killed? Is Katie's love strong enough to overcome Joe's hate, rage, guilt and his unwavering obsession with retribution or will fate step in to destroy them before they can move toward healing Joe and healing themselves?
Reader advisory: This book contains scenes of violence and strong language and detailed accounts of battle injuries.
Publisher's Note: This book is the sequel to FOR THE LOVE OF A MARINE.
Get your copy of A Fallen Hero here.
About Sharon Kimbra Walsh:
Sharon spent eight and a half years in the Women's Royal Air Force. Originally based in London, after she met her husband, Sharon relocated to Scotland to settle in Edinburgh. Already loving the country after having been stationed there during her time in the military, Sharon has never looked back. She lives with her husband and rescue West Highland Terrier, Snowie, (who thinks that she is a Rottweiler in disguise).
In 2014 Sharon started to have visions of writing a contemporary military romance. The ideas started to pile up and there was nothing for it but to get them down on her laptop, regardless of time and place.
You can take a look at Sharon's website here.
2 comments posted.
I just bought both books. I'm from a military family. It's rough on the men and their loved ones.
(Lois Boden 12:40pm February 7, 2016)