Tune to the Hallmark Movies and Mysteries Channel on Sunday, January 10th, 2016 to watch THREE Hannah Swensen movies, back-to-back!
Sunday January 10th, 2016
from 5 PM to 7 PM EST
Murder She Baked: A Chocolate Chip Cookie Mystery
then . . .
from 7 PM to 9 PM EST
Murder She Baked: A Plum Pudding Mystery
then . . . the icing on the cake . .
from 9 PM to 11 PM EST
The World Broadcast Premier of
Murder She Baked: A Peach Cobbler Mystery
Come spend the night with Hannah, solving mysteries and munching cookies.
Jo says, "Ladies, start your ovens!"
For more about Jo Fluke and Hannah Swensen visit her Website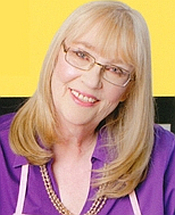 Like Hannah Swensen, Joanne Fluke grew up in a small town in rural Minnesota where her neighbors were friendly, the winters were fierce, and the biggest scandal was the spotting of unidentified male undergarments on a young widow's clothesline. She insists that there really are 10,000 lakes and the mosquito is NOT the state bird.
While pursuing her writing career, Joanne has worked as: a public school teacher, a psychologist, a musician, a private detective's assistant, a corporate, legal, and pharmaceutical secretary, a short order cook, a florist's assistant, a caterer and party planner, a computer consultant on a now-defunct operating system, a production assistant on a TV quiz show, half of a screenwriting team with her husband, and a mother, wife, and homemaker.
She now lives in Southern California with her husband, her kids, his kids, their three dogs, one elderly tabby, and several noisy rats in the attic.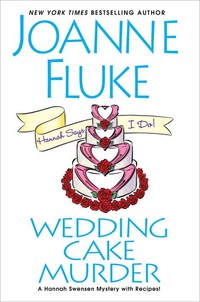 Everyone in Lake Eden, Minnesota, may have had their doubts, but at long last, Hannah Swensen is getting married!

Hannah is thrilled to be marrying Ross Barton, her college crush. And her excitement only grows when she learns he'll be able to join her on her trip to New York City for the Food Channel's dessert chef contest. They get a taste of the Big Apple before Hannah wins the Hometown Challenge and the producers bring all the contestants to Lake Eden to tape the remainder of the show. It's nerve-wracking enough being judged by Alain Duquesne, a celebrity chef with a nasty reputation. But it's even more chilling to find him stabbed to death in the Lake Eden Inn's walk-in cooler—before he's even had a chance to taste Hannah's Butterscotch Sugar Cookies! Now Hannah has not only lost her advantage, she'll have to solve a mystery with more layers than a five-tiered wedding cake…
Pre-order
WEDDING CAKE MURDER
:
Amazon.com
|
Kindle
|
BN.com
|
iTunes/iBooks
|
Kobo
|
Google Play
|
Powell's Books
|
Books-A-Million
|
Indiebound
1 comment posted.