They say writing is one of the loneliest of occupations. I have to respectfully disagree. Yes, you're usually alone when putting pen to paper or fingertips to keyboard, but how can you be alone when you have a whole host of characters in your head to keep you company? I think, if I ever felt alone when writing—even though I'm actually alone in my office—then I'd be doing this writing gig all wrong. My characters are my friends, real people, and they come alive inside my head, keeping me company until the scene or the book is complete.
I can't imagine having time to feel lonely when perched at my desk with a manuscript open. With the plot and people scrabbling for my attention, I'm focused on the story, not what I'm doing or what my circumstances are. I'm 'in' that book—in that town, house, or wherever—and it's like everything around me disappears. I can't see my keyboard. Or my real-life surroundings. Only the fictional is visible, so when you think about it, I'm amongst the characters, in their living room, and I'm even drinking their tea. Of course, they can't see me, their life is playing out as usual, but I'm there, a spy almost, watching everything they're doing and writing it down.
I wonder if that sounds creepy to some people? I have no idea—I've always been happily stuck in my imagination as far back as I can remember, so for me it's 'normal' to entertain various things inside my mind. I can't imagine not having characters prodding at me to get writing, or seeing their homes and workplaces in my mind as though I've been there a thousand times before. I can walk around their houses without a map or any direction, yet previous to writing the book, I've never stepped foot inside their residence. Weird, isn't it?
I do agree, though, that there is a brief spell of loneliness once a book is finished. Some characters really do burrow into the heart, so once their story is over, I find myself feeling a little alone then. But I don't dwell on it for long. A new book comes steaming in, and I'm soon too immersed in that one to remember the emotions I'd felt before.
I wonder sometimes where all these characters are stored. Have they been inside my head for years, waiting for their time to come out? Imagine if that were the case—a million and one people in my brain, silent until they feel their tale must be written. Hmm. That's a plot bunny right there…
Sarah Masters is a multi-published author in three pen names writing several genres. She lives with her husband, youngest daughter, and a cat in England. She writes at weekends and is a cover artist/head of art in her day job. In another life she was an editor. Her other pen names are Natalie Dae and Geraldine O'Hara.
Sarah also co-authors with Jaime Samms, and as Natalie Dae she co-authors with Lily Harlem under the name Harlem Dae.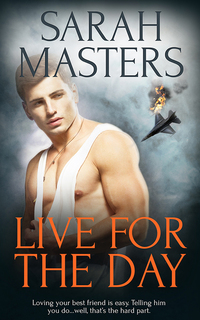 Loving your best friend is easy. Telling him you do…well, that's the hard part.
Michael and Steven grew up together—just them, no girls allowed. They'd always planned to join the military, but when it came time to sign up, Michael couldn't do it. For years, Michael has worried every time Steven is out in the desert, risking his life to serve and protect. He dreads the day Steven won't come home.
Steven has been through a dreadful ordeal on duty, and while in the hospital, he's had time to think about what's important in life. He misses Michael—needs to get back home to be with him— and he has something he wishes to say, something he's held inside as far back as he can remember…
When the two men reunite, revelations are the name of the game. There is no question they've always loved each other, but now that they have the chance to express that love, will they?
1 comment posted.