I'm an accidental author. I began writing on a lark.
A few years ago, my mother kind of bullied me into "doing something for myself." It was all very well to take care of house and hearth and read my way through the local library, but she thought I needed to expand on that lifestyle. It was one of the rare times in life that I actually listened to her, and my reward was a vocation that has become my passion.
I love it: writing. I love it even more than reading, and I love to read. A book is like my fifth limb, following me everywhere.
So, I'd found my passion and very quickly (about a year) produced a manuscript that was good enough for an Indian publisher to offer me a contract, which I accepted and IT'S YOUR MOVE, WORDFREAK! became real. I was officially an author.
And that's when I seriously started to understand the book business. Not just the writing side of it, because that comes easily to me, but the publishing side of it. And the more I tried to understand the business, the more things started to go wrong.
Labels were everywhere: what type of writer is she? What type of books does she write?
Ah! She's an Indian writer who lives in New York—her writing is too western for India. South Asian writer who writes contemporary romance—her writing is too cultural for the US. Wait! Now she has a fantasy manuscript to pitch and a women's fiction story? That's a no-no for a newbie. Stick to one thing. Build your platform.
I tried very hard to fit myself into a slot. I tried on all the labels available to me, but none fit me perfectly. And I wasn't happy. I am an Indian writer, and most of my stories are about Indian people and the Indian culture. That's what I know. But my writing style isn't Indian. It's global. That's how I write.
I was born and raised in India, have lived in Belgium, and now I live in the US. Change is a constant in my life, and it will reflect in my writing. My voice changes from book to book. My themes, genres, all change from book to book. And that confuses the agents and publishers, and makes my getting published very difficult, if not impossible.
I keep asking myself if I should write what they want or what comes naturally to me? Does anything other than a good story matter to a reader? Should it?
Ultimately, I've realized I want to…need to…must write for myself. And that my story should please me first and foremost, or my reader will know me for a fraud.
Write the right book and the right audience will follow.
Falguni Kothari is a New York-based hybrid author, and an amateur Latin and Ballroom dance silver medalist with a semi-professional background in Indian Classical dance. She writes in a variety of genres sewn together by the colorful and cultural threads of her South Asian heritage and expat experiences. She's published in India in contemporary fiction with global e- book availability, and will launch her mythic fantasy series, The Age of Kali, in November of 2015. When not writing or dancing or being house-wifey, she fools around on all manner of social media, and loves to connect with readers.
Website | Facebook | Twitter | Google+| Goodreads | Blog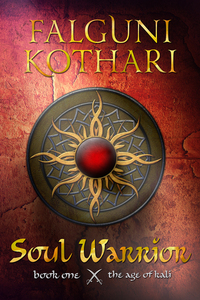 Fight fate, or succumb to destiny?
In the dark Age of Kali, the Soul Warrior alone stands guard over the Human Realm, protecting its denizens from evil-willed asuras or demons. When a trick of fate appoints him guru to a motley crew of godlings, he agrees to train them as demon hunters against his better judgment. Suddenly, Lord Karna is not only battling the usual asuras with sinister agendas, but also rebellious students and a fault-ridden past.
Spanning the cosmic realms of mythic India, here is a tale of a band of supernatural warriors who come together over a singular purpose: the salvation of Karna's secret child.
1 comment posted.