Sally Andrew | Food as Magic

November 3, 2015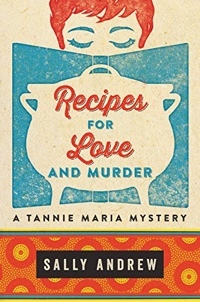 Recipes For Love And Murder
Sally Andrew
AVAILABLE
Tannie Maria Mystery #1

November 2015
On Sale: November 3, 2015
Featuring: Tannie Maria
432 pages
ISBN: 0062397664
EAN: 9780062397669
Kindle: B00S5998D8
Hardcover / e-Book
Add to Wish List

Also by Sally Andrew:
The Satanic Mechanic, April 2017
Recipes For Love And Murder, November 2015

My book, RECIPES FOR LOVE AND MURDER is a murder mystery, set in the Klein Karoo, South Africa, and is flavored with the themes of love and recipes. In this article, I explore the latter theme only.
Eating has been going on since the beginning of Life itself. But recipes are a human invention. They are the first act of magic. The origins of alchemy. Combine these special ingredients, follow a certain formula, hold a particular intention and abracadabra, the spell is complete.
My main character, Tannie (Auntie) Maria, is obsessed with food. But her obsession is so convincing that it seems normal. She says that food and love are what matter most in life. She says without food she would be dead. And of course what she says is true.
When people write in with their problems to her agony aunt column in the Klein Karoo Gazette, she does give them advice, but more importantly, she gives them a recipe. When she is chasing down clues in the murder case, she uses food to get people talking. When she is attracted to the handsome detective with the chestnut moustache, she feeds him roast lamb and the best chocolate cake.
Like a spell, a recipe is greater than the sum of its ingredients. Rusks might be made from flour, sugar, butter, muesli etc., but they conjure up companionship, comfort and a listening ear.
Tannie Maria is a brilliant cook. I am not. I'm careless and impatient with a tendency to forget pots on the stove, and an ability to bake things that are so disgusting they have to be destroyed.
So the 'recipes' aspect of my book was a big challenge for me. It required intensive research and testing. To start with, I waded through piles of books on traditional South African cooking. I studied, for example, seven different recipes for milk tart. I then creatively combined them into what I was convinced would be the best possible melktert recipe of all time, and employed a professional to bake it for me. It was a disaster. Its taste, texture, size, color, everything, was disgusting. As with many of my previous efforts it was destined for destruction.
However, I was determined to use only recipes that were moan-out-loud or faint-on- the- spot delicious, so I threw the cookbooks under the table, and chased down some of the best cooks in the country and asked them to share their very best recipes with me. These dishes were further perfected by the chef, Martin Mössmer, who also gave me his great-great-grandmother Ouma Alie Visser's sublime melktert recipe.
That's another way that recipes are magic. If you bake someone else's recipe, you bring them right into your kitchen, even if they died generations ago. They return, not as a wispy ghost, but a provider of real food, something you can taste and swallow.
As a writer, I am inspired by the way food engages all the senses. I remember the story of Ernest Shackleton's men, stranded on Elephantine Island in the Antarctic ocean. Night after night, they huddled under their overturned boat, and ate the same meal of seal blubber. The job of the chef de jour was not just to prepare the dinner but, while they ate, to describe in detail his favorite meal. It was the description of the food that carried the men from their icy surrounds back to their warm and cozy family homes.
Like a good meal, cooked with love, makes a spell to transform the eater, so too as a writer I hope to make magic to transform the reader, to carry them to the kitchen of Tannie Maria in the Klein Karoo.
I'd love to do more than just tell a story. I'd like to give the reader an experience that they can take right into their belly and their bones.
Giveaway
What is your favorite recipe? Leave a comment below for a chance to win a copy of RECIPES FOR LOVE AND MURDER.
Sally Andrew lives in a mud-brick house on a nature reserve in the Klein Karoo, South Africa, with her partner, artist Bowen Boshier, and other wildlife (including a giant eland and a secretive leopard). She also spends time in the wilderness of southern Africa and the seaside suburb of Muizenberg. She has a Masters in Adult Education (University of Cape Town).
For some decades she was a social and environmental activist, then the manager of Bowen's art business, before she settled down to write full-time. This is her first novel. It will be published in at least twelve languages, across five continents.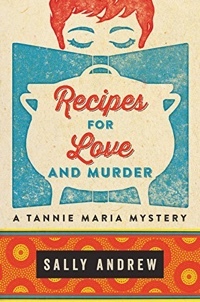 A bright new talent makes her fiction debut with this first novel in a delicious crime series set in rural South Africa—a flavorful blend of The No. 1 Ladies' Detective Agency and Goldy Schulz, full of humor, romance, and recipes, and featuring a charming cast of characters
Tannie Maria ("tannie" meaning auntie, the respectful Afrikaans address for a woman older than you) is a middle-aged widow who likes to cook—and eat. She shares her culinary love through her work as a recipe columnist for the local paper, until the Gazette decides its readers are hungrier for advice on matters of the heart than for lunch and dinner ideas.
Tannie Maria doesn't like the change but soon discovers she has a knack—and a passion— for helping people. Of course, a recipe is always part of the remedy she offers. Assisting other people with their problems, Tannie Maria is eventually forced to face her own issues, especially when the troubles of those she helps touch on the pain of her own past—like a woman who contacts her desperate to escape her abusive husband.
When the woman is murdered, Tannie Maria becomes dangerously entwined in the investigation, despite the best efforts of a handsome detective named Kannemeyer, who is determined to keep her safe. Suddenly, this practical, down-to-earth woman is involved in something much more sinister than perfecting her chocolate cake recipe . . .
Comments
22 comments posted.
Re: Sally Andrew | Food as Magic

Any recipe for a dessert is my favorite recipe. Even if the whole meal is ruined, as long as there is dessert, I'm happy.
(Lisa L. 9:59pm November 2, 2015)
My favorites are those that are easy to make & that the
family love to eat.
(Mary Preston 4:30am November 3, 2015)
Easy and fast are the best recipes.
(Rhonda Rogers 7:52am November 3, 2015)
My favorite recipe is the one that won my Husband over
before he proposed to me. It's a special meat loaf
with certain spices, and has a special tangy topping.
Then I make special Polish mashed potatoes that have
cheese, grilled onions that are chopped finely, and
butter in them. I make home-made creamed peas for my
vegetable. When my Husband (boyfriend) at the time,
tried it, he was over the moon, and not that long
afterward, he asked me to marry him!! I know it was
for more than just my cooking, of course, but he
filled me with compliments that day!! I also love to
make stuffed cabbage, and make a mean beef stew that
has gotten rave reviews from anyone who has eaten it.
(Peggy Roberson 8:40am November 3, 2015)
It's got to be my Southern Fried Chile recipe
(Deb Philippon 10:16am November 3, 2015)
My favorite recipe is a flourless chocolate cake with a
raspberry sauce and slightly sweetened whipped cream. I adore
it myself and it never failed to impress guests.
(G. Bisbjerg 11:41am November 3, 2015)
My favorite recipe is for Indian fry bread served with honey. It's a special treat that is made only on holidays. (it is very high in fat that's why we don't have it often)
(Carole Abel 4:54pm November 3, 2015)
I like pecan bites made with butter, powder sugar and
pecans, rich and good
(Jeri Dickinson 5:47pm November 3, 2015)
I really don't have a favorite , I love most foods . My grandkids love my homemade chili and my vegetable soup . They will ask me to please make it for them . I don't have a recipe , I just start out putting things in a big pot . I have had to change pots and get even bigger . Ha I love the winter months for cooking and always have something warm or hot to eat .
(Joan Thrasher 10:53am November 4, 2015)
I have lots of favorites but the dessert I get asked for the recipe the most is the gooey peanut butter cake.
(Pam Howell 11:14am November 4, 2015)
My favorite recipe is salmon and kale with roasted veggies.
(Sharon Berger 12:40pm November 4, 2015)
My favorite recipe is the one that I made up myself. I didn't
know what to call it so I called it "SLOP!" It is mexican and
you eat it either on a tortilla shell or use it as a dip with
doritos. It is perfect and it is great. Good luck everyone!
(Renae Kelly 12:56pm November 4, 2015)
A chopped meat, eggs, potato mixed with evaporated milk, grated cheese, ranch dressing pored into a pie shell and baked. A delicious meat/egg/potato quiche.
(Sandra Stipins 2:36pm November 4, 2015)
chicken is always good
(Jeri Dickinson 3:04pm November 4, 2015)
Meatloaf! Ground beef, onions, eggs, salt, pepper, bread
crumbs, can of rotel tomatoes. Mix all ingredients together to
firm a loaf. Squire mustard and ketchup on top, spread evenly
to combine mustard and ketchup. Bake in over of 350 for about
45 min to an hour. Yummo!
(Terry Trahan 6:20pm November 4, 2015)
Vegan recipes!
(Kelly Braun 2:54pm November 5, 2015)
My favorites would have to be healthy recipes that are fast and easy to
prepare.
(Lily Shah 3:53pm November 5, 2015)
I am an old fashioned type of gal. Love the recipes from the 50's and 60's.
(B Tritt 5:51pm November 5, 2015)
A friend's recipe for lasanga.
Marilyn
(Marilyn Collins 6:02pm November 5, 2015)
most brownies with nuts
(Jeri Dickinson 6:39pm November 5, 2015)
My favorite recipe is my grandmother's buttermilk biscuits. She tried to pass the recipe down to me before she passed away. However, she measured everything with her hands. I was still trying to get the same sized hands as her. Still crave those biscuits!
(Amy Morgan 4:25pm November 6, 2015)
pecan sandy cookie that has powederd sugar, butter and
pecans
(Jeri Dickinson 10:17pm November 6, 2015)
Registered users may leave comments.
Log in or register now!