I guess I've always been a nerd. The only person who has ever called me one though is my husband (and my kids). I liked school, I was good at it, and my hobbies have always been of the quiet sort (like reading and writing). I grew up on Star Wars, but didn't everyone who's my age?
As I got older, and definitely as I had children who are all kinds of nerdy, I learned to embrace my nerdiness. In my house, a common mantra is "Nerds rule the world."
My problem with the terms nerd and geek is not what they stand for or imply, but mostly how they've been portrayed in books and TV shows and movies. Nerds are smart but socially awkward and dopey-looking and can't carry on a conversation that uses words regular people know. My problem with that is it was never my reality.
I know a lot of scary intelligent people who are social phenoms. (not me, of course, but they do exist). They excel in any kind of social interaction. The conversation still might scare some people off, but it's not because the nerd is awkward.
People spend so much time making fun of nerds and geeks that they miss out on the joy and brilliance of being one. I love the nerd/geek culture because when you find your people, your tribe, they not only get you, but they throw their arms wide and pull you in. They accept who you are because of a common (or uncommon) love of something that many others don't understand. The fandom could be molecular science, or music, or comic books, or video games, or yes, Star Wars. In these places, there is safety to be yourself even if you don't all agree on everything.
When I started writing the Hot & Nerdy series I wanted to write about nerds falling in love. People can be passionate about highly academic or bizarre pursuits, but that doesn't mean they aren't attracted to people. They want to fall in love and even have sex (gasp!). Although my characters have their own hangups and baggage (who doesn't?), they are nerds who are relatively normal people.
Well, to be totally honest, the last novella in each trilogy does have protagonists who are socially awkward, but it's cute. They're not bumbling idiots; they're just unsure of how to successfully interact with people in a social setting. That doesn't just happen to nerds. All of my heroes and heroines are nerdy and normal. They struggle with the same life decisions everyone does. Being really smart or extremely talented doesn't stop you from being insecure.
Their insecurities are what make them real for my readers. They're not super- geniuses who float through life without problems. They accept who they are and embrace their nerdiness. When readers close my books, I want them to be able to do the same. Embrace Your Nerdy!
Shannyn Schroeder is the author of the O'Leary series, contemporary romances centered around a large Irish-American family in Chicago and the new Hot & Nerdy series about 3 nerdy friends and their last spring break. When she's not wrangling her three kids or writing, she watches a ton of TV and loves to bake cookies.
Website | Facebook | Twitter | Pinterest | Goodreads | Blog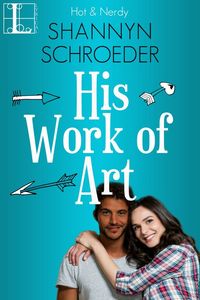 Reese Carter is definitely not your average college girl. She'd prefer to spend Saturday nights playing Hero's Crusade than attending a wild frat party on campus. When she bands together with Adam, fellow comic enthusiast and illustrator, it appears that Reese has formed a dream team sure to propel her writing into the comic hall of fame.
Adam Hayes has never met a girl like Reese. She's sassy, smart, and loves talking comics, although he can't see why she'd choose DC over Marvel. He's thrilled to finally put his artistic chops to use in their upcoming comic project. But this relationship is strictly professional. Or so he tells himself. When the two combine forces, they churn out magic in more ways than they had planned; they never expected to develop a steamy romantic sub-plot of their own…
1 comment posted.
What a fun idea! I love this intro to a new to me author and a very interesting new trope!
(Kathleen Bylsma 6:45pm October 31, 2015)