Vivi Andrews joins us to talk about her shifter series Lone Pine Pride, romance, and what fans can look forward to in the future!
Jen: Hi, Vivi! Thank you so much for joining us on Fresh Fiction!
Vivi: Thank you so much for having me! I'm delighted to be here.
Jen: The Lone Pine Pride series is so addictive. Each book in the series gets harder and harder to put down! TANGLING WITH THE TIGER…oh my heart. Part of what I really love about the series is how the stories overlap. How do you keep everything straight when you are writing the event from a different point of view?
Vivi: It can definitely get complicated when I'm trying to weave the threads of the various stories together. I'm a total organization nerd, so I keep copious notes, flagging the scenes that I know are going to appear in multiple storylines. Then I re-read them as I go to make sure I haven't tripped myself up. I also have a team of fabulous beta readers, and my amazing editor as my last line of defense against continuity snaffles. Hopefully it all seems to come together effortlessly, though a lot of effort goes into it. :)
Jen: Dominec may be my favorite character in Lone Pine Pride series, so far. I'm a fickle reader and fall a bit in love with them all, but when he speaks to Grace my heart melts, and when he takes her to her office…sigh. Perfect moment. But Dominec is dark and intense and he also brings out a seriousness and intensity in Grace. I love that you show this side of love and romance. Why do you think it is important to show that love can be more than a light-hearted happiness?
Vivi: Oh, Dominec. His brand of romance is unique, but he's definitely one of my favorites too.
I adore this question, because love isn't just the happy-happy twitter-pated feeling. That surface level joy is fun and fabulous, but a deeper current of connection is what I think really gets us through when things get tough—and no matter how much we might want life to always be sunshine and roses, there will be tough times, when we need that underlying bond. Grace and Dominec have that, grounding each other in ways no one else can.
Jen: There is a female Alpha introduced in TANGLING WITH THE TIGER. I love this! What do you think being an Alpha means and why is it not just for guys any longer?
Vivi: Being an Alpha is about strength and leadership and the ladies can absolutely rock that! I knew I wanted to introduce Amala in TANGLING WITH THE TIGER because Grace's book has such natural girl-power themes. And we will see more of Amala as the series continues. Of course, she will have her own challenges, since a lot of the social issues in the paranormal world are reflections of our own, but no more Alpha glass ceiling, baby!
Jen: We meet The Archive in TANGLING WITH THE TIGER. I love that knowledge and tradition are all passed down orally and kept by this woman. In an age where it's easy to research using the internet, what do you think we miss and/or gain by keeping our information and history in technology rather than with people?
Vivi: The battle between tradition and technology pops up as a theme a lot in this series. I love having Google at my fingertips as much as the next person, but I do feel like our sense of community and ability to communicate have changed a ton thanks to the internet. History in a story is so different from history on a Wikipedia page and I feel like the Archive is a personification of that difference, bringing wisdom and perspective as well as fact with all her stored memory. We have access to so much information, but I wonder if we have lost the perspectives of those who would have told us their stories if we weren't always asking the net.
Jen: Can you tell us what you are working on? Will we be getting a chance to see some of the other shifter communities in The Lone Pine Pride world?
Vivi: I will say that I'm currently working on Mateo's story (who might be forced to venture outside his Batcave, poor baby). :) As the series progresses, I have plans to explore more shifter communities, including the wolves— provided readers like the series enough for me to justify keeping it going! There's a wide world of shifters out there and I'd love to explore it. :)
Jen: I can't wait to read Mateo's story! Thank you so much for being here with us.
Award-winning paranormal romance author Vivi Andrews was born and raised in Alaska, though she currently lives in Manhattan when she isn't indulging her travel addiction. After graduating from Northwestern University, Vivi tried out a variety of careers—from the movie industry to accounting—but kept coming back to her first two loves, writing and travel. She lived in nine cities (on two continents and one tropical island) while pursuing her dream of writing romance professionally.
In 2009, Vivi won the Romance Writers of America® Golden Heart Award, quit her last day job, and her first two paranormal romance novellas were released by Samhain Publishing, launching the Karmic Consultants and Serengeti Shifter series respectively. In the years since she has written and released over twenty paranormal romance novels and novellas. Her books have been selected as Top Picks by Romantic Times Bookreviews and nominated for their Reviewer's Choice Awards, as well as other awards.
When she isn't writing, Vivi enjoys reading, hiking, skiing, and watching every movie ever released, though she is most often found traveling or planning her next trip. Whether at home or on the road, she is always hard at work on her next happily-ever-after.
Website | Twitter | Facebook | Blog | Goodreads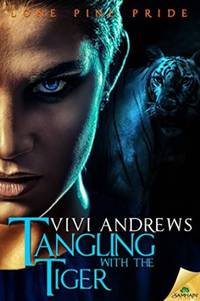 It might be love. If they don't kill each other first.
Siberian tiger-shifter Dominec Giroux doesn't play well with others. Horribly scarred by the Organization scientists who killed his family and tried to turn him into their pet assassin, his sanity has been hanging by a thread ever since his escape.
His one reason for living-revenge. But when he snaps during one of the shifters' strikes against the Organization and goes on a killing spree, it doesn't go over so well with his pride mates. As the only female lieutenant in Lone Pine Pride history, Grace Calaveras has a lot to prove, and a lot on her plate. The last thing she needs to deal with is Dominec's brand of crazy, but until she can get him under control, she's his babysitter.
It would take a miracle for these two to find common ground, but when they're sent on a mission that could impact the future of every shifter in the world, lioness and tiger form an uneasy alliance and unleash an attraction that could be their salvation. If it doesn't destroy them both.
Warning: This book contains a scarred, brooding tiger with an unconventional approach to romance, a feisty, flirty lioness who doesn't know how to quit, love triangles, secret missions, and rooftop kisses hot enough to melt the Montana snow.
1 comment posted.