I had a ball this summer, not only discovering an author new to me, but also finding an author who truly understood her characters, added the perfect amount of humor, and also had the best line ever in a book. I'm talking about Stephanie Evanovich.
BIG GIRL PANTIES - If you've never been in Holly's shoes you can't imagine what she's going through nor can you see her growth. Her final retaliation to Logan was PERFECT!!! The character of Holly was so well written. I felt her internal angst every step of the way. I loved her snarky come-backs to Logan, time and time again. Logan was a piece of work...oh yeah, they do exist! I loved watching him come unglued as he fell for her. Best line ever in a book: "Suck it up, wench. He's taken...by a Barbie dolls worst nightmare, she thought with satisfaction." That says it all!!!!
THE SWEET SPOT - One heck of roller coaster ride. If life were perfect we'd all look like Barbie and be Stepford Wives. I loved the characters of Amanda and Chase from BIG GIRL PANTIES and couldn't wait to read about the situation hinted at. It was tastefully done, playful, and even a bit eye-opening. Amanda was fun to watch, to feel, to see her evolves as the story progressed. She tried so hard to be the perfect daughter that she forgot to be true to herself. Chase, whew...every woman's dream, every mother's nightmare...sexy, fun, hot, tempting....and all he wanted was Amanda. Gotta love a man who knows what he wants and is willing to go after it. But, better yet, Amanda grew up and realized regardless of "expectations" she too knew what she wanted and was smarter than Chase, and knew how to get him back!
The other author to capture my heart is Stephanie Rowe. I'm a HUGE fan of her Order of the Blade series. If you like fantasy, they're a must read. But it's her new Cowboy Series (Wyoming Rebels) that is holding me hostage and she continues to write the saga of the Stockton boys. Chase and Mira have a lovely romance, one to melt even the hardest of hearts.

Books in the Wyoming Rebels series:
A Real Cowboy Never Says No (June 30, 2015)
A Real Cowboy Knows How to Kiss (July 28, 2015)
A Real Cowboy Rides a Motorcycle (August 25, 2015)
What attracts me to these books and the kind of books I write is that they're about real people, multi-dimensional, real problems, and real solutions, it's not just a romance. The humor comes in the exact same way it does in real life, when you least expect it, and always with hysterical results.
While some say truth is stranger than fiction, Deb Julienne'Äôs experience runs more along the lines of a slap-stick comedy. When life tosses you lemons the only thing to do is to turn it into Limoncello. Her life, like her comedies, has been one big fat romantic comedy'Ķor errors. It'Äôs not a matter of 'Äúif'ÄĚ it can go wrong, but how bad when it does happen, and make no mistake'Ķit will. Survival with a sense of humor is the goal. Joking aside, Deb'Äôs dream of being published came true with the release of her first book, Sex, Lies, and Beauty Aids which was released March 2014. Since then she'Äôs added to more to her collection of tales. Sex, Secrets, & Happily Ever Afters, and A Splash of Romance in the Crashing into Love Anthology.
As a long time member of both Romance Writers of America (RWA) and her local RWA Chapter, the Sacramento Valley Roses, she fills the hours she's not writing romantic comedy and romantic suspense with her day job at a Silicon Valley Corporation, playing in the kitchen concocting her award-winning jams, jellies, preserves, and sauces (with alcohol of course). Born and raised in San Jose, California, she now resides in the Tahoe National Forest Basin, her own little bit of heaven on Earth, with her husband of 34 years, their three
Website | Twitter | Facebook | Blog | Google+ | Goodreads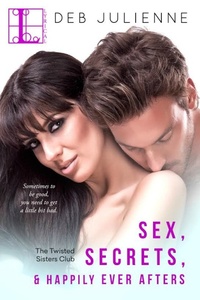 Angel Talbot is anything but pure'ÄĒin fact some might even consider her a bit wicked. How else would you describe the manager of an 'Äėadults only'Äô store that specializes in helping ladies find that special O. But Angel could use a hand herself. Or two. That is until she stumbles into sexy businessman Travis Wellington.
When the Wellington Family had a problem, they sent Travis to fix it. Being the CEO of his family's multi-million dollar enterprise means Travis is used to getting his hands dirty. But the pressure of looking out for the company, along with his family's well-being was beginning to take its toll . . . until he found his Angel…
1 comment posted.
It's funny that you should mention Stephanie Evanovich. I haven't had a chance to read her books yet, since they're on my TBR list. I don't know if you've read any books by Janet Evanovich yet, namely her series starting with book One through Twenty One, which should be hitting the shelves any time now. Her humor is quite good in her books, and you'll be caught up in the romance as well. The story line is so good, you can read one in a day, sometimes a bit longer. Congratulations on your latest book!! It sounds like you have another winner, and I'll be putting your book on my TBR list, too!! It should make for some great reading when I need to shake up my list a little bit. Love the cover, too!!
(Peggy Roberson 11:52am August 9, 2015)