Barclay Publicity's Summer eReader Giveaway!
More than 20 authors are sharing their best and worst pick-up lines during this EPIC eReader Giveaway! Win dozens of prizes, including swag packs, print or eBooks, gift cards, tote, posters, themed prizes, etc...and of course, a grand prize of four (4) eReaders!
Join the fun at the Summertime eReader Giveaway event page on Facebook! Authors will be making appearances on the day of their posts so be sure to pop by and say hello.
Jodi Linton | The Wannabe Smooth Talker
Hey there!
This blog is dedicated to every wannabe smooth-talker.
My name is Jodi Linton. Iā€™m the author of the Deputy Laney Briggs Series and my upcoming The Original Sinners Motorcycle Club Series with Entangled Publishing. Iā€™ve lived in Texas my entire life. And no, Iā€™m not married to a ā€˜realā€™ cowboy. But I do share my suburbia home with a teacher who has a hobby moonlighting as a drummer.
Today I want to talk about horrible pick-up lines. You know, the ones that make you cringe with their seediness. Iā€™ve weathered my fair share of creepy one-liners, and while Iā€™m like, ā€œGet the hell away from me!ā€ at the time, they can be quite hilarious in retrospect.
So when it came to needing a line for this blog post, I asked a fellow author friend about the worst pick-up line ever used on her, and hers beat any of mine hands down. Her lovely boyfriend shot off this heart-stopper when they first met: ā€œHey, baby. You got five minutes to regret?ā€ Iā€™ve gotta say it is pretty good, and yeah, maybe back in the day when my husband was trying every play in the book to snag a date with me this one wouldā€™ve made me laugh. And it probably would have made me say, ā€œBuy me a drink, and then weā€™ll see about the next five minutes.ā€
Tell me. Whatā€™s some of your favorite worst pick-up lines ever?
Bye for now, yā€™all, Jodi Linton
Jodi Linton is the author of the Deputy Laney Briggs series and the upcoming The Original Sinners Motorcycle Club with Entangled Publishing. She lives in Texas with her husband and two kids. When she is not writing about sassy females and dirty talking heroes, she enjoys long walks and family time down at the river. Join the Pink Pistol Readers! Jodi Linton's official Street Team for insider scoops on all her upcoming books.
Website | Goodreads | Facebook | Google+ | Twitter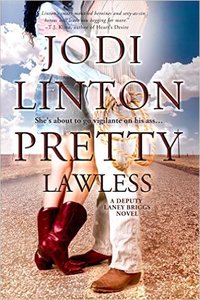 She's about to go vigilante on his ass...
Laney Briggs was almost certain that her sexy-assed Texas Ranger, Gunner Wilson, was gonna pop the question. Instead, he went and pulled one helluva fast oneā€"he arrested her best friend, Luke Wagner and skipped out. Now Pistol Rock's firecracker deputy is ready to go Wild West on Gunner...if she can just keep that raw, sexual chemistry under control.
Gunner was planning to propose, and it all went to hell. Now he's boots-deep into an investigation with ties to the Dirty Southern Mafia and corrupt cops. Yep, Laney is definitely gonna have his hide. Especially when she finds out just how much he's been keeping from her...
But Laney has a weakness for Gunner's delectable cowboy hotness. And for him, she will break every rule in the bookā€"including the ones she's sworn to uphold.
2 comments posted.
The only pick-up line I have for you is this one. Nice to meet the woman who's going to be the mother of my children! Instead of pick-up lines, I'd rather be picking up these great books and reading them!! Your book really sounds good, and I can't wait to see how it all plays out!! Congratulations on what I know is going to be a big hit!! I love the cover as well!! It's on my TBR list, and will make a welcomed addition to my Summer reading list!!
(Peggy Roberson 8:50am July 30, 2015)