New York Times and USA Today bestselling romance author RaeAnne Thanye's second book in her Haven Point series, REDEMPTION BAY, releases on June 30. Haven Point is a place made for second chances, and RaeAnne is here to discuss redemption and romance in today's Fresh Chat.
Pasha:Thank you for joining us today, RaeAnne. The heroine of REDEMPTION BAY, McKenzie Shaw, is the mayor of Haven Point. How does her high-power status affect her journey to finding love?
RaeAnne: McKenzie passionately loves her community. She blames one man for the economic decline of Haven Point, Ben Kilpatrick. Though Ben was her close friend's older brother and the subject of her childhood crush, he left her disappointed and disillusioned when he chose to walk away from his family's extensive business holdings in town. As a result of what she considers his neglect, the town slid into a decline and McKenzie is desperate to repair the damage – even if that means she has to play nice with Ben!
Pasha: Though McKenzie and Ben are separated by old wounds and animosity, they can't help but find solace in each other. What is it about their shared experiences that helps knit them together despite everything that might tear them apart?
RaeAnne: Both of them understand what it is to feel unwanted and unloved. I think their story is a classic example of two people with a little broken corner of their hearts who end up helping each other heal. Together, they create their own sort of safe, warm haven.
Pasha: REDEMPTION BAY explores themes of healing and home. What led you to create this redemptive story arc for this novel?
RaeAnne: I have always been drawn to stories of healing and second chances, especially the idea of two wounded people who find love, healing and peace together. Ben was a great hero to write, someone whose difficult childhood has forged him into a very self-contained adult who tells himself he doesn't need anyone. At heart, though, he craves the connection and community he discovers in Haven Point after all these years and it's up to McKenzie to help him see that's exactly what he needs.
Pasha: Haven Point is a small but sturdy town. What are some of your favorite aspects of writing this tight-knit community?
RaeAnne: I love that everyone in town comes together whenever a crisis hits Haven Point. The people of Haven Point have suffered through hard times but that doesn't stop them from reaching out to help each other! I also love the disparate personalities in town and the way they all respond in unique ways to each situation. They are like a big, noisy, crazy family!
Pasha: Thank you again for joining us today, and we have one more question for you. What is on your to-read list?
RaeAnne: My TBR pile is epic! I'm currently reading Mary Balogh's latest Survivors' Club book. For the last few months I've been working my way back through all of J.D. Robb's In Death books and took a break after seven or eight of them to immerse myself in some beautifully written historicals (my happy place). So many fantastic books come out in the next few weeks by some of my favorite authors! New book releases are my idea of bookaholic heaven!
RaeAnne Thayne will do anything to tell a story. In 15 years as a newspaper reporter and editor, she rode along with a motorcycle gang, took a trip in a hot air balloon and even gave a hunky country music star her home phone number (it was for an interview -- honest!).
When she wasn't working as a journalist, though, RaeAnne worked on her real love - - writing romance novels. She dreamed of publishing a book long before she ever thought it was possible. In fact, college friends used to spend hours when they should have been studying, trying to help her come up with a good pseudonym (none of which she actually ended up using, since she writes under her own name!).
After graduating from college, she took a job as a reporter at a daily newspaper, then moved to news editor. It wasn't until she was home on maternity leave after the birth of her first child in 1990 that RaeAnne seriously tried her hand at fiction writing. She sold her first book in 1995 and quit her editor job two years later to write full-time.
She is a two-time recipient of the Heart of Romance Reader's Choice award and has been a finalist for the RITA and for the National Reader's Choice award.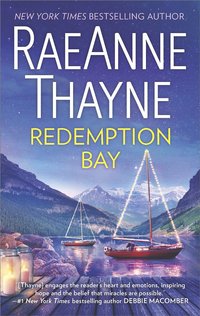 New York Times bestselling author RaeAnne Thayne brings you back to Haven Point—a place made for second chances…
McKenzie Shaw would do anything for her hometown of Haven Point. It may be small, but it's never let her down…unlike gorgeous, infuriating Ben Kilpatrick. He was her childhood hero until he closed his family's factory, leaving the town's economy in shambles. Now his tech firm is considering opening a local facility. For Haven Point's sake, McKenzie has to grit her teeth and play nice.
What could a town filled with painful memories ever offer Ben? Yet seeing the town through the eyes of McKenzie—its fiery young mayor—he suddenly has his answer. If only he can resolve the animosity crackling between them, Ben may have found the place where he can build ties and find healing…a place where love arrives when it's least expected.
2 comments posted.
I finished reading Redemption Bay today and I enjoyed it very much. The characters are so real I feel like I knew them and I wanted to help them through their struggles. Can't wait to read more about Haven Point and everyone in the town.
(Doris Lankford 3:37pm July 6, 2015)