Ashley Hodges Bazer | The Story Behind POISON

August 15, 2014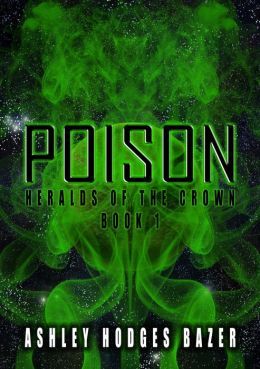 AVAILABLE
Champions of the Crown #1

May 2014
On Sale: May 23, 2014
ISBN: 1633100014
EAN: 2940045935982
Kindle: B00K93IFW8
Paperback / e-Book
Add to Wish List

Also by Ashley Hodges Bazer:
Asylum, October 2015
Once Upon a Heist, April 2015
Fusion, November 2014
Poison, May 2014

Many years ago, I lived alone, a great distance from any family. I had a few friends, but no one I could really count on. Being lonely, I sought comfort and solace on the Internet. There, I discovered the world of online role playing.
I created a variety of characters that frolicked through AOL chat rooms. Two of those characters quickly became my favorites. The first transformed into Selah Clairet, whose story has yet to be told. The second developed into Raven Criswell. Her story will be released in November in the book, HERALDS OF THE CROWN: FUSION.
I had to change a great deal about the characters and their stories, but much of Raven's has stayed true to the original. After I wrote FUSION, I knew there was more to it. I wanted to explore the backstory of the characters I had created. Where did they come from? Who were their parents? Why were they important?
This is how HERALDS OF THE CROWN: POISON was born. I traveled back in the timeline to learn the origin stories of the characters. My villain gained depth and strength. My FUSION hero now had a motive behind his actions. And I had a story arc that captured an entire trilogy.
On a much more personal level, Hanileh, the heroine of POISON, struggles to reconcile her past with her faith. This is my struggle. Back in the online role playing days, I was a different person. Over the years, I developed a strong faith in God. I even became the wife of a pastor! But that faith isn't rock solid all the time. I still face doubt and questions. Thankfully, my husband does have that rock solid faith. In those moments, I can count on him, as Hanileh counts on her husband Gaultier. Just as he grounds Hanileh and returns her to a more lucid state, my husband does the same for me.
Another personal touch came through a secondary character. I'm a Broadway fan, and as I write, sometimes I'll listen to cast albums or soundtracks. This had quite an influence on my villain. When I learned his secret, it added a much darker, creepier tone to the entire story. This insight has made him one of my favorite characters of all time.
I think a great deal of an author's personality and personal life can be found in their writing. The old saying, "Write what you know," comes into play. I don't know much about space beyond our solar system and the awesome stories I see on various websites. My knowledge of stars and space travel is limited to my love of science fiction. But I can draw on my experiences and circumstances to develop characters and situations. This, partnered with my imagination and knowledge of the craft of writing, produces an exciting story that lures you away from this world.
And how thankful I am to my readers for joining me on this crazy adventure.
Comments
10 comments posted.
Re: Ashley Hodges Bazer | The Story Behind POISON

It's so interesting to read about the inspiration behind the
characters and their development. As a reader, I find I have
a greater connection with the characters when I learn about
their genesis. I'm looking forward to reading this book.
(Deb Philippon 6:37pm August 15, 2014)
It's always interesting to read the background of the books
the Authors write. It makes these books a little more
special as you read them!! In this instance, knowing that
information should make your book quite an interesting read,
and I'm looking forward to reading your book, since I'm not
familiar with your writing yet. Congratulations on your
latest book!!
(Peggy Roberson 9:15am August 16, 2014)
I LOVE reading the background on characters in books. Poison looks like an AWESOME read.
(Mina Gerhart 9:36am August 16, 2014)
I thought the excerpt was interesting and I can't wait to
read the rest.
(Toni Whitmire 12:09pm August 16, 2014)
I like when stories have something concrete to anchor them
like your stars and such. Looks like a unique read.
(Alyson Widen 4:18pm August 16, 2014)
This book sounds great. I love to find new authors (new to me)
Thanks for the great background on it.
(Karen Hansen 6:41pm August 16, 2014)
Thank you for the insights into the origin of this story, looks interesting.
(Mary McCoy 7:28pm August 16, 2014)
Sounds like a book I would like to read.
(Sharon DiPrima 8:13pm August 16, 2014)
i will read this one for sure
(Debbi Shaw 8:36pm August 16, 2014)
Thank you for the insight into the characters. It is fun to
hear how stories come about.
(Denise Austin 1:27pm August 17, 2014)
Registered users may leave comments.
Log in or register now!