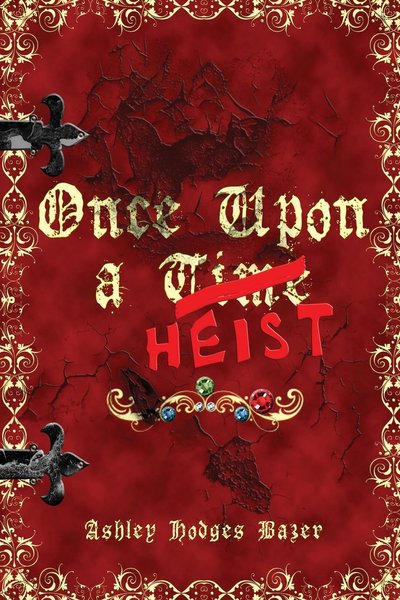 Purchase
Self Published
April 2015
On Sale: March 22, 2015
Featuring: Emberly; Gwyn
308 pages
ISBN: 1508667942
EAN: 9781508667940
Kindle: B00V3IA27Y
e-Book
Add to Wish List

Emberly is a simple girl, leading a simple life of servitude to her stepmother and stepsisters. But when her friend Gwyn shows up at her doorstep, proposing a scheme that would free her and a ragtag bunch of fairy tale heroines from their unsatisfactory lives, Emberly accepts.
Their mission? Steal jewels from the kingdom's six princes.
Each heist involves danger and mystery, and soon Emberly discovers a secret that could finally free the kingdom of Paladia from the clutches of evil queen Venefica. Or utterly destroy them all.
Comments
24 comments posted.
Good theme. I just re-read a book that is similar to your
book. It is YA book and I did like it. It has Cinderella
(what her little brother called her)and a Prince that had to
find a wife.
(Leona Olson 9:58am July 17, 2015)
I read fairytales to recapture my past and to escape.
(Sharon Berger 11:28am July 17, 2015)
I read fairy tales because they not only take me back to my childhood, but they take me back to simpler times, when there were no worries, and I could escape into a world where things were basically beautiful and most stories had such wonderful endings!! You always wanted to grow up like a princess, and the world had a way of lobbing softballs at you along the way, but you learned how to hit them out of the park, and become a better person!! Not only do I love the way your mind works, but I'm in love with your book!! I can't wait to get my hands on a copy, and read the entire story for myself!! This one is definately going on my TBR list, and will be near the top, if not at the top of my books!! Congratulations on what I'm sure is going to be a big hit!!
(Peggy Roberson 11:53am July 17, 2015)
As a child it was because the good won out over the bad.
Often the heroine is or will be a princess and the hero a
prince, something to dream about.
(G. Bisbjerg 1:43pm July 17, 2015)
Fairy Tales remind me of my younger, more naive years when
there really was a happily ever after
(Janice Santillo 4:15pm July 17, 2015)
I like reading fairy tales because they link me to a
history of readers going back hundreds of years.
(Deb Philippon 5:06pm July 17, 2015)
Fairy tales gloss over some very scary themes - I like it
when they are rewritten for modern times.
(Janis Milford 9:02pm July 17, 2015)
I don't read too many any more. I kind of hate to tear apart my
memories of what I remember from my childhood.
(Nancy Luebke 9:22pm July 17, 2015)
I read fairy tales because they are a good escape. And,
unlike real life, the good guys usually win in the end.
(Irene Menge 3:07am July 18, 2015)
Happy endings.
(Marissa Yip-Young 5:39am July 18, 2015)
I love to read fairy tales , they take you to another world where all are happy and all turns out wonderful . You are in the story and you are happy ever after . Dream the rest of the night that you are carried away by a charming handsome Prince . Thanks for this giveaway . I would love to read this book.
(Joan Thrasher 8:48am July 18, 2015)
I love reading. I enjoy finding new authors to read. I would love to read your book. Thank you for this book.
(Cindy Davenport 1:21pm July 18, 2015)
Fairy tales are exciting when a few moments are taken to realize what is actually happening. I buy a book of fair tales for each grandchild that is born so that they will also have a sense of enjoyment at early ages.
(Rosemary Simm 5:02pm July 18, 2015)
I love Adventure, Fantasy, and Magic that is why I love reading fairy tales :D
(Holly Loch 6:33pm July 18, 2015)
I like the theme and it looks like a fun book.
(Mary Songer 6:43pm July 18, 2015)
Thank you for your giveaway. When I was growing up, I read
every fairy tale I could get my hands on.
(Cindy Hipolito 7:55pm July 18, 2015)
I ove the magic of fairy tales
(Susan Mahaffey 9:56pm July 18, 2015)
Looks great! Can't wait to read it!
(Brandy Pethel 10:56pm July 18, 2015)
What a kooky and kick butt twist on fairy tales! I love it - look forward to reading it soon.
(Debra Wolsleben 5:50pm July 19, 2015)
I love fairy tales and can't wait to read.
(Barbara Miller 12:07pm July 20, 2015)
Fairy tales are fun to read because they seem to have
several layers of understanding.
(Sue Farrell 3:21pm July 20, 2015)
I love the original Grimm tales, but I also love to watch the Disney versions too. I have really enjoyed reading the new twists that authors put on fairy tales, they are just a lot of fun! You never know what to expect!
(Heather Hardy 4:47pm July 20, 2015)
I enjoy reading fairy tales. Whether original or a fairy
tail redone they are always a delight
(Linda Fast 6:49pm July 20, 2015)
Fairy tales ignite that spark of innocence and youth buried deep under the
trappings of "adult" problems like bills or housework. The fantastical element of
fairy tales is my favorite part. Plus, fairy tales just make for really good stories.
(Alice Hunter 12:25pm August 3, 2015)
Registered users may leave comments.
Log in or register now!