Ann Lawrence | Spreading The Love

February 17, 2014
February is the month for lovers! It's a great time to read a romance and wallow in the happily-ever-after plot line. I'm especially fond of this February as my son got married on February 8th! Here's the happy couple (The surfer on the left is the Best Man!). They live in Hawaii but were married in Philadelphia. Crazy kids--leaving all that sun and heat for snow and cold!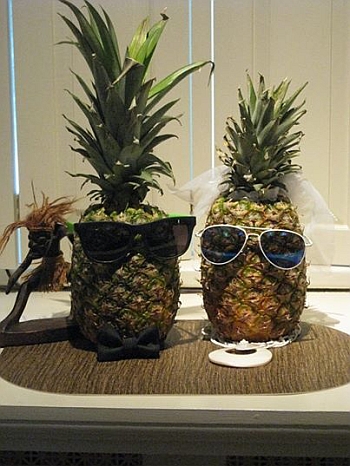 According to my calendar, it's "National Wedding Month" and I'm sure lots of couples tied the knot this month along with my son and his lovely bride. My son and his new wife are a great pair, and I know they will be happy together! As a romance author, that's one of the things I strive for in all my books . . . putting together the perfect couple. On the surface, it may look like the couple will NEVER get together, but underneath, they always share core values, and when they finally solve their problems, they deserve the happily-ever-after moments I plan for them.
My latest historical romance, LORD OF SWORDS, is an example of a couple who seem as if they'll never have a chance to be together. Lady Joia is betrothed when Guy de Maci meets her. She wants Guy's help to get out of the onerous marriage, but he has a mission--find his son--and can't be getting entrapped in Joia's problems. Of course, he is soon trapped, not only by her plans, but also by his desire for her! I had a lot of fun with this couple. He's a warrior who has never lost a battle, but his weapons are useless when it comes to resisting Joia!
Another lovely couple is Kara Sinclair and Reed Savage in my holiday book, CHRISTMAS IN SAVAGE BAY. They were nominated at Loves Romance Cafe in their Readers' Choice poll for Best Couple. When the book opens, they're headed for a fun holiday fling . . . but a life together? Not possible. She's a person who loves hearth and home and he's Vagabond Guy. You'll have to read the book to see how they overcame their difficulties. SPOILER ALERT... Right now Kara and Reed are planning their wedding which is taking place in Book 3 (SWEPT AWAY) of my Savage Bay Series. That book will be out December 2014. Book 2, coming out in June (working title - UNBRIDLED), is about another Savage Bay couple who seem so opposite they'll never find common ground. No spoiler here . . . you'll have to get the book to see how this "second chance at love" story works out.
This month is also a time to demonstrate love in other ways beyond the gifts and flowers. My calendar says this is not only "National Wedding Month" but also "Love Your Library" Month. As a writer, I'm a huge supporter of libraries and hope you are too. One of my earliest memories is sitting on the floor of the Philadelphia Free Library completely enthralled by the voice of the librarian as she read to us kids.
Some other ways to show our love this month . . .
Valentine's Day was also "Donor Day," a day to remind us to donate blood. As someone who has twice benefited from blood transfusions, I know how important this kind of donation is! February 17th is "Random Acts of Kindness Day" and February 20th is "Love Your Pet" day. Here's my grand-kitty Tiger Lily who helps me with my writing. She looks like she's not happy with my last edit.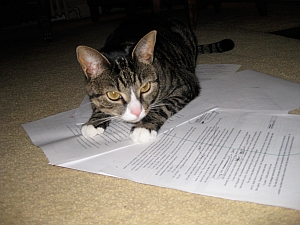 So spread some love this month . . . and I hope you'll pick up one of my books where all the couples are destined for a happily-ever-after moment!
I will pick one lucky commenter and send them their choice of "happy couple" from among my ebooks (winner's choice of digital format). You can read excerpts of all my books at AnnLawrence.com.
Happy Reading! Spread the Love!
Comments
30 comments posted.
Re: Ann Lawrence | Spreading The Love

Happy Donor Day! Much better than Valentine's Day, which has gotten so commercial.
(Pam Howell 8:06am February 17, 2014)
I love reading books with Happily Ever Afters! Thank you for
spreading some love book-wise via this giveaway.
(Linda Townsend 9:00am February 17, 2014)
i love the happily ever after stories i dont like reading sad
or they never see them again stories. i love historical books
they are my favorite ones to read
(Denise Smith 9:16am February 17, 2014)
Hi, Ann!! I really enjoyed reading your posting, and was all set to make my comment, when the last paragraph stopped me in my tracks!! How am I able to spread the love, when you are giving an e-book?? I don't own an e-reader, and am sure that I'm not alone. How I wish the Authors would give us a choice of e-book or print copy, which would make it easier, all the way around. Nonetheless, I'll make my comment. I am thrilled for you that you gained a Daughter-in-Law, and am happy for your Son. This is definately the month for Love, since I've just celebrated my 31st Wedding Anniversary on the 12th!! I wasn't aware of Love your Pet Day, so that means my kitties will get extra loving that day (as if they're not spoiled enough)!! I also wasn't aware of Love your Library Month, and since I'm down there enough doing work for them, I'll have to ask the Librarians if they were aware of that fact. I'll also have to make time to read your latest book, when I'm not busy spreading all this Love!! Enjoy the rest of your month!!
(Peggy Roberson 9:18am February 17, 2014)
I would love to read this book! Historical romances are m favorite because they all have a wonderful storyline and a happy ending!! Love the cover too!!!
(Bonnie Capuano 9:27am February 17, 2014)
I don't celebrate Valentine's Day as today is my Anniversary,
21 years, but I like Donors Day. I have been a donor in the
past but it's been awhile. Thanks for the reminder that there
re many who need that life saving gift. I love my library,
however small and most assuredly share the love there. No pets
but if I did, they would know their mommy loved them.
(Suzy F. 10:32am February 17, 2014)
Oh I love the idea of Love Your Pet Day! Love historicals and always want to see a HEA after everything the characters go through!
(Colleen Conklin 11:35am February 17, 2014)
I did not know about Love Your Pet Day, course my pet is spoiled and loved every day. Love reading historicals and look forward to the HEA.
(Jean Patton 1:21pm February 17, 2014)
I think a Love Your Pet Day would be just perfect. With 2 dogs and 2 cats, I'd have to do a lot of loving.
(Sue Farrell 1:47pm February 17, 2014)
Congrats on the wedding!
(Denise Austin 2:44pm February 17, 2014)
Book sounds fabulous-can't wait to read it!
(Amber Kuehn 3:10pm February 17, 2014)
We need more days dedicated to giving to others, not gifts of presents but of donations, volunteer time, blood and other gifts from the heart.
(Nancy Krueger 3:17pm February 17, 2014)
Congrats on your characters Kara and Reed's wedding. I haven't read any of your books yet but with Kara and Reed's wedding, I want to know how they met and what happened in between to their wedding.
(Kai Wong 3:26pm February 17, 2014)
We love pets & have 4 cats. The last 2 were abandoned newborns & had to be
bottle fed. We try to make a donation to our local humane society at least
twice a year to help with expenses.

Keep those happily-ever-after stories coming! I love both hard copies but my
Kindle has totally spoiled me!
(Rachel Kerrinski 3:28pm February 17, 2014)
Would love to read this book
(Tina Lechuga 5:36pm February 17, 2014)
I did not know that February is Natl Wedding Month!! Husband and I celebrated our 34th anniversary on Ground Hogs Day. :-)
(Lisa Hutson 5:47pm February 17, 2014)
I celebrated my 34th wedding anniversary Feb. 16th. The book sounds great as I love happily ever after stories. Thanks for the giveaway.
(Kathleen Beale 6:51pm February 17, 2014)
Your books sounds wonderful. I'm celebrating 22 years with my dear old hubby
next month.
(MaryAnne Banks 7:45pm February 17, 2014)
Thanks for the giveaway. This book sounds perfect for me. I love medieval Knights.
(Marcy Shuler 7:52pm February 17, 2014)
Wow I had no idea so many celebrations were happening. I'll have to give my dog some extra love the 20th.
(Jamie Fortney 8:36pm February 17, 2014)
Wow, Congrats on your new book: LORD OF SWORDS. I love the
book cover too! Your grand-kitty writing assistant Tiger
Lily is very pretty too. Yes, Feb. 12th was my Birthday and
is a great Wedding month for many people. We have been
married 25 years too! I love your books and I would love to
win and read more this New Year 2014. Thank You very much.
Cecilia CECE
(Cecilia Dunbar Hernandez 8:40pm February 17, 2014)
Congratulations to your son and daughter-in-law. My they have many happy years together.
(Janie McGaugh 8:56pm February 17, 2014)
Thank you, Ann. So February 20 is "Love Your Pet Day"? Around
here that's every day! Keep up the good work!
(Mary Anne Landers 10:08pm February 17, 2014)
Happy Donor Day - I always check it on my drivers license. My mom has been an unpaid library board member for at least 20 years. She says it's for the free books but she "volunteers" very hard for all those meetings and fund raisers.
(Beth Elder 10:20pm February 17, 2014)
I would love to read your book. Thanks for a chance to win.
(Linda Hall 11:53pm February 17, 2014)
That is cool, I had no idea that Valentine's was also Donor
day. Yes, I'd love to be entered to win.
(Vanessa Primer 4:13am February 18, 2014)
I must say that the happy couple do look happy. Donor Day is
such a fantastic idea.
(Mary Preston 6:19am February 18, 2014)
Thank you everyone for the great comments! I really enjoyed reading all your thoughts. I'll have to refer you, Peggy, to my website where I am giving away print copies this month. Thank you, too, for the comments on my happy couple who returned from their honeymoon yesterday to start their new life. Give all your pets a hug and don't forget to donate!
(Ann Lawrence 10:12pm February 18, 2014)
Love weddings and love happy ever after endings! Thanks for sharing. Your new book sounds fantastic and I have added it to my TBR list.
(Bonnie H 11:54pm February 22, 2014)
HEA (Happily Ever After) books have a broad appeal to romance
readers just starting out. It gets them ready to broaden
their views and try other genres if only to compare, contrast
and admire the HEA's. I support the library with it's
continuous Friend's book sale.
(Alyson Widen 5:54pm February 25, 2014)
Registered users may leave comments.
Log in or register now!