Check out these steamy reads coming this October. . .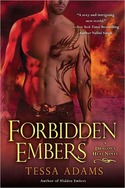 FORBIDDEN EMBERS by Tessa Adams (NAL, 10/4/2011, $14.00, Dragon's Heat)
Erotic fantasy so hot it breathes fire. Desperate to save his clan from deadly biological warfare, Dragonstar sentry Logan Kelly infiltrates the dangerous Wyvermoon clan- by posing as a rogue dragon. But his plan is compromised when he falls for Cecily, the Wyvermoon queen.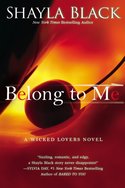 BELONG TO ME by Shayla Black (Berkley Trade, 10/4/2011, $15.00)
When FBI analyst Tara Jacobs's fellow agent and best friend goes missing while investigating a sex ring, Tara goes undercover as a submissive in a BDSM club. But no man can top a woman like Tara-until a dangerous Dom takes control of the scene and sets her heart racing. Too bad he's also the man who stole her innocence years ago-and one to whom she'll never submit. But Navy SEAL Logan Edgington knows he alone can protect her-and this time he'll never let her go.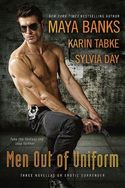 MEN OUT OF UNIFORM by Maya Banks, Karin Tabke and Sylvia Day (Berkley Trade, 10/4/2011, $15.00)
They may enforce the rules, but when men in uniform are off duty and under the covers, they're experts at breaking them. In this searingly sexy anthology, popular authors Maya Banks, Sylvia Day, and Karin Tabke present men in uniform--unzipped. In Maya Banks's Soul Possession, Jessie spends a hot night with two sexy-as-sin detectives, only to be accused of murder the very next day. But when Jessie becomes the target of a serial killer, her two detectives will risk everything to have her back in their arms--and in their bed. It's time for protected witness Layla Creed to come out of hiding and take the stand in Taking the Heat by Sylvia Day. Layla has only three days to reconnect with federal marshal Brian Simmons--and slake the white-hot lust that has simmered between them for years. Karin Tabke's Wanted follows the X-rated exploits of bad-boy cop Colin Daniels and the soon-to-be-ex-wife of a mob boss. He's been hired to guard her body, but it drives him to distraction instead, putting his career--and his life--on the line.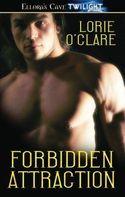 FORBIDDEN ATTRACTION by Lorie O'Clare (Ellora's Cave, 10/5/2011, $12.99)
The Malta werewolf pack must endure the Rocky Mountain winter and the prejudice of surrounding packs before they can once again be strong and proud. Nicolo Spalto is willing to work through all obstacles to make his pack as great as they once were. If that means going to the aid of a lunewulf female, then he'll do it. But when he meets Heidi Lutgard, simply rescuing her isn't enough. In spite of the differences between their packs, he can't deny his attraction to her. Heidi knows the Malta werewolves are to be avoided at all cost. However, it's those very traits that have her longing to see the incredibly seductive male who came to her rescue, even though her pack leader forbids it. Now Heidi must face being shunned by her pack just to be with the werewolf she loves, fighting law and tradition with Nicolo to consummate a desire no one seems willing to accept or understand.
Enjoy!
No comments posted.