Check out these new summer titles this September.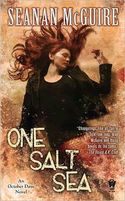 ONE SALT SEA by Seanan McGuire (DAW, September 6, 2011, $7.99, October Daye)
October "Toby" Daye is settling into her new role as Countess of Goldengreen. She's actually dating again, and she's taken on Quentin as her squire. So, of course, it's time for things to take a turn for the worse. Someone has kidnapped the sons of the regent of the Undersea Duchy of Saltmist. To prevent a war between land and sea, Toby must find the missing boys and prove the Queen of the Mists was not behind their abduction. Toby's search will take her from the streets of San Francisco to the lands beneath the waves, and her deadline is firm: she must find the boys in three days' time, or all of the Mists will pay the price. But someone is determined to stop her—and whoever it is isn't playing by Oberon's Laws.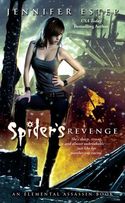 SPIDER'S REVENGE by Jennifer Estep (Pocket, September 27, 2011, $7.99)
Old habits die hard for assassins. Gin is back! The fifth and long awaited book in the hugely popular "Elemental Assassin" series, USA Today bestselling author Jennifer Estep's SPIDER'S REVENGE once again brings readers into sexy assassin Gin Blanco's world, which is populated with giants, goth dwarves, elementals, and some kick-butt BBQ. In SPIDER'S REVENGE, readers will finally get to see the big showdown they've been craving!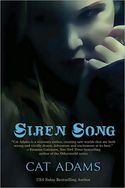 SIREN SONG by Cat Adams (TOR, September 2011, $7.99)
From the USA Today bestselling authors, a new urban fantasy featuring the alluring half-vampire, Celia Graves. Nothing if not resilient, Celia Graves is slowly adjusting to being a half-human, half-vampire Abomination. But her troubles are far from over. Her best friend's murder is still unsolved, the cops are convinced she should be in jail, and her old lover, magician Bruno DeLuca, has resurfaced in her life, saying he has something important to tell her. The vampire attack that transformed Celia kicked her latent Siren abilities into high gear, and now she's been summoned to the Sirens' island to justify her existence— and possibly fight for her life— in front of the Siren Queen.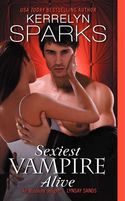 SEXIEST VAMPIRE ALIVE by Kerrelyn Sparks (Avon, Sep 27, 2011, $7.99 Love at Stake #11)
When a video reveals to the world that vampires live among us, it's up to "young" vamp Gregori Holstein, VP of Marketing, to persuade the U.S. government to declare the video a hoax. But first the president wants a favor, one that requires Gregori to spend forty-eight hours in very close contact with the First Daughter. Abby Tucker would rather spend her nights in a lab than attend her father's state dinners. She's dedicated her life to finding a cure that will save her dying mother and needs only two more ingredients. To find them, she'll have to venture into the most dangerous region of the world—with a vampire. Her Armani-clad escort may be Undead, but he still makes her heart race. And the greatest danger won't be the predatory hordes lying in wait for them; it will be her undying desire for the Sexiest Vampire Alive.
Enjoy,
Sara Edmonds
No comments posted.