Marsha Altman | The Plight of the Darcy Brothers

July 24, 2009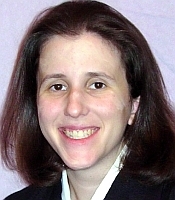 My name is Marsha Altman, and I've written The Plight of the Darcy Brothers, a sequel to The Darcys and the Bingleys. If you have not read the first book, you can pick up the second, as what happened in the first book is pretty self-explanatory (after the second book, it becomes more difficult).
I've been a romance writer for ... well, okay, this is my second book that could loosely be categorized as romance, though I do say that loosely because there are no men with partially-exposed chests on the cover. It will probably hurt sales but it's a good way to go in historical fiction. Jane Austen, even though she primarily wrote about romantic issues like marriage and ... getting married ..., wrote a lot about marriage is all I'm saying, and it was romantic, but it wasn't romance. It was contemporary fiction. She was writing about the world she lived in, and now when we write about the world she lived in, we're writing historical fiction, or historical romance. Categories in publishing are confusing and mostly about shelf placement. Let's move on.
The title may appear perplexing to some people upon closer inspection because, as anyone who has read Pride and Prejudice knows, Darcy does not have any brothers. The titular brothers are not Darcy and Bingley, as I like to give Bingley a little more credit than to consider him a Darcy by adjacency. In short, Mr. Darcy Senior, deceased five years before Pride and Prejudice opens, left some skeletons in his closet.
How I came to write this book is a story unto itself: I had finished book one. I was bored. I was either between classes in graduate school or I wasn't given enough to do. A full day had passed. Then I said, "How about I write some more?" Not the most inspiring story, but it's the truth. Things you do while sitting in front of a computer generally isn't that inspiring. Maybe for book 3 I'll make up a story about being attacked by a moray eel and how that inspired me to write Regency fiction.
Having played around in Austen's sandbox in book 1, I felt I had a bit more freedom in terms of establishing mythology of my own in the second book. The first book was primarily concerned with the marriages of Darcy and Bingley to Elizabeth and Jane, and how their characters grew into their marriages. The result was a tight bond that maintained them through Caroline Bingley's own marriage crisis, and also some kids.
By book 2 the stage is pretty set to go and do other things. There are still Bennet kids left unmarried, but scandal is just so much more interesting, as is testing Darcy's ability to deal with a potential damage to his reputation (and Elizabeth's ability to put up with him during said period).
The summary on Amazon gives away that it's about Mary. Despite Austen being female and the readers of Austen generally being of the female gender, there's not a lot you can actually do with female characters in Austen's Regency England. They flirt. They get married. They have children. They scheme to get sisters and friends married. Occasionally they get involved in a romantic scandal, but they're rarely involved in financial matters and they never have occupations. Not to be down on Regency England, but once you've married the main characters, there's not a whole lot left to do. So I got Mary pregnant. Not in reality, but I wrote her as a person who got pregnant by a history figure. I love including historical figures in my books, as long as it doesn't mess with history too much (or if I can apologize for it in the postscript if it does).
Elizabeth and Darcy are really front-and-center in this particular book, even if other characters have considerable subplots. Their marriage, cemented in book 1, becomes an asset in book 2, in that they support each other in the way we hoped they would at the end of Pride and Prejudice. Also it keeps Elizabeth in the book. Let's face it, a lot of Austen-related fiction involves Elizabeth sitting around Pemberley and worrying about stuff while Darcy's off doing generic business. That's never been very exciting to me.
I sincerely hope you enjoy the book. that you like it. Now I have a questions for you guys: What Austen character would you like to be seen with his/her story continued? Leave a comment and automatically be entered to win a set of my books so far, The Darcys & the Bingleys and The Plight of the Darcy Brothers!
Leave a comment today and you could win a copy of The Plight Of The Darcy Brothers and Darcys & the Bingleys.
Comments
25 comments posted.
Re: Marsha Altman | The Plight of the Darcy Brothers

Romance books are great. Pat W.
(Pat Wilson 11:52am July 21, 2009)
I'm sure I'll enjoy it !!! Count me in ...
(Joeelle Jappissont 4:07am July 24, 2009)
The story sounds fascinating!
(Joanne Reynolds 6:30am July 24, 2009)
Shades of the Beekeeper! I enjoy stories about old friends that I haven't visited in some time. Glad you put your extra time between graduate classes to good use :>)
(Karin Tillotson 9:01am July 24, 2009)
I don't know what I would do if I couldn't read!
Thanks for your contest and writing.
Marjorie
(Marjorie Carmony 9:30am July 24, 2009)
This sounds like a wonderful read! I'm an avid reader and just wouldn't know what to do if I couldn't. Best Wishes on your new book!
(JoAnn White 9:36am July 24, 2009)
Sounds great. :)
(Crystal Broyles 10:02am July 24, 2009)
I have a soft spot for Mary, so I would enjoy any story that featured her.
(Krysten Hager 10:03am July 24, 2009)
Since I haven't read the first book yet I have some catching up to do. I'd love to win. Thanks
(Sandy Miresse 10:55am July 24, 2009)
My favorite character is Darcy. As far as I am concerned you can never have enough of his character explored. Mary would be another interesting character to explore.
(Cherie Japp 11:18am July 24, 2009)
Your character descriptions paint a good picture of what restrictions and morals Victorians revolved around.
(Alyson Widen 11:35am July 24, 2009)
The Plight of the Darcy Brothers sounds fantastic. I am sorry to say I have not read The Darcys and the Bingleys as of yet but I have both stories on my to buy list. I can't wait to go shopping and pick them up.
(Gayle Oreluk 12:33pm July 24, 2009)
Although I love Pride and Prejudice and love reading more about it, I would love to see something more of Emma. I just know her matchmaking ways did not end with Knightley coming to his senses.
Margay
(Margay Roberge 12:50pm July 24, 2009)
This sounds fascinating. Count me in. Have a great day.
(Roberta Harwell 2:25pm July 24, 2009)
Wow this looks great I look forward to reading it! I would love to hear more about Emma. Is that odd? oh well! Great job!
(Tabatha Basham 2:56pm July 24, 2009)
I agree - Darcy is such a fascinating character that there is some much more room to explore. Of course, I think that Emma has a lot of room for further development too.
(Liz Dranow 4:38pm July 24, 2009)
Looking forward to reading The Plight of the Darcy Brothers. Love all the great contests!
(Teresa Ward 4:54pm July 24, 2009)
Marsha, I have not read your first book, but I think that it would be an asset to follow the family escapades to the max. I love books that continue the story to the next generations.
(Rosemary Simm 5:30pm July 24, 2009)
These sound good!
(Teresa Warner 6:44pm July 24, 2009)
Pride and Prejudice was such a wonderful story I hated to see it end. Now I don't have to I can keep up with all the romance and drama with these new books.
(Rosemary Krejsa 10:05pm July 24, 2009)
Pride and Prejudice is one of my
favorite books. Jane Austen gives such
a feel for the time period in her books.
As you said, there was little women
could do during that time other than
looking for a husband then keeping
the home fires burning one she got
one. I'll have to think about the
characters and who I'd like to see more
of.
Both your books sound delightful.
When you love a book and the
characters, you hate to see their story
end. Four of the six of us who work at
our small library are Jane Austen fans.
I would love to win these books and
share them. I hope you continue this
series.
(Patricia Barraclough 10:47pm July 24, 2009)
The books certainly sound intriguing and since I love anything historical, I wouldn't at all mind being able to read them. So far, this is the first I've heard about this series and I wish you great success.
(Sigrun Schulz 12:25pm July 25, 2009)
I'm sorry. I haven't read the books yet in order to answer your question.
Have a great day!
(Elaine Seymour 9:25am July 25, 2009)
I stumbled across this website by accident and I am so thankful this happened. Your books sound very interesting. I've read a number of Austen "sequels." I've enjoyed some and disliked others. I look forward to reading your books. I just wish it was possible to know what the lady herself would think of the enduring quality of her work and her many, many fans.
(Judith Clonts 5:17pm July 27, 2009)
I haven't read Historical Romance in years, I don't know why I quit reading them, but yours sound good enough to draw me back.
(Patsy Hagen 6:50pm August 2, 2009)
Registered users may leave comments.
Log in or register now!